Table of Contents
Duodenum
Roles of Liver
Role of Pancreas

Trypsin
Pancreatic Amylase
Pancreatic Lipase

Summary
What's Next?
In the previous segment, we learnt about the Stomach. In this segment, we will learn about the Duodenum.
What is Duodenum?
The first part of the small intestine is called the Duodenum.
Most of the digestion takes place in this small part.
The digestion is aided by the juices secreted by the glands.
Two glands release their juices in the duodenum: Liver and Pancreas.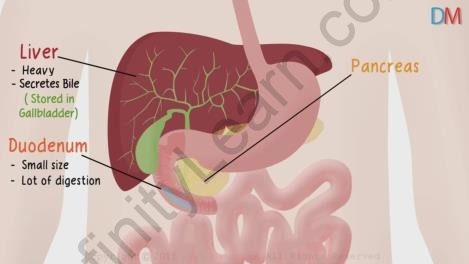 Duodenum, liver and pancreas
What is the Role of the liver in the digestion?
The liver is the largest gland of the body.
It secretes a fluid called Bile which is stored in the Gallbladder.
The bile breaks down the big fat droplets into tiny droplets. This process is known as
Emulsification.
What is the Role of the pancreas in the digestion?
The pancreas is the second-largest gland of our body.