Tuition for Class 8 Near me: There are many online tutoring services available for students in class 8. These services can benefit students struggling with a particular subject or needing extra help to catch up with their classmates. Online tutoring can give students the one-on-one attention they need to succeed in their studies.
Are you looking for an 8th class tuition near you? Do you want a Class 8 Science teacher who can teach you online? Well, there are many online options available to you. Your search to "Tuition for Class 8 Near me" on google ends here. You can find online courses on Infinity Tuitions that will teach you the basics of Class 8 Science, or you can find more comprehensive courses that will give you a deeper understanding of the subject. They have the best online tutors to help you with your studies.
The perfect Science course for academic and lifelong excellence! This is what you can expect from Infinity Tuitions' Class 8 Online Tuitions.
Students will master the concepts of Biology through interactive learning of concepts ranging from the human body to plant life.
Students will learn all about the application of the concepts of Physics including heat, sound and light through fun experiments and real world examples!
Students will enjoy learning all about the concepts of Chemistry and their application through interactive games and activities!
Every chapter ends in a milestone test that assesses the overall progress of the student. Students receive a detailed analysis of their strengths and weaknesses after each test, as well as personalized practice.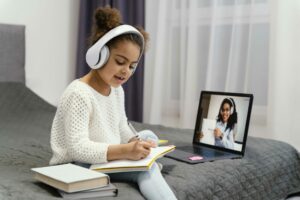 In order to retain any information in our brain, we have to refresh it periodically. Revision Lessons are based on the concept of spaced
repetition where students revise and practice core concepts at regular intervals.
Students create engaging projects on challenges and problems they may face in the real world. Our project-based approach guarantees that science comes to life.
Engage your child through peer learning that involves a group of students working together to think & solve a problem, explore the knowledge of scientific application-based phenomenon.
At Infinity Tuitions, we believe that parents need to be engaged participants in their child's learning journey. PTM lessons are periodic meetings where teachers review student progress with parents.
What are you waiting for! Join Infinity Tuitions today to secure better marks in your CBSE exams. Remember, no empty promises. Better marks guaranteed.