Android and the internet are the most useful technology of modern times. These technologies are helpful for us not only in our daily lives but also in our professional lives. For educational purposes, androids are widely used to gather information and to do research or add to the knowledge of various subjects. The Internet plays a major role in education. In this modern era, everyone prefers Google for their queries, problems, or doubts. Google, Yahoo, etc. These are the topmost choice of people as they offer an easy and instant reach to the vast amount of information in just a few seconds. Android contains a wealth of knowledge that can be searched at any time. The android has introduced improvements in technology, communication, and online entertainment. Today, it has become more famous as well as a powerful technology in the world which is preferred by everyone. Everybody needs internet as per their interest. Students need mobile to search for information related to exams, curriculum, results, etc. The importance of mobile in education for the students means that it makes it easier for them to research things, and relearn the content taught in the school. People use mobile phones according to their needs and interests. Androids are used to promote Business, Safety of people, fashion, for emergencies like accidents and health issues, and earn money.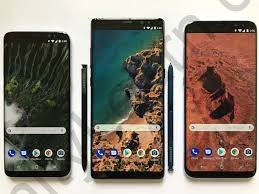 Android is a mobile operating system. Nowadays android mobile phones are very advantageous and cheap. It helps us in making our lives easy and convenient. This helps us to communicate and carry out our work efficiently. Android mobile phones also do the work of the computer, calculator, and cameras. Androids are useful both in the field of healthcare and education. Healthcare app development in androids is the process by which an app is built for mobile devices by using intent. The goal of healthcare apps is to help users effectively manage their medical conditions, fitness goals, hospital visits, or insurance claims. These apps include telemedicine, lab results reviews, prescription & appointment management, etc. Health apps are reducing overall health costs for both patients and providers. Health apps were used almost for all diseases.
Advantages of Android Phones:
Easy Communication.

Cheap.

Education.

Social media.

Promoting business.

Good for people's safety.

Helpful in emergencies.

Earn money via mobile.

Accessing the internet through mobile phones.

better quality and flexibility for business purposes.

Easy Communication.

Connect With Relatives on Social Media.

Connectivity, communication, and sharing.

Information, knowledge, and learning.

Address, mapping, and contact information.

Selling and making money.

Banking, bills, and shopping.

Donations and funding.

Entertainment.

Work from home advantage.
Androids are useful in education:
Students learn in a way they are comfortable.

Students can get answers quickly.

Android provides the ability to get answers very fast.

Audio and video can bring learning to everyone's home.

Access to educational apps.

Android allows for social learning.

Access to more information.

Bridge communication gaps.

Enjoy virtual field trips.

Assignment convenience and flexibility.

E-rate discount program.

Saves money and provide a cost-effective solution

Saves time.

Effective learning.

Interactive.

Quality education.

Reach Global knowledge.

The updated and latest knowledge.
Benefits of the Android with the internet in the field of education:
1. Cost-Effective and Affordable Education
The largest barrier to education is high cost. The mobile and internet improve the quality of education. This is one of the pillars of the sustainable development of a nation. It provides education through Video tutorials which are affordable to everyone and cost-effective.
2. Student-Teacher Interaction
Mobile has allowed students to be in constant touch with teachers and classmates with the help of social media. Parents can interact and communicate with teachers about their child's performance in the school.
3. Effective Teaching and Learning
Android has become a major tool for effective teaching and learning tool. Teachers can post their teaching materials on the school website. Teachers can teach with the use of animation, PowerPoint slides, and images to the students.
4. Easy Access to Quality Education
Students can access quality education materials like tutorial videos on youtube for free of cost. Teachers can record lectures and provide them to the students for revisions.
5. Interaction with Digital Media
Everyday use of digital media is one of the most basic parts of our lives. Many paid sites provide educational resources that are rich in quality and easily understandable to the masses.
6. Keeping you updated with Latest Information
Information is the biggest advantage for those who use mobile. An infinite amount of information is available for every subject. It keeps us up to date with the information.
7. Learning with Multimedia
It helps the students with the learning process as it helps to simplify the knowledge and visualize what is being taught by the teachers in school. Preparation for final exams are easy as you can access Video Tutorials and other resources online through the Internet.
Benefits of the Android in the field of healthcare:
Health apps by using android are easier to collect, manage and monitor health information. Many free apps help people track their calories and monitor their food intake, track sugar levels, glucose, carbs, and more. These apps are making it easier for professionals to collect information from patients. These apps are allowed to access patients' information, medical history, vitals, prescriptions, and lab results remotely. Health apps monitor our overall wellness. Doctor can treat their patients more effectively. Memberships to telemedicine apps can provide health plans or by the individual for an affordable price. Patients can log into the health apps right from their phones. Patients will get a diagnosis and treatment plan, and get prescriptions sent to their pharmacy. These all are done in the comfort of the patient's home.
Significance of health-related apps and e-services:
Easy Access to Functionalities.

Detailed, Actionable Information.

Easy Communication with Professionals.

Patients Community.

Simple Yet Amazing Digital Experience.

Integration with Wearable Devices.

Improved Patients- a Doctor Engagement.

Better Medical Compliance.

Improve Healthcare Services.
Also read: Benefits of Health Apps.
FAQs:
1. List down some benefits of Fitness Apps by using android.
Ans:
Give Free Health and Fitness Tips.

Track Your Foot Steps.

Provide Personal Health Coaches.

All In One Health Tool.

Keep You Motivated.

Monitor Your Progress.

Monitor Your Diet Easily.
2. Apps best for health 2022:
Ans:
HealthifyMe

Aarogyya setu

Skin scan

Co- WIN

Google fit

eSabjeevaniOPD

boAt proGear

Mi Fit

Step counter

Flo
3. List some advantages of the internet in education.
Ans:
Access to more information.

Bridge communication gaps.

Enjoy virtual field trips.

Assignment convenience and flexibility.

E-rate discount program.

Saves money and provide a cost-effective solution

Saves time.

Effective learning.
4. Write down 10 points on the importance of the Android.
Ans:
Gathering updated information

Provides electronic newspapers and magazines

Preparing Assignments and Presentations

Getting a proper Career Plan through the internet

Life skill development through by using android.

Online class and distance learning.

Enriching vocabulary.

Connectivity and communication.

Swift knowledge Acquiring.

Self-development through the internet