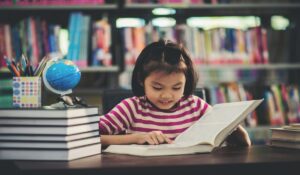 Technology may be a powerful tool for instructors to assist pupils to develop their creative abilities. Educators may utilize technology to activate, integrate, and build many inner abilities in their classrooms by developing a Creative Learning method.
Creating an Immersive Experience by Combining Technology and Art
Students, particularly youngsters, sometimes ask a lot of questions during their learning experience; they want to know more and more, and they may seek the opportunity to test things out for themselves, investigating them directly. These options are limited when using traditional learning tools, such as textbooks.
To give the immersive experience that students want, a combination of technology and imagination is required. Students become more interested, the comprehension process in their minds is increased, and they begin to make linkages and connections among concepts they're getting in a more physical manner when teachers employ technology equipment to blend traditional lessons with noises, projected images, or lights.
Electronic resources may be used in a creative way to improve any type of educational activity. If computers and networks were originally thought to be only valuable for topics like science and maths, it is now evident that they may aid non-technical professions as well. When specific audio equipment, technological devices, or MR (mixed reality) movies are used in Drama, Geography, History, and Writing classes, the experiences become deeper.
Tools to Encourage Creative Learning Creativity is the Future
"The greatest approach to generate value in the twenty-first century is to integrate creativity with technology," Steve Jobs famously remarked. And when this happens in the classroom, it means that teachers are preparing students for the future in the most important way possible. Here are five digital tools that instructors may utilize in class to foster and encourage creative learning.
Windows Ink:
Writing by hand improves learning retention far more than using a keyboard, according to studies. As a result, Windows Ink enables students to easily and accurately write, doodle, highlight text, and search handwritten notes. Furthermore, Windows Ink facilitates collaboration between students and instructors while using Windows and Office applications.
Minecraft Education Edition:
The platform for studying education Minecraft: Education Edition has the power to excite and inspire students to accomplish more and to develop a genuine love of learning. Minecraft is a block-building and adventure game created by Swedish game designer Markus Persson and distributed by Mojang AB and Microsoft Studios for the first time in 2011.
Google AutoDraw:
Google released AutoDraw, a new type of drawing tool, in April 2017. It combines machine learning with drawings by skilled artists to enable anybody to quickly create anything graphic. Google AutoDraw is an online application that can be used through a dedicated webpage that allows you to transform any sketch into a professional design.
Ink Maths Assistant:
OneNote's Ink Arithmetic Assistant is a kind of digital coach that assists pupils in answering handwritten maths problems. This intelligent assistant allows pupils to transform an equation or a problem from the screen to text and provides step-by-step instructions on how to solve it.
BuildAWorld: –
Playing home video games has been shown in several studies to increase visual attention and spatial-motor abilities. BuildAWorld is a next-generation interactive 3D simulation educational learning platform that uses real-world settings and phenomena to educate pupils.
What Does Taking Risks in the Classroom Look Like
Risk-taking entails putting oneself in a situation where one may lose something in order to attain a goal. Reaching out to new acquaintances, attempting a new style of note-taking, or stepping up to a leadership role in a group project are all examples of taking risks in the classroom.
To build a culture where kids feel secure, teachers might include risk-taking into the curriculum. According to Everfi, doing so encourages pupils to try new things and continue even if they fail. Micro-risks are a tiny approach for teachers to include risk-taking into the classroom.
Peer-Based Learning:
Creating a peer-based learning environment is one method to incorporate risk-taking into the classroom. This methodology begins with students individually generating ideas. They next offer their thoughts to a second peer before presenting them to the entire class.
According to the Journal of Higher Education, this strategy allows students to begin with a tiny risk—presenting a new concept to only one person—and then gain confidence in sharing with the entire class after obtaining feedback and support. Teachers might encourage students to question the current quo or come up with fresh solutions to existing problems to foster this behaviour.
Student Blogging:
Teachers might also inspire students to take risks by having them establish a blog. Blogging helps students to communicate with a larger audience. They may choose how open and vulnerable they want to be and take risks on their own terms. Teachers may help by providing writing prompts that encourage students to take chances in their writing.
Sketching Notes:
Teachers might let students experiment with note-taking methods until they find one that works best for them. Sketching notes as a creative outlet for digesting material is recommended by teacher and blogger John Spencer. Although this method may not work in all classrooms, teachers may guarantee that at least a portion of a course is suitable to this type of creativity, which may help pupils retain information.
Also read: How Online Education Aids Distance Learning
FAQs
Question 1: Why is it critical to encourage children in the classroom to take creative risks?
Answer 1: When teachers encourage their pupils to take chances, they are also taking risks, which can result in a more positive classroom climate. According to EdSurge, taking risks helps instructors face their own anxieties and produce unique solutions in their classrooms.
Question 2: What impact does technology have on pupils' learning?
Answer 2: Students can benefit from technology since it makes learning more enjoyable and collaborative. Students learn by doing and critical thinking rather than memorizing knowledge. This could be as simple as participating in a tech-enabled group discussion or taking an interactive quiz in class.
Question 3: What positive effects does technology have on student learning?
Answer 3: Incorporating technology into the classroom has the potential to boost student motivation, social connection, good outcomes, improved student learning, and higher student engagement. All pupils may benefit from technology's ability to unlock the keys to learning.
Question 4: What is the impact of technology on education, both positively and negatively?
Answer 4: As you can see, technology offers more benefits than drawbacks. It allows students to study in a variety of ways, participate in a variety of activities, and expand their education by allowing them to collaborate with individuals from all over the world.