For many aspirants, getting into IIT through JEE looks to be a nightmare. Students are frequently under strain and stress, and as a result, they do not eat or sleep appropriately. Few of them will be able to sit with books for long periods of time without eating or sleeping. Even though IIT JEE demands a lot of preparation and effort, getting enough sleep and controlling your study hours is crucial. The brain also needs rest, which comes in the form of sleep, and students should receive enough sleep from studying well. It's also critical to maintain good health. As a result, getting 6-7 hours of sleep is essential.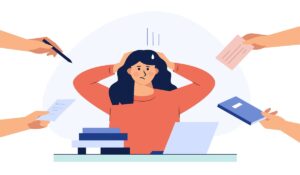 How Long Should an IIT Candidate Sleep?
Three things are crucial when preparing for the IIT. Diet, sleep, and exercise is three of them. Whether preparing for IIT or not, a person should always pay attention to their food. Everyone should exercise whenever they have time, whether in the morning or the evening.

Aside from that, sleep is an important aspect of an IIT aspirant's schedule. An IIT aspirant should get about 6-7 hours of sleep. If a student sleeps longer than that, they will have to limit their extracurricular activities.
The importance of sleep
Sleep is frequently regarded as a complete waste of time. Resting is seen as a sign of procrastination in our society and poetry. Sleeping is associated with sluggishness and tiredness. While those who sleep a lot or procrastinate may be deemed lazy or unwell, sleeping is not necessarily a symptom of laziness or procrastination.

After a long day of work, the human body requires rest. The human body is designed so that staying up for more than 18 hours is impossible. If they are awake for more than two days, or more than 48 hours, they are either suffering from mental health concerns, have insomnia, or are showing signs of stress and anxiety.

In any case, no one should stay awake for longer than 18 hours. A minimum of 6 to 8 hours of sleep is required for any individual or human being. Without enough sleep, a person may not only feel drowsy but also find it difficult to concentrate in class. When a person does not get enough sleep, he or she loses interest in everything. The person's overall concentration is lowered.

Improved productivity: When a person sleeps better, he or she performs better at work. When a person stays up for longer periods of time and misses one night's sleep, their enthusiasm for their work begins to wane.
Improved concentration: When a person sleeps better, he or she becomes more focused on their work. When a person does not receive enough sleep, he or she is unable to concentrate on their work and studies.
Better cognate:: A person's level of cognition improves when they sleep better. If his or her sleep routine is regular and consistent, he or she improves at work.
Reduce change of weight: When a person sleeps better, their metabolism works better. They have improved their health and physique due to getting more sleep.
Better calorie regulation: A person's metabolism is managed while sleeping well. A suitable sleep pattern, in addition to exercise, aids in calorie regulation and helps students maintain good health.
Better performance intensity: A person's capacity to solve issues, particularly in mathematics and physics, improves when he or she sleeps better. After a good night's sleep, the student's concentration improves, allowing him or her to learn more effectively.
FAQs
How long do top IIT students sleep?
Before we begin, there are a few things that top JEE scorers DON'T do: College will not be skipped: All lectures, lab sessions, and classes must be attended. There will be no sleepless nights.
Is 5 hours of sleep sufficient for the JEE?
The Jee exam is a highly competitive examination. Six hours of sleep is sufficient for jee preparation. If you don't get enough sleep, your mind will become inactive. You should finish the course in no more than 8 months and then devote all of your time to practising tests, answering previous year's papers, and analyzing your results.
Why do Toppers deceive us?
On the other hand, the toppers or achievers have learned just enough to be at the top of their class by studying more and just enough to realize how little they know. They overestimate their ability to prepare. This is why we believe these overachievers are deceiving us.