Inlaks Scholarship 2020: Inlaks Scholarship is an initiative of the Inlaks Shivdasani Foundation Scholarships. The organization caters to exceptional individuals who showcase the potential to make society a better place. The scholarship is primarily meant for Indian students to pursue a master's degree, M.Phil or a Doctorate program in select, renowned universities.
The foundation tied up with Imperial College, London, School of Oriental and African Studies, London, Royal College of Art (RCA), London, University of Cambridge, via the Cambridge Trust, Sciences Po, Paris. Read on to explore the eligibility criteria and more about the Inlaks Shivdasani Foundation Scholarship.
Latest Update:
Inlaks Scholarship applications are open from 16th January 2020.
Get a Direct link to apply for Inlaks Scholarship 2020. Click here to apply for the Inlaks Scholarship.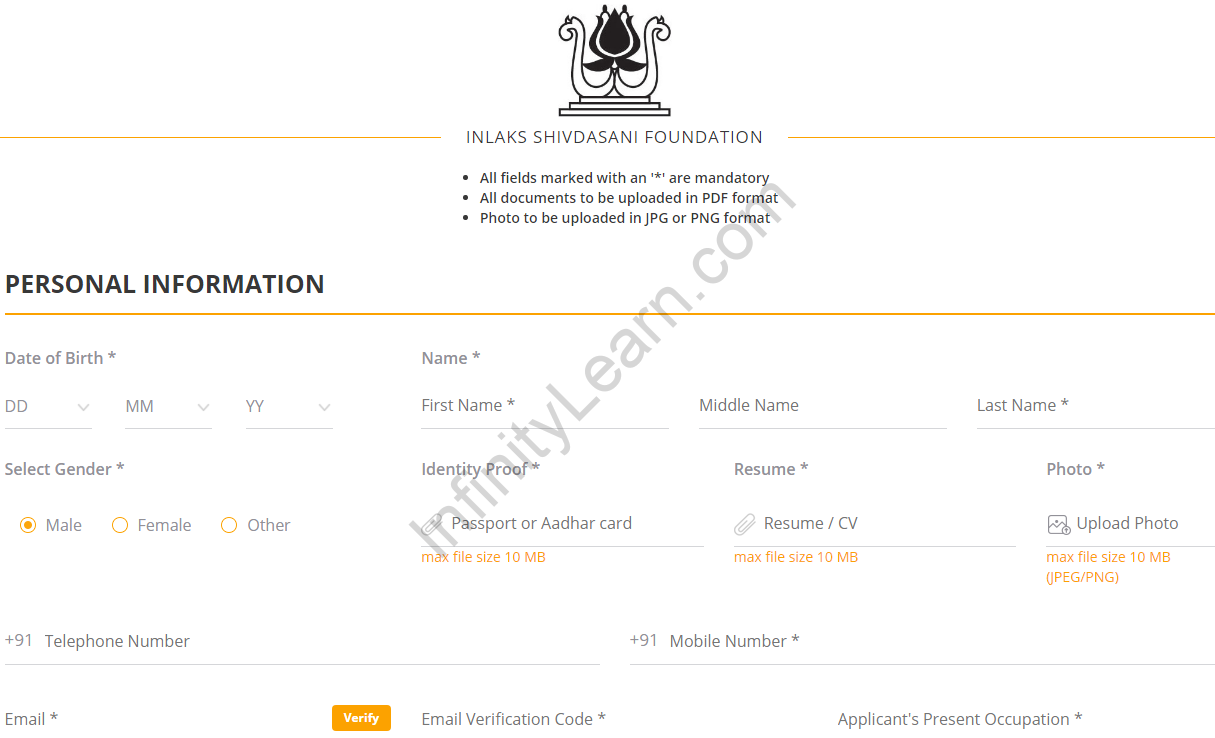 Inlaks Scholarships Overview
Particulars
Details
Application period
February to April
Scholarship rewards
Up to USD 100,000
Eligibility criteria
Indian citizens with undergraduate degrees from a recognized university.
Must have received an admission offer from a top-ranked institution in the US, UK or Europe.
The maximum age limit is 30 years.
Application process
Online application submitted through the official website of Inlaks Shivdasani Foundation
Inlaks Scholarships Dates
| | |
| --- | --- |
| Particulars | Dates |
| Application Opens | 16th January 2020 (12 Noon Onwards) |
| Last date to submit the application for the scholarship (Inlaks Scholarship deadline) | 31st March 2020 (12 Noon) |
| List of shortlisted candidates | May/June |
| Interviews | May/June |
| Announcement of the final result | May/June |
Inlaks Scholarship Eligibility Criteria
Candidates must be Indian citizens, staying in India for the past six months at the time of making the application.
Candidates must possess a first-class degree from a recognized university or institution in India.
Candidates applying for the scholarship in the field of Arts and Design will be primarily judged based on their portfolio.
Candidates who have studied abroad must have stayed in India for at least 2 years post returning from abroad.
Candidates that possess a Master's or a P.hD from a university abroad are not eligible.
Candidates must ensure that they have the admission to the institution and chosen course at the time of application. Candidates without admission will lose their candidature.
Candidates who have begun their postgraduate studies abroad are not eligible.
The maximum age of candidates is 30 years.
Inlaks Scholarship Subjects (Not Eligible)
The foundation does not provide scholarships for the following subjects:
Business Studies
Computer Science
Engineering
Fashion Design
Film & Film Animation
Medicine
Music
Public Health
However, the Imperial College, London will provide scholarships for Engineering and Natural Sciences. Indian Studies as a subject will be considered only if it has any contemporary significance. For Music, only applications in Western Classical singing will be considered. And for Film, only applications for Documentary Film-making will be considered.
Inlaks Scholarship Amount
Total funding amounting up to USD 100,000 is provided to successful candidates. However, if the candidate's expenses exceed this limit, they must convey that they have the ability to cover the expenses on their own during the preliminary interviews.
Inlaks Scholarship Application Procedure
The application process for the Inlaks Scholarship is done completely online through the official website at https://www.inlaksfoundation.org/scholarships/how-to-apply/.
No physical inlakhs scholarship application forms will be accepted
Note: the portal will remain active only between 16th January to 31st March 2020. Post this date, new applications will not be entertained.
Candidates that wish to apply for dance, film, music, and acting, must upload their portfolio either as a PDF or a website link during the application process
Ensure all relevant documents are uploaded in PDF format
Inlaks Scholarship Selection Procedure
A selection committee carries out the selection process.
The candidates will undergo a two-stage interview – a preliminary and a final interview.
Interviews will most likely happen during the months of May or June
The place of the interview will be Mumbai or Delhi.
Please note, the foundation will not compensate for the candidate's travel or accommodation during the interview process.
Candidates who do not receive any communication by 15th May must assume that their application has been rejected.
Documents Required for Inlaks Scholarship
Copy of Aadhar card or passport (first & last pages) as identity proof in JPEG or PDF format
Applicant's updated resume/CV
Applicant's photo in JPEG or PNG format
Any academic achievement and extracurricular attainments in PDF format
Offer letter from the institution/university as evidence of admission to a university or a course with full details of the institute's financial requirements in PDF format
Reference letters in PDF format
Inlaks Scholarship Contact Details
Contact. info@inlaksfoundation.org. COPYRIGHT © 2017. INLAKS SHIVDASANI FOUNDATION. JOMEL & ZOYA KATHAWALA.
FAQ's on Inlaks Scholarship 2020
Question 1.
What is the official website for the Inlaks Scholarship?
Answer:
Candidates can find the application link along with other details on the scholarship at https://www.inlaksfoundation.org/scholarships/how-to-apply/.
Question 2.
When is the last date to submit the application?
Answer:
The last date to submit the application is 31st March 2020 – before 12 noon IST.