Aluminium is a chemical element with the atomic number 13 and the symbol Al. Aluminium has a density that is about one-third that of steel. Due to its strong affinity for oxygen, it creates a protective coating of oxide on the surface when exposed to air. Aluminium has a silver-like look, both in terms of colour and the ability to reflect light. It is ductile, flexible, and nonmagnetic. Aluminium has one stable isotope, 27Al, which is very common, making it the twelfth most common element in the Universe. 26Al's radioactivity is used in radiodating. Aluminium combines the properties of transition and post-transition metals. Because it, like its heavier group 13 congeners, has few available electrons for metallic bonding, it has the physical properties of a post-transition metal, with longer-than-expected interatomic distances. Furthermore, because Al3+ is a small and highly charged cation, it is strongly polarising, and bonding in aluminium compounds tends to covalency this behaviour is similar to that of beryllium (Be2+), and the two exhibits an example of a diagonal relationship. Because aluminium has a high chemical affinity for oxygen, it can be used as a reducing agent in the thermite reaction.
When a fine powder of aluminium metal comes into contact with liquid oxygen, it explodes; however, under normal conditions, aluminium forms a thin oxide layer (5 nm at room temperature) that protects the metal from further corrosion by oxygen, water or dilute acid, a process known as passivation.
Overview
Aluminium, a member of the Boron family, is a well-known "group 13" element. Aluminium's electronic configuration is 1s2 2s2 2p6 3s2 3p1. Because Aluminium has an extra electron orbit compared to Boron, the sum of the first three ionization enthalpies of Aluminium is lower, and it can thus form Al3+ ions. It is a highly electropositive element that produces +3 oxidation states in general, as in the case of Aluminium Oxide (Al2O3). +2 and +1 are two other known oxidation states. It is frequently shielded by a layer of inert, transparent Aluminium oxide (Al2O3), which forms quickly in the air but is highly reactive. Aluminium forms amphoteric oxides, which have both acidic and basic properties. More information on electron configuration can be found here. Aluminium is one of the few metals that retain silvery reflectance in finely powdered form due to its general corrosion resistance, making it an important component of silver-colored paints. Because of its passivation, aluminium is not attacked by oxidising acids. As a result, aluminium can be used to store reagents such as nitric acid, concentrated sulfuric acid, and others.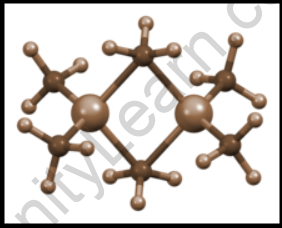 Aluminium: Uses, reactions with acids and alkalies
Except for magnesium, aluminium has the lowest density of any commercial metal. Aluminium, when coated with the right surface, is an excellent reflector, particularly of ultraviolet light. Aluminium is a silvery-white metal with no odour or taste. With increasing silicon, it becomes ductile and soft. The cubic structure of the aluminium crystal is face-centered. The formation of impurity segregations causes the concentration of the lattice in the less pure metal. Most other physical properties are also affected by purity. Except for magnesium, aluminium has the lowest density of any commercial metal. Aluminium can also be used as a selective cold or hot wall or as a body with properties similar to a black body. Aluminium's reflectivity in the infrared region is only slightly higher than that of gold and silver.
Reaction of Aluminium with Acids
Aluminium easily reacts with mineral acids, forming solutions containing aquated Al (ll) ion and releasing hydrogen gas, H2. It dissolves in hydrochloric acid (HCl), for example, releasing dihydrogen gas.
2Al(s) + 6HCl (aq) → 2Al3+ (aq) + 6Cl– (aq) + 3H2 (g)
In the presence of Nitric acid, it reacts passively by forming a protective oxide layer of Aluminium Oxide on its surface.
Al2O3 +6 HNO3 → 2Al(NO3)3 + 3H2O
Reaction of Aluminium with Alkalis
Aluminium reacts with alkalis to form aluminates, releasing hydrogen gas, H2. Because Oxygen and Aluminium have comparable electronegativity, Aluminium can form covalent bonds with oxygen. This is a significant reason for the formation of aluminates. Aluminum, for example, reacts with hot, concentrated sodium hydroxide solution to produce a colourless solution of sodium tetrahydroxoaluminate while emitting dihydrogen gas.
2Al (s) + 2NaOH (aq) + 6H2O → 2Na+ (aq) + 2[Al(OH)4]– + 3H2 (g)
Aluminum oxidation
Aluminum has a strong affinity for oxygen. When a new aluminium surface is exposed to air or another oxidising agent, a thin, hard film of aluminium oxide forms quickly (or hydrated oxide in non-stagnant water). This oxidation of aluminium is precisely what makes aluminium corrosion-resistant. The oxidation of aluminium is a critical component of its corrosion resistance. Aluminum has a strong affinity for oxygen. When a new aluminium surface is exposed to air or another oxidising agent, a thin, hard film of aluminium oxide forms quickly (or hydrated oxide in non-stagnant water). This oxidation of aluminium is precisely what makes aluminium corrosion-resistant.
Chemically, this film is relatively inert. Aluminum's corrosion resistance is dependent on the inactivity of this aluminium or hydrated oxide surface film. Corrosion occurs when this surface film dissolves; when the film suffers localised damage and self-healing cannot occur, localised corrosion occurs. Because aluminium has a high affinity for oxygen, it oxidises more quickly than steel.
The oxidation process comes to an end when all of the aluminium atoms have bonded with oxygen.
Thermal conductivity of aluminum
The thermal conductivity of aluminium and its alloys ranges from 88 to 251 W/m K) and increases with temperature. This is several times greater than the value for steels (11 to 63 W/m K). Thus, heat from a localised source will be distributed much more efficiently along with an aluminium structure, allowing it to be radiated off and mining hot spots. Furthermore, if the structure is sufficiently massive, the aluminium can act as a heat sink, slowing the rate of temperature increase in the early stages of a fire and thus increasing the period of serviceability. This could mean the difference between structural endurance in a fire and having enough time to evacuate a burning structure. Aluminum is a good conductor because it is a metal, and most metals are good conductors of electricity. This is due to metals' atomic structure, which allows electrons to move between atoms easily. Although the aluminium alloy 1050A has a higher thermal conductivity of 229 W/m•K, it is too soft mechanically to be used for heat sinks. Aluminum alloys in the 6000 series are ideal for extrusion because they are strong, malleable, and malleable.
Reaction of aluminium with water
At room temperature, aluminium metal readily reacts with water to form aluminium hydroxide and hydrogen.
Typically, this reaction does not occur because a layer of aluminium oxide naturally coats the raw metal, preventing it from coming into direct contact with water. Aluminium reacts with water to produce hydrogen gas due to its highly negative redox potential:
2Al + 3H2O → 3H2 + Al2O3.
This chemical reaction could be especially significant when it occurs between the strands of an aluminium conductor. Because of the oxide layer on aluminium, water has no effect on it. Hydrogen is produced when steam is passed over pure heated aluminium.
Also read: Important Topic of Chemistry: Limestone
FAQs
What are the characteristics of aluminium?
This is because of its unusual properties. It has a low density, is non-toxic, has high thermal conductivity, is corrosion-resistant, and can be quickly cast, machined, and molded. It is also nonmagnetic and non-sparking. It is metal with the second-highest ductility and the sixth-highest malleability.
What is the chemical formula for aluminium?
Aluminum is a flexible and lightweight metal. It has a dull silver appearance due to a thin film of oxidation that occurs rapidly when exposed to sunlight. Aluminum is non-toxic, nonmagnetic, and does not spark (like metal). Aluminum has only one naturally occurring isotope, aluminium-27, which is not radioactive.
Is aluminium a good conductor?
Conductors are made up of compounds that conduct electric current or electron flow. Nonmagnetic metals are known to be excellent conductors of electricity. The wire and cable industry uses a variety of metal conductors, but the two most common are copper and aluminium.