Introduction:
A magnet is a material or a device that can generate a magnetic field around it. A magnet may attract ferromagnetic materials (such as iron filings) and repel any other magnet due to its magnetic field. The north-south direction is always indicated by magnets hanging through a string.
A magnet is always made up of two magnetic poles that cannot be separated and the poles are referred to "north pole" and "south pole," respectively. Poles that are similar repel each other, whereas poles that are diametrically opposed attract. It is feasible to make artificial magnets out of some materials that naturally behave like magnets.
The information about magnets from various physics-related articles is available here. Magnets and their general concepts are important topics in physics. Students who want to flourish in physics need to be well known about magnets to get deep knowledge about it to do well on their exams. The definition, types, properties, and characteristics are provided here to assist students in effectively understanding the respective topic. Continue to visit our website for additional physics help.
Overview:
The word magnetic force refers to an extraordinarily magnetic force field (or ferrimagnetic). This group includes iron, nickel, and cobalt, as well as various rare metal alloys and current minerals like a permanent magnet. Despite the fact that magnetic force (and ferrimagnetic materials) are the only ones capable of attracting magnetism strong enough to be called magnetic, all distinct portions react to the force field's frailty, becoming victims of one of the multiple magnetic fields.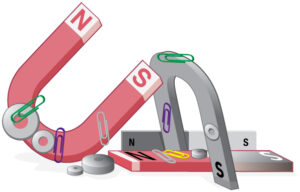 Types of Magnets:
The majority of magnets used in science and technology are created artificially from magnetized materials in various sizes and shapes. Magnetism has a wide range of processes and sources. The following are some of the most widely used magnets:
Bar magnet

Magnetic needle

Horseshoe magnet
Magnets are classified into the following categories based on their source of magnetism:
Electromagnet

Permanent magnets

Temporary Magnet
Properties of Magnet:
The following are some of the unique and fascinating qualities of magnets:
A magnet's attractive quality is that it attracts ferromagnetic materials such as iron, nickel, and cobalt.

A magnet's directive property is that if it is hanging on a rigid support and allowed to rotate freely, it will always point north-south.

Magnet poles: Magnets have two poles, one at each end of which the magnetic field is strongest. Magnetic poles are always found in pairs. It is impossible to separate one pole of a magnet, no matter how small it is.

Poles that are similar repel each other, whereas poles that are diametrically opposed attract.

The magnetic force between two objects (attraction or repulsion) is inversely proportional to their distance. When the items are close together, the force is greater.
Characteristics of Magnet:
A magnet has the following characteristics:
Attractive property: This attribute demonstrates that the magnetic strength at the pole ends is high.

Directive property: By suspending the magnet in mid-air, this feature aids in determining which pole of the magnet is north and south.

Magnetic poles law: Poles that are similar repel each other, while poles that are dissimilar attract each other.

Pair property: When a magnet is cut into two pieces, the North Pole and the South Pole are found on both portions.

A sure test of magnetization: Magnetization can be confirmed by performing the following test: This test is used to determine if a certain rod is magnetic or not by measuring the attraction or repulsion between the iron rod and the magnet.
Permanent Magnet:
The magnetic field is created by items known as magnets. A permanent magnet is one whose magnetism properties do not deteriorate over time. Ferromagnetic substances can also symbolize magnetism. Nickel and iron alloys are among the materials used. The magnetism property of a ferromagnetic substance determines the orientation of domains.
When the domains are aligned randomly, the magnetic fields produced independently withdraw. By manipulating the domain randomization with an electrical field, a collective magnetic field can be produced. This is one of the manufacturing procedures for electromagnets. If the domains are already oriented in such a way that they all point in the same direction, they will generate a collective magnetic field even if no external force is applied. Permanent magnets are what they're called.
Types of Permanent Magnets:
(1) Magnetic Metallic Elements: The majority of these materials contain unpaired electron spins, and nearly all of them are paramagnetic. Ferromagnetic materials are those in which the interaction between the spins occurs in such a way that the spins align spontaneously (what is loosely often termed as magnetic).
When discovered in their natural states, like ores, a few metals are ferromagnetic due to the way their regular atomic structure of crystalline causes their spins to interact. Only a handful of them is iron ore (lodestone or magnetite), nickel, cobalt, and the rare earth metals gadolinium and dysprosium (at a very low temperature).
(2) Rare-Earth Magnets: The 'f' electron shell (which can hold up to 14 electrons) is partially populated in rare-earth (lanthanoid) elements. These elements are employed in high-strength compact magnets where their higher price is not an issue because their electrons can be coordinated, resulting in intense magnetic fields.
Neodymium-iron-boron (NIB) and samarium-cobalt magnets are the most prevalent rare-earth magnet types.
(3) Single-Chain Magnets (SCMs) and Single-Molecule Magnets (SMMs): The ability of certain molecules containing paramagnetic metal ions to store a magnetic moment at extremely low temperatures was identified in the 1990s. These are completely different from traditional magnets, which store information at the magnetic domain level, and might possibly provide a far denser storage medium.
Also read: Electromagnetic Radiation
Frequently Asked Question (FAQs)
Question 1: What are magnets made of and what are the types of magnets?
Answer: Different magnetic materials are used to make magnets. Magnets are classified into three types based on their magnetization processes: permanent magnets, temporary magnets, and electromagnets. Permanent magnets are resistant to losing their magnetic properties. Current flows through a coil of wires twisted around an iron core in electromagnets. A ferromagnetic substance is exposed to a magnetic field to create a temporary magnet. The magnet loses its properties when the magnetic field is removed.
Question 2: What are the two properties of a magnet?
Answer: Magnets attract and repel ferromagnetic materials, as well as other magnets. The north-south direction is always indicated by magnets hanging through a string. A magnet is always made up of two magnetic poles that cannot be separated. These are known as the "north pole" and "south pole," respectively. Poles that are similar repel each other, whereas poles that are diametrically opposed attract.
Question 3: What Makes a Substance Magnetic?
Answer: The atomic electron orbitals are commonly d or f states with large angular momentum (and thus strong magnetic moments) that line up along crystal axes and interact in a way that favours alignment in either the same direction (ferromagnetism) or opposing directions (antiferromagnetism) (antiferromagnetism, usually exhibits no or fragile "magnetic" properties). The spin of an electron (which has its own magnetic moment) can interact ferromagnetically (or antiferromagnetically) to produce a sort of magnetism (typically weaker).