Table of Contents
Mirror Equation
Cartesian Sign Conventions for a Spherical Mirror
Summary
What's Next?
In the previous segment, we learnt about the Mirror equation and its derivation. In this segment, let us understand the sign conventions for a spherical mirror.
What is the Mirror equation?
Consider an object in front of a spherical mirror whose ray diagram is shown below.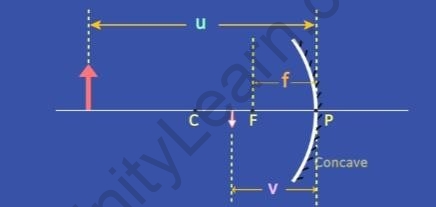 Figure 1
Here, the centre of curvature, the principal focus, and the pole are represented by the points ?, ?, and ? respectively.
?
= 1 +
?
1 which provides a relation between the distance of the
?
object from the mirror (?), the distance of its image from the mirror (?), and the distance between the principal focus and the pole (?).
All the distances of the mirror equation are taken from the pole of the mirror.
The mirror equation is true for all types of spherical mirrors.
The mirror equation is independent of the position of the object.