Whether or not a person drives a car, everyone on the planet should pay close attention to road safety. Due to a lack of advice from elders, children and students are the most vulnerable groups to traffic accidents, minor injuries, and even serious injuries. It is essential that children learn about road safety regulations and measures as early as possible in their life. It is the responsibility of parents and teachers to properly guide them. Road safety is a serious problem that should be addressed with real efforts in order to effectively reduce road accidents and save lives.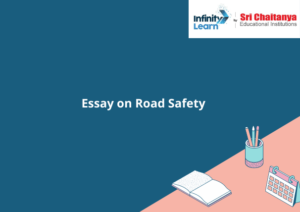 Road safety is all about the measures taken to prevent road accidents and ensure everyone's safety on the roads. Everybody should be concerned about road safety. It has become an unavoidable habit in order to protect our life. Due to the obvious growing number of vehicles on the road, road safety has become increasingly important. Many accidents can be avoided if we follow the rules of the road.
According to statistics, children are more at risk than other age groups and are involved in the majority of traffic accidents. They require road safety training and awareness from an early age. It should begin at home and at school, where it should be included as a subject in the curriculum.
Children are innocent and might not realize the scope of any accident that might occur due to their negligence or that of someone else, particularly on the road. They may be unable to evaluate vehicles moving at high speeds on the road. Like a deer in the headlights, being faced by an oncoming vehicle might just make them freeze in their tracks, and lack of quick thinking in this case might lead to terrible accidents.
Few Important Road Safety Rules
The following important road safety rules help to safeguard children from road accidents by teaching them to be responsible pedestrians on the road:
Parents should encourage their children to be extremely careful when crossing the road and to look on both sides (left and right).

When crossing the road, children should always grasp the hands of their elders or friends.

They should never run on the road, and parents should not leave their children alone or in a hurry.

They should not be distracted for any reason, and they must be more alert on the road.

They should be instructed by their parents to follow the pavement or to walk on the left side of the road if pavement is not available.

Pedestrians should be educated to cross the road only at crossroads after observing the traffic lights.

Children should be taught the meaning of road colors (red denotes a stop, green denotes a move, and yellow also suggests a stop), the basics of traffic lights, and the importance of traffic signs.

Children should not be allowed to play on the street or outside of the designated play area.

While riding on the road, all accessories must be used and a helmet must be worn, and the brake, horn, steering, or handle must all function correctly.
While cycling on the road or crossing the road, children should not use earphones or any other type of listening device.
When driving a car, parents should instruct their children to wear a seat belt or a helmet. Parents should follow all rules linked to road safety when driving to set a good example for their children because they are the first example in their life to teach them a task.
Road Accident Statistics in India
Every year, more than 1,37,000 people die in India as a result of traffic accidents. In fact, on average, 16 children are killed on our country's roads every day. Isn't it scary? The statistics are so high that the World Health Organization (WHO) has expressed concern about the issue. Tamil Nadu, Maharashtra, Madhya Pradesh, Karnataka, and Kerala are the states with the greatest road accident deaths.
Spreading Awareness
Seminars, workshops, and awareness programs can all help to convey this message. Students and teenagers are the most likely to break the rules and put their lives in danger. It is critical to educate children about the importance of road safety and the precautions that should be followed. The best way to achieve this is to include a road safety topic in their curriculum and begin from the basics.
Conclusion
To summarise, road safety is a major concern that affects the lives of citizens and the nation as a whole. Road safety measures are put in place to ensure that everyone on the road is safe. In India, road accidents are a leading source of injury and death, and increased rates of occurrence are seen when traffic rules are broken. The government in India supports road safety management, yet there are challenges that jeopardize road safety. For all drivers, road safety is critical, and the evidence suggesting we should make a greater effort to make traffic safe for everyone is solid. Every time we get behind the wheel and start driving, we should be a lot more careful and not be overconfident.