Essay on Swami Vivekananda
We frequently speak about our strengths and weaknesses in modern culture, but a boy in the 19th century from a middle-class Bengali family in Kolkata achieved divine stature in his life at a young age because of his spiritual views and simple living concepts.
"Strength is Life, and Weakness is Death," he said.
"Arise, awake, and stop not till the goal is reached," he said.
We can guess by now who the boy is. Yes, we're referring to Narendra Nath Dutta, the monk who subsequently became Swami Vivekananda. A student who, like other young boys his age, enjoyed music and sports throughout his college years, entirely transformed himself into a spiritual vision. His works "Modern Vedanta" and "Raj Yoga" have received worldwide praise.
Swami Vivekananda was a renowned Indian saint; he was called by the name "Narendranath Dutta" on the 12th of January 1863 in the holy and beautiful city of Kolkata. He was a man of "high thinking and simple living," as he put it. He was a great spiritual leader, philosopher, and devout person with strong values.
Early Life :
In his early years, Swami Vivekananda was known as "Narendranath Dutta," the son of Shri Vishwanath and mother Bhuvneshwari Devi. Narendra was a child of unquestionable intelligence and talent who was able to master all of his school lessons on the first try.
His Gurus acknowledged his abilities, and they gave him the name "Shrutidhar." Swimming and wrestling, both of which were on his schedule, were among his many abilities and skills. He had a deep respect for religion, influenced by the teachings of the Ramayana and Mahabharata. His life's inspiration was "Pavan Putra Hanuman."
Narendra was a lover of heroism who was also mystical in character. Despite growing up in a spiritual family, he had an argumentative personality from an early age. His complete set of ideas was supported by sound logic and judgment.
He even questioned the existence of the Almighty because of this quality. As a result, he went to numerous saints and asked them, "Have you seen God?" Until he met "Ramkrishna Paramhansa," his spiritual quest went unanswered.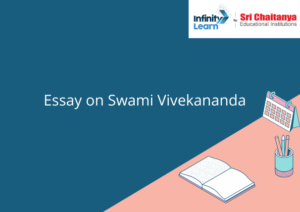 Work and Life of Swami Vivekananda :
A man with a thorough understanding of the Vedas, Upanishads, Bhagavad Gita, and other Hindu scriptures, Vivekananda believed that helping people was the same as serving God. Hence, he was the one who could say, "God gave me nothing I wanted, but He gave me everything I needed." A smile on the poor's face was happiness to him. He was motivated from a young age by his mother's religious nature and his father's rational mind, who was a lawyer at the time.
We are all aware of Swamiji's intellect and personality, but few know that he was a great singer. To put his mind at ease, he used to sing spiritual songs on his own. For this talent, he met Ramakrishna Dev, who had heard young Narendra Nath perform a devotional song that impressed Paramhansa. He then invited Swami Vivekananda to Dakshineswar, where Swamiji's life changed drastically.
Swamiji used to feel that with the proper guidance, individuals can do good for the nation. The Brahma Samaj regarded the worship of one God as an idol, which surprised Swamiji during his college days where the urge to see God emerged.
Bringing Harmony in Indian Culture and Ramkrishna Paramhansa's role in his life :
Swami Vivekananda first met Ramkrishna Paramhansa when the latter visited a friend's home in Kolkata. Swami Vivekananda, aware of his supernatural abilities, called him to Dakshineswar. Swamiji's birth, he realized, was a blessing to humanity and for the upliftment of the world. After that meeting, his spiritual curiosity was satisfied, and he ultimately recognized Ramkrishna Paramhansa as his "Guru." His "Guru" pulled him out of the darkness and into the light. Due to his tremendous gratitude and reverence for his Guru, he traveled in all four directions to spread his Guru's teachings.
Swamiji captivated everyone's hearts with his magnificent speech in Chicago, where he addressed the crowd as "Sisters and Brothers of America."
"I am proud to belong to a religion which has taught the world both tolerance and universal acceptance," Vivekananda said. We believe not only in universal tolerance, but we accept all religions as true." Thus, he demonstrated the significance of Indian religion by demonstrating worldwide acceptance, oneness, and harmony despite cultural diversity.
Conclusion :
"Swamiji harmonized the East and the West, religion, and science, past and present, and that is why he is great," Netaji Subhash Chandra Bose once said. He was a key figure in bridging India's cultural gap with the rest of the world.
He taught two critical lessons until the end of his life: non-duality and selfless love. On the 4th of July, 1902, Swamiji passed away in Belur Math, West Bengal.