Introduction

Located in South Asia and being the seventh-largest country in the world, India has a unique geography. With the Himalayas on the top, arid desert in the west, the rain forests in the northeast, and plain regions of the Deccan plateau, we have all kinds of climates divided in the domain of India.
Not only that, but the citizens of India can witness cultural, linguistic, and religious diversity no matter where they are. According to the 8th schedule of the Indian constitution, we have around 22 languages. Along with that, we have over 1900 dialects being used across the country.
Diversity is the strength of India.
Being such an influential nation and an example to others, citizens of India should be aware of our history, culture, and rich heritage. This bears about the same importance as tracing your lineage and finding out more about your ancestors.
The youth of the nation should especially know about India because they are the ones who will be in charge somewhere down the line. You need to understand India before trying to get things done. By reading about and practicing these essay topics, you can learn more about your country and do well in exams at the same time. Jump right below to read our curated list of essay topics on India.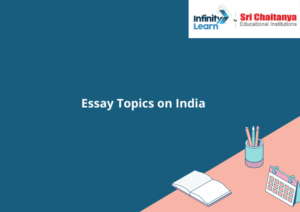 20 Resourceful Essay Topics on India
If you think that India is a vast concept to understand, let go of your worries. We are here with a list of 20 essay topics on India that will help you understand India's history, culture, civilization, and everyday life in a better manner. Reading through our list of essay topics on India will make you feel proud to belong to a land with such robust foundations.
Scroll down for the complete list of essay topics on India.
India as the Largest Democracy

India as a Secular Nation

Cultural Diversity in India

India and the Condition of its Women

Indian Tourism

Can Online Schooling be the Future of Education in India?

Organic Farming in India

Contamination of Rivers in India

Indian Constitution as the Largest Constitution

Harmony in Diversity or Unity in Diversity

Performance of India in Olympics

Atmanirbhar Bharat: Mission Towards Self-Reliant Nation

Literacy in India

Quality of Education in Indian Schools: Is it Upto Mark?

Culture of Joint Family in India

Digitalization in India

Gender Biases in India

ISRO's Space Missions

Make in India: Ease of Doing Business

Should Reservation be Allowed in Higher Education?
India is a rich country, and its multicultural dimension is what makes most Indians proud. We live in a populous land that never fails to feel like home.
This was our take on the list of essay topics on India to get you all covered for exams and essay writing competitions.
Have fun reading!