Table of Contents
Winnowing
Uses of husk
Summary
What's Next?
In the previous segment, we looked at threshing. In this segment of the chapter 'Separation of Substances', we will learn about winnowing.
What is Winnowing?
Winnowing is a common agricultural separation practise used to separate solids from other solid particles by wind or blowing air. This is usually employed after threshing. Winnowing separates the grains from husk by using wind.
The farmers usually collect the mixture of grains and the chaff in a basket or a tray. This is then lifted high and the grains are very slowly released onto the ground. When the mixture falls on the ground, the heavier grains go straight down, but the lighter husk gets blown away by the wind. As a result, the husk travels to some distance before it settles down. This separates the mixture.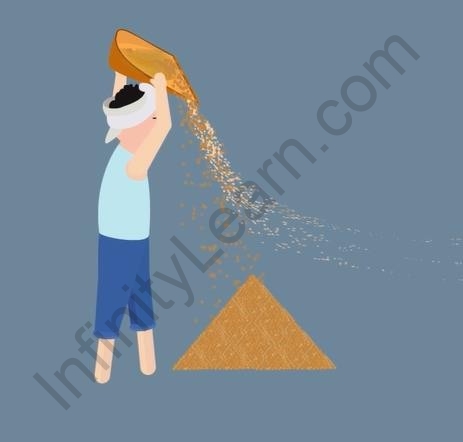 Winnowing
Winnowing is not restricted to agriculture alone. Winnowing can be used to separate heavier or lighter components of a mixture by wind or blowing air.
What are the Uses of chaff/husk?
Chaff/husk is the outer covering of a grain, such as wheat, rice, or corn. It is composed of several layers of thin material, each of which is rich in nutrients. The husk or chaff can be used in various ways.
First, it can be used as a fertilizer. The husk is rich in nitrogen, phosphorus, and potassium, essential nutrients for plant growth. When mixed with soil, the husk provides these essential nutrients and helps to improve soil fertility. This can enhance crop yields and reduce the need for chemical fertilizers.
Second, husk can be used as a fuel source. The husk is high in lignin, a type of cellulose which makes it an ideal fuel for cooking. When used in a stove, the husk can release large amounts of heat, making it a great alternative to wood or charcoal.
Third, husk can be used in animal feed. The husk contains a wide range of essential nutrients, such as proteins and vitamins, which are beneficial to livestock. By adding husk to animal feed, farmers can ensure that their animals receive all the nutrients they need to stay healthy and productive.
Finally, husk can be used to make paper. The husk is a great source of cellulose, which can be used to make paper. This paper can then be used for a variety of purposes, such as writing or printing.
In conclusion, chaff/husk is an incredibly useful resource. It can be used as a fertilizer, a fuel source, animal feed, and paper. By taking advantage of this resource, farmers, manufacturers, and consumers can benefit from its many advantages.
Summary
Winnowing is a process used to separate the chaff from the grain. It involves throwing the mixture into the air and allowing the wind to blow away the lighter chaff, while the heavier grain falls back down. This process has been used for centuries to separate grains such as wheat, barley, and rye. It is also used to remove weeds and other debris from harvested grain. Winnowing is an important part of food production and helps to ensure that only the highest quality grains are used in food products.