Table of Contents
– Parameters
Sphere
Summary
What's Next?
In the previous segment, we learnt about Cubes. In this segment, we will learn about Cylinder and Sphere.
What is a Cylinder?
A Cylinder is a 3-dimensional shape consisting of two parallel and equal circular bases, joined by a curved surface.

Cylinder
If the plane circles in the bases of the cylinder are removed and the curved surface is opened vertically, then it looks like a rectangle.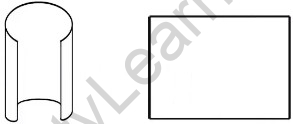 Opened up curved surface of a cylinder
Parameters of a cylinder
A cylinder is defined by 2 parameters: height and the radius of the plane circles. The two circles are equal in size and so the radii of both circles are also equal.