The NTA has officially announced the date for the NEET 2024 exam, which will take place on May 5. The exam is designed by the NTA and covers topics from Physics, Chemistry, and Biology found in class 11 and 12 textbooks. It is conducted in 13 different languages.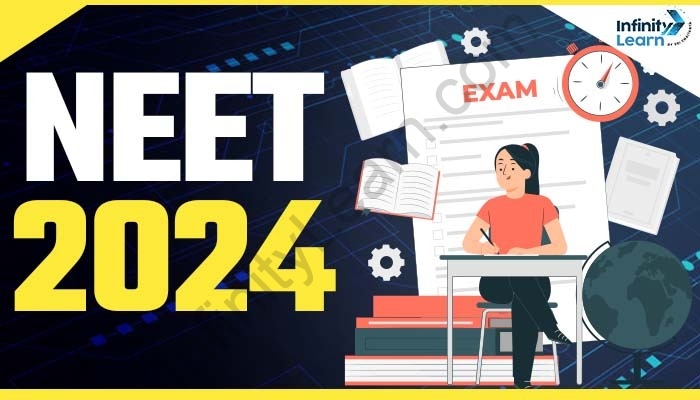 In terms of available seats, the latest data from the National Medical Commission (NMC) and the Dental Council of India (DCI) shows that there are more than 1 lakh MBBS seats, 26,949 BDS seats, 52,720 AYUSH seats, 603 BVSc & AH seats, 1,899 AIIMS seats, and 249 JIPMER seats across 612 medical and 315 dental colleges.
NEET 2024 Exam
Exam Name
NEET (National Eligibility cum Entrance Test)
Mode
Pen and Paper based
Duration
3 Hours
Courses
MBBS, BDS AYUSH, Veterinary, etc.
Languages
English, Hindi, Punjabi, Tamil, Telugu, Assamese, Bengali, Gujarati, Malayalam, Kannada, Marathi, Odia & Urdu
Subjects
Physics, Chemistry & Biology (Botany & Zoology)
Total number of Questions
200 (to attempt – 180)
Total marks
720
Type of Questions
MCQs Containing 4 Options with 1 Correct answer
Section Wise Number of Questions
Physics – 45
Chemistry – 45
Biology (Botany + Zoology) – 90
Marking Scheme
4 Marks for each correct answer
1 Mark deducted for each wrong answer
No Marks for the non-attempted questions
Official Website
neet.nta.nic.in
Who Will Conduct NEET 2024?
The NEET 2024 exam was held using traditional pen and paper methods by the National Testing Agency (NTA). This test is for those who want to study medicine, dentistry, nursing, or AYUSH courses.
NEET 2024 Exam Date
The NEET 2024 exam is scheduled for May 5, 2024, from 02:00 PM to 05:20 PM (IST). To be eligible, you need to be at least 17 years old by December 31, 2024, but there is no maximum age limit for NEET 2024.
Important Dates for NEET 2024

Events

NEET 2024 dates

NEET 2024 exam notification

Last Week of November 2023

NEET 2024 registration date

Last Week of November 2023

Last date to fill NEET application form 2024

To be announced

Last date for application fee payment

To be announced

NEET 2024 correction window date

February 2024

Allotted NEET exam city details

March 2024

Release of NEET-UG admit card

March 2024

NEET exam date 2024

5th May 2024

Result declaration

To be announced

Commencement of NEET UG counselling

To be announced
NEET 2024 Syllabus
NEET 2024 Syllabus provides the framework for the topics and subjects that candidates need to cover for the examination. It encompasses three main subjects: Physics, Chemistry, and Biology. Here is a brief overview of the NEET 2024 Syllabus.
NEET Syllabus 2024 Physics
Physics can pose difficulties for many test-takers, with its mix of numerical and theoretical questions. Therefore, the chart provided below contains the key subjects covered in the NEET Physics Syllabus to assist candidates in preparing for the exam more effectively.
NEET Syllabus 2024 Classwise For Physics
Class 11th
Class 12th
Physical World and Measurement
Nature of Physical Law
Heat, Work and Internal Energy
Conductors
Work, Power, and Energy
Current Electricity
Kinematics
Electric Charges and their Conservation Electric Dipole
Properties of Bulk Matter Bulk modulus
Electromagnetic Spectrum and Electromagnetics Waves
Gravitation Kepler's law of Planetary Motion The Universal Law of Gravitation
Alternating Currents and Electromagnetic Induction.
Motion of System of Particles and Rigid Body

Permanent Magnets
Magnetic effects of current and Magnetism
AC Generator and Transformer
Concept of Magnetic Field

Static and Kinetic Friction
Carbon Resistors Kirchhoff's Laws and Simple Applications
Laws of Motion
Atoms and Nuclei
Critical Velocity
Dual Nature of Matter and Radiation
Speed Velocity
Electronic Devices
Oscillation and Waves
Optics Optical Instruments Wave Optics
NEET Syllabus 2024 Chemistry
Chemistry is often regarded as a relatively straightforward subject. Consequently, students can attain outstanding scores by thoroughly preparing for the NEET Chemistry Syllabus in advance of the exam.
NEET Syllabus 2024 Classwise For Chemistry
Class 11th
Class 12th
Some Basic Concepts of Chemistry
Solid state
Classification of Elements and Periodicity in Properties
Electrochemistry
Structure of Atom
Solutions
Molecular Structure and Chemical Bonding
Chemical Kinetics
States of Matter: Liquids and Gasses
Surface Chemistry
Thermodynamics
General Principles and Processes of Isolation of Elements
Ionic bond Covalent bond
p-Block Elements
Redox Reactions
D and f Block Elements
Hydrogen
Coordination Compounds
Laws of Chemical Combination
Haloalkanes and Haloarenes
s-Block Elements (Alkali and Alkaline earth metals)
Chemical and Physical property of primary alcohol Phenols, Alcohols, and Ethers
Some p-Block Elements
Aldehydes, Ketones & Carboxylic Acids
Equilibrium Equilibrium in Physical and Chemical Process
Organic Compounds Containing: Nitrogen, Amines, and Cyanides and Isocyanides
Hydrocarbons
Biomolecules or Organic Compounds contains Nitrogen
Environmental Chemistry

Biomolecules, Polymers And Chemistry in Everyday Life
Aldehydes, Carboxylic Acids, and Ketones

Organic Chemistry- Some Basic Principles and Techniques
Chemistry in Everyday Life
Electronegativity
Band theory of metals
Atomic number
Elevation of boiling point
Isobars and Isotopes
Cleansing agents such as soaps and detergents
NEET Syllabus 2024 Biology
The NEET Biology Syllabus covers a wide range of topics, encompassing both Zoology and Botany. Preparing for it can be time-consuming, so the following table, which breaks down the topics, can assist candidates in getting started with their studies.
NEET Syllabus 2024 Classwise Biology
Class 11th
Class 12th
Diversity in Living World
Reproduction
Movement Neural control & coordination and Locomotion
Human Welfare and Biology
Structural Organization in Animals and Plant
Genetics and Evolution
Fluids, body, and Circulation
Animal Kingdom
Plant Physiology
Biotechnology and its Applications
Human Physiology
Environment and Ecology
Digestion and Absorption
Biotechnology Principles
Structural organization of animals
Reproductive Health
Excretory products and their elimination
Evolution
Exchange of Gases
Diseases and Human Health
NEET 2024 Application Form
The NEET 2024 Application Form is expected to be released in the first week of April 2024. This form is a crucial step for aspiring candidates who wish to appear for the NEET exam. Below we have shared how to fill out the NEET 2024 Application form.
Steps to Fill the NEET 2024 Application Form
Registration: Visit the official NEET website and complete the registration process by providing the required details such as name, date of birth, email address, and mobile number.
Fill out the Application Form: Log in using the generated credentials and fill in the necessary personal and academic information, including educational qualifications, category, and choice of exam center.
Upload Documents: Upload scanned copies of the required documents, which may include a recent passport-sized photograph, signature, and other supporting certificates.
Payment of Application Fee: Pay the prescribed application fee using the available online payment modes.
Review and Submit: Carefully review all the entered information and make any necessary corrections before submitting the application form.
Required Documents for NEET 2024 Application Form
Recent passport-sized photograph (in JPG/JPEG format)
Candidate's signature (in JPG/JPEG format)
Class 10 mark sheet/certificate (for date of birth verification)
Class 12 mark sheet (if available)
Category certificate (if applicable)
Disability certificate (if applicable)
Identification proof (Aadhaar card, PAN card, etc.)
It is essential to ensure that all the information provided is accurate and the required documents are submitted correctly to complete the NEET 2024 application process.
NTA NEET 2024 Eligibility Criteria
Before you fill out the application for NEET 2024, you need to meet NEET 2024 Eligibility Crtiteria. These are the conditions you must meet:
Age Requirement: You should be at least 17 years old by December 31, 2024, to be eligible for NEET 2024.
Nationality: You can apply for NEET 2024 if you are an Indian citizen, a Non-Resident Indian (NRI), an Overseas Citizen of India (OCI), a Person of Indian Origin (PIO), or a Foreign National.
Educational Qualifications: You need to have completed or be in the process of completing your 10+2 education or its equivalent to apply for NEET-UG 2024.
Subjects Studied: If you want to apply for NTA NEET 2024, you must have studied physics, chemistry, biology, and English from a recognized educational board.
Qualification Exam Marks: To be eligible, you must score a minimum of 50% in physics, chemistry, and biology in your qualifying examination. However, for candidates belonging to the SC, ST, and OBC-NCL categories, the minimum required marks are 40%.
NEET 2024 Exam Pattern
NEET 2024 follows a specific exam pattern that candidates should be familiar with in order to prepare effectively. The exam pattern provides an overview of the structure and format of the examination. Here is a brief overview of the NEET 2024 exam pattern:
The NEET 2024 exam is a pen-and-paper-based test that consists of a single-question paper. The duration of the exam is 3 hours. The question paper is available in 13 languages including English, Hindi, and regional languages.
Particulars
Details
Mode of exam
Offline
Duration of exam
3.20 hours
Total number of questions
200 questions out of which candidates have to attempt 180
Total marks
720 marks
Sections
3 sections – Physics, Chemistry, Biology
Physics
Number of questions
35 + 15 questions
Sectional marks
180 marks
Chemistry
Number of questions
35 + 15 questions
Sectional marks
180 marks
Exchange of Gases
Diseases and Human Health
Biology
Exchange of Gases
100 questions
Sectional marks
360 marks
NEET 2024 Marking scheme

+4 marks for a correct answer
-1 marks for an incorrect answer
0 marks for an unattempted answer
NEET Admit Card 2024
The NTA provides admission cards to individuals who have successfully registered for the NEET-UG 2024 examination. The NTA NEET 2024 admission card is an important document for both applicants and admission authorities throughout the admission process. To obtain the NEET 2024 examination admission card, candidates need to input their registration number, date of birth, and security pin.
Upon entering this information, candidates who have completed the registration process can access and download their NEET 2024 examination admission card. The NEET hall ticket in PDF format contains all the details submitted in the NEET 2024 application form.
The NEET admit cards contain some details that candidates should check before downloading. These are:
Name of the Candidate
Father's name
Date of birth
Gender
Application number
Roll number
QR code
Category of applicant
Sub-category
NEET 2024 exam date and time
Reporting time and time for last entry
Address of aspirant
Language (medium) of question paper
NEET exam centre name and address
Exam centre number
Passport size photograph (uploaded in the application form)
Signature (uploaded during registration)
The IP address and date of downloading of admit card
Space to paste passport size photograph (same as used during registration)
Signature of the candidate (to be done in the exam hall in front of the invigilator)
Signature of parent
NEET-UG senior director signature
Other general instructions to be followed
NEET 2024 Result
The National Testing Agency (NTA) publishes the NEET results on the official website neet.nta.nic.in in the form of scorecards. These scorecards for NEET 2024 provide details about the candidates, including their educational background, marks obtained, All India Rank (AIR), category, and the 15% All India Quota. Furthermore, the scorecard displays the minimum NEET scores required to qualify for candidates belonging to general, SC, ST, and OBC categories. You can find the NEET result information in the table below.
Particulars
Details
NTA NEET official website

neet.nta.nic.in
ntaresults.nic.in
nta.ac.in

NEET 2024 result can be downloaded
Up to 90 days from the date of the NEET result 2024
Validity of result

For the academic session 2024-24
For candidates wishing to pursue medicine abroad, the NEET result will be valid for three years

Admission through NEET 2024 result

15% All India Quota seats
85% State Quota seats
Seats in Deemed Universities
Seats in Central Universities
Management/NRI seats
Central Pool seats
15 AIIMS institutes
2 JIPMER campuses

Courses offered through NEET
MBBS, BDS, BUMS, BAMS, BHMS, BSMS, BNYS, B.V.Sc and AH courses
NEET Cut off
| | | | |
| --- | --- | --- | --- |
| Category | NEET cutoff percentile | NEET cut-off 2024 scores | NEET cut-off 2023 scores |
| Unreserved | 50th percentile | To be announced | 720-137 |
| SC/ST/OBC | 40th percentile | To be announced | 136-107 |
| Unreserved-PH | 45th percentile | To be announced | 136-121 |
| SC/ST/OBC-PH | 40th percentile | To be announced | 120-107 |
NEET 2024 Counselling
The Medical Counselling Committee (MCC) organizes counseling for NEET 2024 based on the scores. This is done for 15% of seats in government colleges under the All India Quota (AIQ), and for 100% of seats in deemed/central universities, ESIC/AFMS, AIIMS, and JIPMER. The remaining 85% of state quota seats are managed by state counseling authorities.
The NEET AIQ 2024 counseling process consists of four rounds: rounds 1, 2, mop-up, and stray vacancies. Seats are assigned based on applicants' choices, their NEET 2024 rank, and seat availability as per reservations. To participate in NEET UG 2024 counseling, applicants need to register, select their preferred courses, and pay the registration fee.
Only those who qualify for the NEET 2024 All India Quota can take part in this counseling. Any vacant seats left after the second round of NEET 2024 counseling under AIQ will be given back to their respective states.
The AIQ for NEET counseling 2024 includes the following:
15% MBBS/BDS Seats of States
100% MBBS/BDS Seats of BHU
100% MBBS Seats of AIIMS across India
All India Quota of JIPMER (Puducherry/ Karaikal)
All India Quota seats of AMU/ DU/ VMMC/ ABVIMS
All India Quota Seats of Faculty of Dentistry (Jamia Millia Islamia)
All India Quota Seats of ESIC
NEET Study Materials
NEET Articles
Articles provide valuable information about the syllabus for Physics, Chemistry, and Biology, which are essential subjects for the NEET exam. These articles cover important topics that you need to study in-depth for the exam. In the Physics article, you will learn about mechanics, thermodynamics, optics, and more. The Chemistry article explains concepts like organic, inorganic, and physical chemistry, along with chemical reactions and compounds. In the Biology article, you will find information about cell biology, genetics, ecology, human anatomy, and physiology. These articles are designed to provide clarity and understanding, utilizing simple language and examples to aid comprehension. They are a vital resource to make your NEET preparation more effective and enjoyable.
NEET Previous Year Question Paper
NEET Previous Year Question Papers play a crucial role in your exam preparation for NEET. They help you understand the exam pattern and become familiar with the types of questions asked. By solving these papers, you can practice and improve your time management skills and gain insight into the difficulty level of the exam. Additionally, analyzing your performance on previous year's question papers can help you identify your weak areas and focus on improving them. Overall, solving NEET previous year question papers is an excellent strategy to enhance your preparation and boost your chances of achieving a good score in the NEET exam.
NEET 2024 Important Formulas
NEET Important Formulas are essential tools for solving problems quickly and accurately. These formulas act as shortcuts to simplify complex equations and problem-solving in Physics, Chemistry, and Biology. By memorizing and understanding these formulas, you can save valuable time during the exam and increase your problem-solving speed. They serve as a reference guide to arrive at the correct answers efficiently, enabling you to tackle challenging questions with confidence. Thus, mastering and applying these important formulas effectively can significantly enhance your performance in the NEET exam.
NEET 2024 Mock Test
The NTA (National Testing Agency) releases mock tests for NEET 2024 on the official website, neet.nta.nic.in. These mock tests are designed to help candidates familiarize themselves with the actual examination pattern. By practicing more mock tests, candidates can gain valuable insight into the NEET exam format and improve their performance. Alongside mock tests, it is also recommended to solve previous year's question papers and sample papers to enhance your overall preparation for the NEET exam.
How to Achieve 650+ Marks in the NEET Exam 2024?
Understand your purpose: Be passionate and dedicated towards your goal of cracking NEET and pursuing medicine in your dream college.
Create a study plan: Design a timetable that includes all subjects and allocate equal time to each. Every chapter is important, so make sure to cover them all.
Familiarize yourself with the exam pattern and marking scheme: The exam consists of 180 questions with a total of 720 marks. Aim to answer at least 163 questions correctly to reach the target score.
Master the NEET syllabus: Make sure to thoroughly understand and revise all topics from the syllabus. Use resources like NCERT books to strengthen your concepts.
Practice regularly: Solve a variety of questions to enhance your problem-solving skills. Practice with sample papers, and previous years' question papers, and take mock tests to assess your preparation.. Utilize learning aids: Create visual aids such as mind maps, diagrams, and mnemonics to help you retain information effectively.
Analyze previous years' question papers: Reviewing past papers can give you insights into recurring patterns, important concepts, and possible topics for the upcoming exam.
Track your performance: Regularly assess your progress, identify areas of improvement, and focus on strengthening your weak points.. Remember, achieving a high score in NEET requires consistent effort, dedication, and effective study strategies. Stay motivated, practice regularly, and seek guidance from teachers or seniors whenever needed.
FAQs on NEET 2024 Exam
Will NEET 2024 be conducted?
Yes, NEET 2024 will be conducted on 5th May 2024
How do I start preparing for NEET 2024?
Start preparing for NEET 2024 by studying the NCERT books, practicing previous years' question papers, and taking mock tests.
Is NEET 2024 conducted by NTA or NMC?
NEET 2024 will be conducted by NTA (National Test Agency).
What will be the syllabus for NEET?
According to the NEET syllabus, it will cover subjects like Biology, Chemistry, and Physics, including various topics and chapters.
Is the NEET 2024 syllabus released?
Certainly, the PDF containing the syllabus for NEET 2024 has been made available, and it's important for aspiring candidates to consult it in order to excel in the exam.
What is the total number of subjects that the NEET exam has?
The NEET test comprises three primary subjects: Biology (which includes both Botany and Zoology), Chemistry, and Physics. According to the NEET 2023 exam format, these subjects are covered by 200 multiple-choice, objective-type questions. It is anticipated that the NEET 2024 exam will also adhere to a comparable structure
Is the required syllabus for NEET 2024 reduced?
The National Testing Agency (NTA) has officially stated that there won't be any changes or cuts in the curriculum for the NEET 2024 exam. The syllabus for NEET 2024 will stay the same as it has been in past years, covering all the required subjects and topics.