Headquartered in Hyderabad, Infinity Learn is India's Largest Result-Oriented Online Learning Platform. It specializes in live interactive classes with India's Top Faculty. Recently, Infinity Learn has unveiled its Doubts Resolution App, which is now available in the Google Play store. This App offers user-friendly content and is a one-stop shop for all study-related needs. It allows the student to ask learning experts and teachers real-time questions and helps them get answers promptly. Users may now download this app for free from the Google Play Store. They can easily gain access to free exam hacks that assist them to complete problems in a shorter amount of time.
With over 250 million school-going students in India and the increasing Smartphone penetration rate, India's Digitalization has had a significant impact on the education sector. Android devices are increasingly being utilized as "learning gadgets" by students from all over the world. Technology is paving a new route for students of all ages to make learning more relevant and enjoyable.
At Infinity Learn, we firmly believe that every student should have access to great faculty and information. Our goal is to personalize learning at a large school for every learner. We've had a huge success in bringing extremely effective, and live interactive classes from India's Top handpicked Faculty. Apart from Live Classes, we've seen that students have other demands, such as doubts, the desire to practice examinations and consult book solutions, among other things. We are committed to catering our services to every student in the country through our Live Interactive classes and Doubt-Resolutions App. We thrive to bring all the students to a one-stop solution that allows them to study and clarify their doubts at the same time.
You can just take a picture of your doubt and upload it on the Doubts App to get the solution. You can also get the solution for any doubt that you type on the app. Our Doubts app is also the repository of more than 1 lakh questions.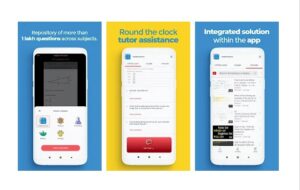 A unique aspect of the app is that when a student posts a problem or a question, the response is instant. Moreover, you can easily get your query resolved at any time by genuine teachers with just Rs.1. Another feature of the app is that users can ask questions by just scanning the question that he/she wants to get an answer to instantly. The best part is that the Doubts App support is available round the clock.
We have gone the extra mile for you. We have introduced the Live Chat feature, wherein students can ask their doubts. Every query of yours is solved at just Rs.1.
Infinity Learn's Doubts App provides immediate one-on-one assistance to make concept learning more individualized and inclusive to one's comprehension. We have got your back. Whether your exams are a month away or a day following, we will clarify all your doubts, and answer all your questions right on the spot, and quicker than ever.
Enhance your learning skills with us!
If you have a doubt, we have the answer to it: Infinity Learn Doubts App