NCERT Exemplar Class 10 With Solutions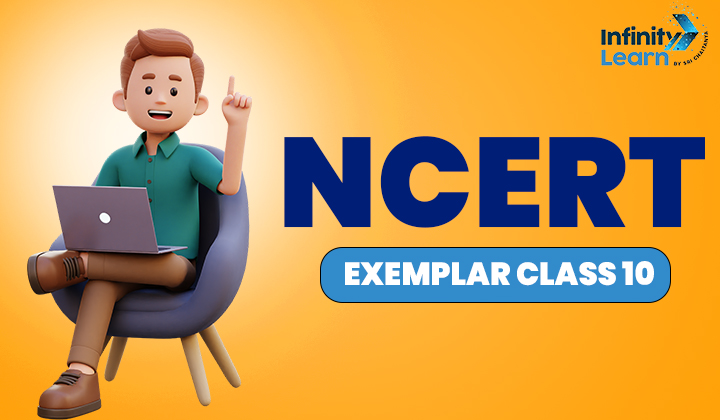 NCERT Exemplar Class 10 are important in molding a kid's future because the grades a student achieves in the board test mostly determine the student's chances. Every student must take the CBSE Class 10 board exams as their first public examination.
This exam is designed to assess the candidate's practical and theoretical knowledge. As a result, it is critical for students to have a thorough comprehension of the principles, and connecting them to real-world applications will aid in their practical knowledge.
Our subject experts created the Class 10 NCERT Exemplar Solutions to provide a one-stop solution for all math, science, and social science questions. Also, NCERT Solutions for Class 10 give a great foundation for students wishing to excel in the CBSE Class 10 Board Exam by helping them understand all of the Maths, Science, and Social Science themes contained in the syllabus.
NCERT Exemplar Solutions are well-explained, with well-illustrated graphs and solved examples, making learning simple and straightforward. It helps students create a strong conceptual foundation, which is crucial in the later phases of competitive exam preparation.
Students can access the NCERT Exemplar Class 10 from the below links:
NCERT Exemplar Class 10 Maths Solutions
All of the exercise questions in the NCERT textbook Class 10 Maths are covered in the NCERT Exemplar Solution for Class 10 Maths. These Math solutions have been developed by our highly qualified subject specialists to assist students in their test preparation.
These answers will assist students in gaining a better understanding of the ideas covered in the Class 10 Maths curriculum. Students can assess their level of preparation and knowledge of ideas by practicing the NCERT Class 10 Maths textbook problems.
Students should complete Class 10 Maths NCERT Exemplar Solutions after completing the syllabus because it has a large number of problems from each unit to practice. Refer to these solutions to clear up any doubts you may have, as well as for extra references and study materials if you get stuck when answering the problems.
All of the Math solutions are written in a very straightforward and transparent manner, keeping in mind the textbook's goal. Students are encouraged to download and practice these solutions on a regular basis in order to achieve a high score on the Board exams. It is critical for students to comprehend all of the processes outlined in the solutions in order to prepare effectively.
NCERT Exemplar Class 10 Science
NCERT Exemplar Class 10 Science aids pupils in comprehending complicated concepts and in preparing for the Class 10 Board examination. Students can examine their performance level as well as determine their strengths and shortcomings using these NCERT Exemplar class 10 Science.
These solutions also assist you in developing a deep understanding of the subject, which is critical for exam success. To do well in science, you must have a thorough comprehension of the concepts and themes.
Because they are written in a straightforward manner, these answers make the learning process simpler and easier for pupils. Our subject experts have developed all of the Class 10 Science solutions in accordance with the CBSE Class 10 Science syllabus.
It aids in the effective and efficient comprehension of concepts in physics, chemistry, and biology. Class 10 Science are incredibly useful for students who are having difficulty solving tough issues, and it is recommended that they practice these solutions on a regular basis in order to do well on the Class 10 Board test. It is regarded as an excellent study resource for effectively preparing for exams.
How NCERT Exemplar Solutions Can Help In Exam Preparation?
NCERT Exemplar Solutions for Class 10 are more than adequate for Board exam preparation, as they are mandated by CBSE as part of the Class 10 Syllabus. These solutions cover all major themes, and each chapter's concepts are taught in such a way that they are simple to comprehend and remember, increasing the likelihood of a high exam score.
These NCERT Exemplar Solutions are the best exam preparation materials available. A few examples of how these solutions to aid exam preparation is shown below.
It allows students to practice a large number of questions from each chapter, allowing them to strengthen their understanding.
NCERT Exemplar Class 10 can help you improve your knowledge and understand topics so you can do well in your exams.
These are the greatest study materials for determining your strengths and weaknesses. It is critical to work on your weak points in order to do well in the exam.
The majority of the questions in the practice problems are asked directly in the same way in tests. As a result, students must carefully review each chapter's solutions in order to have a solid understanding of the material.
Benefits of the NCERT Exemplar Class 10
NCERT Exemplar questions are designed to challenge students and delve deeper into the core concepts of each subject, including Maths. By solving these advanced problems, students gain a more profound understanding of the subject matter.
NCERT Exemplar class 10 often include HOTS questions that require critical thinking and problem-solving abilities. These questions encourage students to think creatively and apply their knowledge in innovative ways.
Practicing with NCERT Exemplar class 10 problems helps students become well-prepared for their board exams. The questions are typically aligned with the board exam pattern and difficulty level, allowing students to build confidence in their exam-taking skills.
Solving complex problems from the Exemplar fosters analytical thinking and enhances problem-solving skills. This skill development is not only beneficial for exams but also for future academic and professional pursuits.
NCERT Exemplar class 10 covers a wide range of topics and difficulty levels within each subject, ensuring that students get exposure to various aspects of the subject. This comprehensive approach helps students become more well-rounded in their understanding of the subject matter.
Importance of NCERT Exemplar Class 10 for Competitive Exams
NCERT Class 10 textbooks are the most generally recommended books for competitive exams such as UPSC, IIT-JEE, and IAS, among others. Students who plan to take competitive exams should start with NCERT Class 10 books before going on to larger reference books, as these will help them lay a solid foundation.
After reading NCERT books, understanding the content of reference books gets easy. A clear understanding of key topics and solid fundamentals play a critical part in passing competitive exams.
NCERT Books are written in clear, easy-to-understand language and have accurate definitions for all ideas, allowing you to expand your knowledge and strengthen your notions.
Class 10 books are beneficial for all competitive exams, and without them, it is difficult to pass any of India's competitive exams. Students must follow the CBSE Syllabus when studying for competitive exams because the question paper will be based on it.
NCERT Exemplar Solutions for Class 10 should be used in conjunction with the textbooks to assist students to clear their problems. Students should have a solid understanding of the entire syllabus when preparing for competitive exams, and they may assist them in solving exercise questions from the NCERT Class 10 textbooks so that they do not make mistakes during the exam.
Helpful Resources
FAQs on NCERT Exemplar Class 10 Solutions
Explain why Infinity Learn NCERT Exemplar Solutions for Class 10 are important.
The following are the benefits of Infinity Learn's NCERT Exemplar Solutions for Class 10: NCERT Exemplar Solutions are based on the CBSE board's mandated syllabus. All of the textbook questions are answered so that pupils don't have any trouble answering them. The solutions are designed by an expert team of members with the goal of offering high-quality study materials for Class 10 pupils.
Why do students require NCERT Exemplar Solutions for Class 10 as a study guide to ace the board exam?
Class 10 is a crucial time in a student's life since the grades they receive determine their future career path. Without the right study materials, getting the best grades on the board examinations can be tough. The teachers at Infinity Learn to create NCERT Exemplar Solutions for Class 10 in a subject-by-subject format for this purpose. Students who are having trouble answering textbook problems can use these solutions to easily ace the board exam.
How can I get free PDFs of NCERT Exemplar Solutions for Class 10 from Infinity Learn?
Class 10 is such an essential milestone, students should choose the best study material that meets their demands. Keeping this in mind, a team of subject matter experts curates solutions that are clear and easy to comprehend. The solutions include step-by-step explanations to assist pupils to understand the ideas regardless of their IQ levels. The PDFs of the solutions can be downloaded by going to Infinity Learn's website and clicking on the link. Students will be able to access both online and offline study materials for a certain subject by inputting the essential information.