Class 10 Footprints without Fee The Making of a Scientist Summary
Introduction to the Chapter:
Richard H. Ebright is a fictional character who grew up in the Pennsylvania town of Reading. Collecting items was his interest because he didn't have anything else to do there. As a kid in kindergarten, he used to collect butterflies. Let's take a look at how a curious boy who collected butterflies grew up to become one of the world's best scientists.
Summary of the Chapter: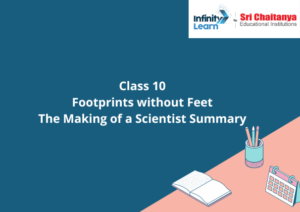 Richard's Early Career Success
The scientific journal 'Proceedings of the National Academy of Science' published Richard and his friend's article. At the time, he was only 22 years old. It was the first time that a college student's research was published. It was a once-in-a-lifetime opportunity for Richard.
Richard has been a collector since he was a child.
Richard was his parents' only child. He grew up in Pennsylvania, where he excelled in reading. He didn't have anyone to play or spend time with. As a result, he began collecting rocks, fossils, and coins. His hobbies were stargazing and butterfly collecting.
Richard's mother is his constant companion.
Richard's mother was always beside him. She supported him by taking him on excursions and purchasing telescopes and other items for him. She chose jobs that would challenge him, and that would teach him a lot.
'The Travels of Monarch X' is read by Richard.
He was inspired after reading 'The Travels of Monarch X,' a children's novel. He became interested in science as a result of his experiences. The readers were instructed to research butterfly migrations in the book. Through this book, Richard met the scientist Dr. Urquhart, who had a significant influence on him.
Richard is a Monarch Butterfly Breeder.
Richard chose to nurture butterflies in his home to learn more about their travel habits. He was able to capture a female monarch and steal her eggs. He'd keep track of the butterfly's development at every step. He'd then set them free. He did it for several years in his basement, where he reared thousands of butterflies.
Richard Participates at the County Science Fair.
Richard entered his frog slides into the county science fair, but he did not win any prizes. To win an award, he realized he needed to do actual experiments. He listened to Dr. Urquhart's advice, and in the years that followed, he received numerous honors at national and international science fairs as a consequence of his numerous experiments.
Richard's Project in Eighth Grade.
Richard investigated the cause of the viral disease that killed thousands of monarch butterflies. He suspected that the virus that causes viral fever could be carried by a beetle. Even though this was not the case, he was awarded a prize for his initiative.
Richard Takes First Place in the County Science Fair.
Richard used Viceroy butterflies as guinea pigs. He attempted to demonstrate that the Viceroys imitate Kings. Viceroys do it to avoid being eaten by birds, who do not devour monarchs. The study was awarded first place in the Zoology division and third place overall in the national science fair.
Richard's Hormone Discoveries.
Richard was intrigued by the rationale for a monarch pupa's 12 gold spots. He and his pals devised a gadget to demonstrate that the spots secreted a hormone required for proper development. He won first prize in the county fair for his project. He also competed in the World Science and Engineering Fair. In this fair, he won first place in zoology.
Richard's Monarch Pupa Research Continues.
Richard developed cells from a monarch butterfly's wings. He also demonstrated that cells only grow in the scales of wings when they are injected with the gold spot hormone. He continued his research in the Army laboratory and the US Department of Agriculture's laboratory. He returned to the Department of Agriculture's laboratory after his freshman year at Harvard to determine the molecular structure of hormones. This offered him a fresh perspective on cell life.
Richard's Cell and DNA Research.
Richard had an idea after doing some research on hormones. He thought his research would reveal how cells read their DNA. He and his undergraduate roommate, James R Wong, worked on the concept together. After that, they published a paper in which they explained their theory.
Richard's Harvard Glory.
In a class of 1510 pupils, Richard received second place. He went on to work as a graduate student researcher. He began experimenting to validate his new notion. His hypothesis could lead to new strategies to prevent cancer and other diseases.
Richard is a multi-talented individual.
Richard was much more than a scientist. He was a versatile in sports. He was an excellent debater as well as a public speaker. He was also a photographer and a lover of the outdoors. His social studies teacher applauded him for his determination to work hard, give it his all, and succeed.
Richard is an actual scientist.
Richard possessed all of the characteristics that distinguish a good scientist. He was curious and had a sharp mind. He aspired to be victorious for the right reasons.
FAQs:
Ques: What characteristics are required to become a scientist?
Answer: A scientist must possess three fundamental characteristics. The first is a brilliant intellect. The presence of curiosity comes next. Last but not least, it is the will to succeed by doing one's best.