'A teacher is someone who teaches the mind to think, the hand to create, and the heart to love.'
The importance of a good teacher in a student's life cannot be emphasized enough. In fact, in Indian culture, it is believed that a teacher or a 'guru' holds a higher position than God himself. Every successful person can trace back their success to the valuable lessons of a great teacher. It is rightly said that a teacher is just like a potter who shapes and moulds the pupil's mind into enlightened vessels of knowledge.
My Favorite Teacher

I am lucky enough to have had one such great teacher in my life. I attended a reputable school in my town. My school was one of the best in town and boasted of an excellent faculty, with every teacher being extremely hard-working and dedicated towards their job. But I'm especially partial to my mathematics teacher, Upadhyay sir. I always had a dislike for maths as a subject because I was unable to grasp its difficult concepts and confusing equations, but in the starting of the session, we were assigned a new maths teacher named Mr. Amrendra Upadhyay. In his very first class, he impressed everyone with his happy manners and efficient teaching techniques. He introduced the subject of mathematics not in the usual bookish way, but rather as a life skill that can be easily practiced and improved on. Ever since then, math has become one of my absolute favourite subjects in school and I look forward to attending the maths period.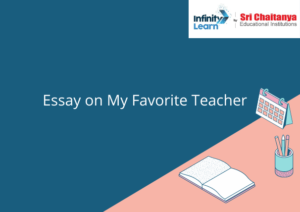 His Teaching

Upadhyay Sir was not just a teacher of the subject but he also believed in teaching us the ways of the world. He set an excellent example for us, students, by having a very well-developed disposition. He was an extremely punctual man and valued time greatly. Upadhyay sir was never late to school. Every morning, he reached the school fifteen minutes before the morning bell and organized his work desk. He was a disciplinarian at heart and that is why he was very well groomed on the school premises. He always abided by the dress code and expected the students to do the same. After every morning assembly, he would personally check all students for any deviation from the uniform code. If he would find anyone who was not properly dressed, he would give them a chance to explain themselves. Although he never resolved to physical punishment, he was quite stern when it came to discipline and rule-breaking behaviour. He wanted to prepare the students for a better future and that is why he gave impetus to the valuable lessons of punctuality, sanitation, and discipline.
His Traits

Upadhyay sir was a very honest and hard-working man. He always had the best of his pupils on his mind and always supported us in all our endeavours. Upadhyay sir constantly motivated us to spend ample time in hobbies and extracurricular activities because he believed in all round development of the students. He did not differentiate between the gifted and the weak students. He never made someone feel inferior because of the marks on their report card.
One time, a close friend of mine named Rahul failed his maths exam and was very disheartened about it. Upadhyay sir was considerate enough to talk to Rahul and his parents and made them understand that even if Rahul lacked a little in academics, he was extremely gifted in sports. Not only this, Upadhyay sir also tutored Rahul after school hours for a month, and Rahul improved exponentially in his academics as well. It was his kind and helpful nature that made him so popular among his students.
While we loved to attend the math class, Upadhyay sir believed that 'all work and no play makes Jack a dull boy'. So every once in a while, he would take us to the school playground during the math period. On some days he would join us for a cricket match, and on others, he would help us in picking trash from the school ground. He was constantly reminding us to be kind towards our planet and opt for eco-friendly products and practices. He also took my entire class to the orphanage once, to distribute essentials with the needy children. He balanced the art of teaching and entertaining the class very easily, given his zesty narration of anecdotes and sense of humor.
Conclusion
I look up to Upadhyay sir as a mentor, a guide, and a father figure. I try to follow his teachings of kindness and patience. It is a very great ambition of mine to be like him when I grow up and I'm very sure that I will carry his valuable lessons with me, long after I leave school. I'm extremely blessed to have had him as my teacher.
Topics for Essay Writing
Essay Topics on Animals
Essay Topics on Relationships

Essay Topics on Famous People and Personalities
Essays on General Topics