My Best Friend Essay: A best friend is someone with whom you have a strong emotional connection. This person is someone you can confide in, someone you can rely on, and someone you can trust. Your best friend is someone you can share your deepest secrets with and know that they will not judge you. This person is someone you can turn to when you need a shoulder to cry on. Your best friend is someone who will always be there for you, no matter what.
To write a great essay about your best friend, you may want to write about why your best friend is important to you, what you enjoy doing together, or a time when you were both there for each other. Here are a few samples to help you write the best essay on your best friend.
500 Words Essay on My Best Friend
Friendship requires a mind, taste, and temperament match. We make friends with the few we have an affinity with, and they carve out a permanent home in our hearts.
Whether it's during your varsity years, school years, or if it's office colleagues or neighborhood buddies, friends are an important aspect of your life. Everyone needs friends with whom they can express their feelings, have a good time and unwind.
I'm blessed to have such a friend I can rely on for anything, whether love or money. Everything I do with him is pleasant, whether discussing my sentiments, happy and terrible times, or even my outfits.
How did I Meet My Best Friend?
Abhijeet and I met when he joined my school in class two. His parents had recently relocated to our city, and he was there for the first time in a new city, a new school, a new class, and new people all around him. Fortunately, my teacher assigned him to sit next to me in class. He was a little shy at first, but we were both at ease with each other by the end of the day. After a day of getting to know one another, we realized we shared many similarities, making it easy for us to bond faster. There has been no turning back since then.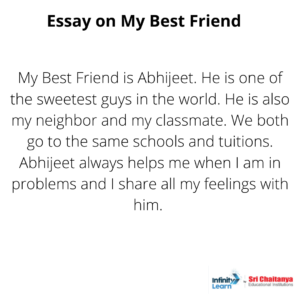 My Bond with My Best Friend
Our friendship grew, and soon we became best friends. Even our teachers realized what was going on. We would assist each other in school and college work and have a healthy competition over who would score better or achieve more. This inadvertently helped us constantly grow and improve upon our skills.

Apart from academics, we both have a common interest in ping-pong. We both joined an academy and went to train in the evenings together. As a result, we formed an honest team and were even selected to play doubles on our college team. We both won many competitions and brought the varsity a lot of honors. This thrilled our parents, as well as our school teachers.

After school, we both pursued different job spheres, which is why we went our different ways for the first time since we met and became friends. While studying to be an engineer, Rishi went to a specific city to study to be a scientist. But, as fate would have it, we both landed in the same city and reconnected after a few years. My friend has been the most important pillar of support for me in my life.

My best friend and I enjoy viewing movies together during special events or outings. Comedies are something we enjoy watching. We try to avoid horror flicks because they don't excite us.

Abhijeet has been a pillar of strength for me in times of need. He kept an eye out for me to handle my concerns, but he also ensured that he was there for my family, almost like a son to them. This only deepened our bond further. He has always encouraged me to face challenges head-on and not to cower in adversity. I'm grateful to have such a person whom I can trust.
How Important is Friendship in Life?
True friendship is the most valuable commodity on the planet. If you find a companion in life, someone to trust and be your true self with, it's possibly the greatest joy. No one else can match a friend's mutual devotion and honesty. In one's life, a friend is a priceless treasure.
A person's friend is the most important and closest person in their life. A friend is someone we share all the most vital aspects of our lives with. Best friends back each other up in everything they do. Your best friend is the only person who will show you the same amount of love and dedication as your parents and lovers.
Why is Abhijeet My Best Friend?
Abhijeet is the first person who comes to mind in any critical emergency. Whenever I'm having difficulty, my friend assists me in getting out of it by offering the most simple solutions. My friend understands and guides me when I make a mistake and congratulates me when I achieve something.
They encourage me to improve as a person. We plan our weekends together and enjoy them to the fullest. My best friend makes me happy and deserves all my love and attention. My acquaintance has served as a support system and a source of strength.
Friendship may be a huge help in anyone's life. Throughout one's life, one comes into contact with various people. We find those who share our viewpoints and comparable tastes and personalities. We grow closer to such people and spend more time with them.
Gradually, some form of bond emerges, which lasts a lifetime in the case of lucky friendships, or exists for some time, during which it is a positive and comforting experience. Friends are more or less family for many people. There will be many things in common between you and your buddies.
One spends the most memorable times in their lives with their closest companions. With modern technology bridging the gap between places very easily, we can call or send messages or even video chat with our closest friends, even thousands of kilometres apart.
As we grow older, our friends become closer to us because we are bound by the memories of the good times in our youth. To maintain friendships, one can travel together and arrange meet-ups every three months. This can ensure that everyone is aware of each other's lives and that one also learns how to balance work and family life with friendships. During such trips, one can talk about their lives, appreciate their fun moments together, reminisce about the good old days, photograph every single moment, and then part ways with the promise of meeting again soon.
Also Read: Essay on My Best Friend for Children and Students
Conclusion
A friend is someone with whom you share a bond and mutual understanding. A person's social character and ability to relate to others might help them make many friends. We become close to people on the same plane as us regarding our like-minded thoughts or opinions. Psychologists advise that people live together to help one another in need. Being social creatures, humans thrive in the company of others, especially those they can trust and be close to. Friends are some of the most important people in our lives, and I am grateful to my best friend for always being there for me.