Digitization and the internet have changed the way we live. Technology has impacted every aspect of our lives. The education sector has seen major disruptions since the launch of online education. Leveraging the power of the internet, many educational institutions allow students to attend lectures and complete a course without having to attend classes in person. During the pandemic, online education thrived, and many schools and colleges opted for it to ensure students don't miss out on time. However, online education has some advantages and disadvantages. In this essay on online education, we will talk about the pros and cons of online education.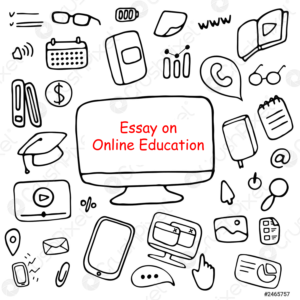 Introducing the essay on online education
In the simplest terms, online education is about learning using the internet. The educational institutions create a portal where students can log in. The teachers access the portal to create class timetables. The portal sends invites to students who attend the class from their homes. Except for the fact that teachers and students are not in the classroom, online classes are conducted the same. This structure offers certain pros and cons, as detailed below.
Advantages of online education
Here are some pros of online classes:
Efficiency
In an online class, the teachers cannot use textbooks. Hence, they rely on technological tools like videos, podcasts, PDFs, etc., as a part of the lesson plan. This helps increase the efficiency of the teachers since they have more tools at their disposal.
Easy access
This is the most important advantage of online education. Since students are not expected to attend the class physically, educational institutions can reach out to more students. Further, recording the lectures is easy. This ensures that students never miss a class.
Cost-efficiency
When an institution offers an online course, it does not have to bear the costs of infrastructure, electricity, transportation of students, etc. Hence, it can offer courses at much lower fees compared to offline courses. This can help a wider range of students to opt for courses that they couldn't do earlier.
Better attendance
The flexibility of attending a class from any location helps improve attendance.
Acceptance across different types of students
Traditionally, the only way to learn was to attend a physical class. While some students enjoy a classroom environment, others struggle to find focus in a large group. In an online class, students can choose to attend the class or see the recorded lecture later. This allows them to study as per their choice.
Disadvantages of online education
Here are some cons of online education:
Excessive screen time
Children are already spending much time glued to their screens due to social media platforms. With online classes running into hours, young children's screen time has increased. According to eye doctors, this can be detrimental to their vision in the long run.
Technology-related problems
Online education is highly dependent on the availability of the internet. In India, the reliability of the internet connection is still an issue in smaller towns and villages. This can impact the learning process of the student.
Isolation
Children learn a lot of things by socializing with their peers. However, in an online class, this interaction is non-existent. This is especially true if children are from various geographical locations. Over time, this can cause a sense of isolation.
Training the teachers
Most teachers are accustomed to offline classes. Hence, schools and educational institutions need to invest in training teachers on technology and providing them with the tools needed to hold an online classes.
Future of Online Education in India
While online classes were common internationally, their acceptance in India grew during the lockdown. However, there are some challenges that need to be addressed to incorporate online education successfully in India:
People in rural India need access to computers and training to use them.
Computers and laptops are costly. The government must ensure that people from economically backward classes get them at affordable prices.
Practical and laboratory teaching is not possible online. Educators will have to devise an alternative for them.
An efficient way to conduct an online examination where the students are at home.
The Ministry of Human Resource Development (MHRD) has taken various initiatives to oversee and manage digital learning in India. The Ministry is planning to create a dedicated unit for the same. This unit will have experts from diverse fields like IT, education, e-governance, digital pedagogy, etc. This unit will ensure a seamless transition to online education in India.
Summing up the essay on online education
This essay on online education highlights the pros and cons and the future of online education in India. The internet has revolutionized the way we live our lives. Online education is an important milestone in the future of education. Hence, with the right approach and planning, we can ensure that online education benefits children across the length and breadth of the country.
FAQs
What is the best online education?
The best online education is the course of your preference, where the platform and teachers are designed for optimum efficiency. Also, before signing up for the course, make sure that you check reviews and assess if it covers all your requirements.
What is online education?
Online education is a course delivered using the internet. The teacher and students are located at different locations and use a platform to connect. The teacher uses digital tools to deliver the lecture and ensure the students understand the concepts. Exams are also conducted online.
How effective is online education?
In many ways, online education is more effective than its offline counterpart. With access to lectures anytime and from anywhere, students can enroll in courses based on their preferences. They can record the lectures and go through them again to revise concepts and clear doubts.
What is the purpose of online education?
Online education helps ensure that students unable to attend a class in-person can attend it from their homes. This helps increase the reach of education and opens avenues to people living in remote areas.