LIC Scholarship 2023: LIC Golden Jubilee Scholarship 2023 application form accepts candidates from the Economic Weaker Community Section for their Scholarship Forms. Under the LIC Scholarship Life Insurance Company, selected applicants will receive Rs. 10000 per annum.
LIC Golden Jubilee Scholarship 2023 Application Form is available from the LIC official website. LIC Golden Jubilee Scholarship is awarded to Students of the Poor Family who want to go to higher studies after passing the Intermediate. The application deadline is December. The Last Date to apply for LIC HFL Vidyadhan Scholarship is December. We will discuss LIC Scholarship Eligibility, LIC Scholarship Registration Process, User Manual and Important Dates, LIC Scholarship Diploma, in this article.
Golden Jubilee scholarship is awarded to a student in a government or private college/university for studies in India. Eligible applicants can belong to any of the fields such as Engineering, Administration, Technology, Arts, etc. Students who have achieved an intermediate mark which is 60 percent or more can qualify for a scholarship scheme.
You can also find more Scholarship Articles for 12th passed, 10th passed Students and many more
Life Insurance Company aims to provide the student's poor family with better educational opportunities and each year LIC Company invites LIC Golden Jubilee Scheme Application Form to complete this goal. Students will be selected based on the Merit List. LIC Scholarship 2023 Apply Online the last date is December.
LIC Scholarship 2023 Details
| | |
| --- | --- |
| Scheme Name | Golden Jubilee Scholarship 2023 |
| Launched By | Life Insurance Company |
| LIC Scholarship Start Date | Available |
| LIC India golden jubilee Scholarship online apply the Last Date | December |
| Mode of application | Online |
| Department | LIC India |
| Beneficiary | EWS Category Students |
| Objective | To Provide Financial Assistance |
| LIC Scholarship Official website | https://www.licindia.in/ |

LIC Scholarship 2023 Eligibility Criteria
Students with at least 60 percent marks or similar rank who have passed Class XII exams or their counterparts in this academic year are eligible to LIC scholarships 2023 apply online for this program.
Graduate/Diploma/ITI/Professional Course candidates should be registered.
More than one family member will not be awarded a scholarship.
Candidates need to secure more than 55 percent marks in professional streams and 50 percent marks in Arts/Commerce/Science graduation courses that fail to discontinue the Fellowship scheme.
Parent/school parent annual income from all sources should not be more than Rs. 1,00,000/-.
LIC Scholarship 2023 Documents Required
Below is a list of important documents that candidates will be scanning and uploading during the application process. Any lack of information or even the slightest error could result in the cancellation of their candidature.
Passport-sized photograph
Signature
Birth Certificate
Caste Certificate
Family Income Certificate
Address Proof
Previous Exam Marksheet
How To Apply for LIC Scholarship 2023?
Students can fill the LIC scholarship application form 2023 by the following steps:
Students should, first of all, visit the official website @www.licindia.in golden jubilee scholarship to LIC Scholarship apply online last date for the 2023 LIC Scholarship Form.
Go to the bottom of the home page and hit on the LIC scholarship 2021 links called "Golden Jubilee Foundation."

This will take you to the "Golden Jubilee Scholarship Scheme" link on the right side of the page where you need to click.
A full confirmation of the LIC golden jubilee scholarship scheme should show on your computer.
Choose the link 'LIC golden jubilee scholarship 2023 apply online' if you are eligible.
Complete the LIC golden jubilee Scholarship Online Application Form 2023 with correct information such as personal details, educational qualifications, bank account details, etc.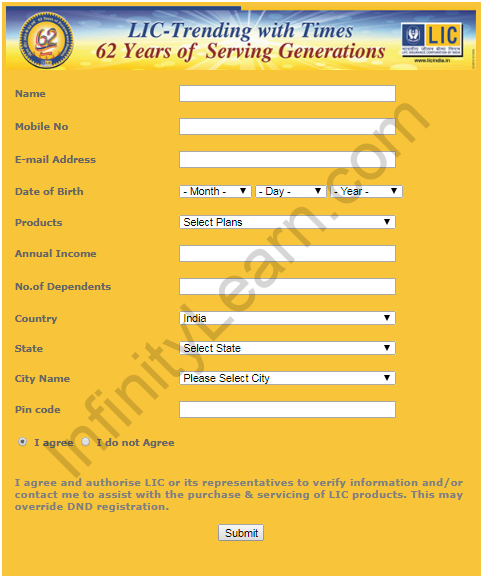 If an applicant was identified by fraudulent statements/certificates to have received a fellowship, his/her fellowship will be revoked.
Press the submit tab and take the application form's hard copy for use in the future.
LIC Scholarship 2023 Amount Details
Selected candidates for the LIC Golden Jubilee Scholarship 2023 would earn a total of approximately 10,000 per year, payable in 10 monthly installments of approximately 1000 per year. This balance will be transferred directly from the National Electronic Funds Transfer (NEFT) to the bank account of the scholar. The shortlisted candidates must, therefore, provide details of their bank account and IFSC code.
Important Instructions for LIC Student Scholarship
The shortlisted students will receive a scholarship for the entire duration of the course by fulfilling the necessary conditions of eligibility for renewal. There is a set of significant terms and conditions that applicants will keep in mind when applying for LIC Golden Jubilee Scholarship:
Candidates will be chosen purely on the basis of merit (percentage of marks in class 10th and 12th and family background). Preference is granted in ascending order of income to students with the lowest annual family income.
In the final review of the program, students must achieve better than 50 percentage points throughout graduate courses in Science/Commerce/Arts and 55 percent in academic disciplines or corresponding rank to retain the scholarship for the next year.
In a household, only one nominee can earn a scholarship.
To continue the scholarship, the candidate should attend the classes regularly.
If an applicant breaks certain terms and conditions, the grant may be revoked or cancelled.
The scholarship will be cancelled immediately and, at the discretion of the LIC Divisional Administration concerned. The balance of the scholarship paid will be restored from the applicant is found to have earned the scholarship by false statements/certificates.
The LIC Golden Jubilee Foundation (LICGJF) will take the initiative in developing a comprehensive system for the collection and sanctioning of the LIC scholarship for students who have been shortlisted.
LICGJF will conduct the evaluation of the scheme at regular intervals.
At the discretion of the LIC Golden Jubilee Foundation Board of Trustees, the regulations can be changed at any time.
FAQs on LIC Scholarship 2023
What scholarship amount is offered to the students under the LIC Scholarship?
Under the LIC Scholarship Life Insurance Company, selected applicants will receive Rs 10000 per annum.
When and where will the scholarship by LIC make available to the students?
Application Form pdf for LIC Golden Jubilee Scholarship 2020 is available from the official website@licindia.in.
What is the last date for LIC scholarship 2023?
The last date to apply for the LIC HFL Vidyadhan Scholarship is in December 2023. so it's best to check the official LIC website or contact them directly for the most accurate information.
Who is eligible for LIC Vidyadhan scholarship 2023?
Students who are studying in a government or private college and have a good academic record may be eligible for LIC Vidyadhan scholarship. Family income is also considered, and it's meant to help those who might need financial support for their education
What is the LIC 25000 scholarship scheme?
The LIC 25000 scholarship scheme probably refers to a scholarship program where selected students receive financial aid, possibly up to Rs. 25,000. This support is given to help students continue their studies without facing financial difficulties.
How can I check my LIC scholarship status 2023?
To check your LIC scholarship status in 2023, visit the official LIC scholarship website or contact the LIC scholarship authorities. They will guide you on how to find out if your scholarship application has been approved and the current status of your scholarship.