"Failure will never overtake me if my determination to succeed is strong enough".
These inspiring words are reminiscent of the great man Avul Pakir Jainulabdeen Abdul Kalam. Considered to be one of the greatest minds of all time and fondly remembered as the 'People's President,' he embodied strength, skill, and kindness. APJ Abdul Kalam contributed significantly to the field of science as an aerospace engineer and served the people of India as the President. He was also well known for his philanthropy and fondness towards children and the youth. APJ Abdul Kalam will forever remain among one of the genuinely revolutionary free thinkers who set India on a path of modernization and glory.
Birth and Beginnings:

Born on 15th October 1931 in the coastal town of Rameshwaram, Tamilnadu, APJ Abdul Kalam had a very normal childhood. His father, Jainulabdeen, was a boatman and his mother, Ashiamma, looked after her five sons and one daughter. Although money was a scarce commodity in the household, APJ Abdul Kalam's parents ensured that their children received a proper education. Kalam's father had a lasting impact on his young mind and taught him the value of hard work and discipline. His mother also instilled values like honesty and dedication in all her children. Abdul Kalam started supporting his family at a very young age. He was only ten when he began working as a paperboy for his elder cousin and paying his tuition fees. These experiences shaped APJ Abdul Kalam to be the great man that he was.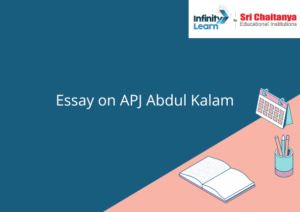 APJ Abdul Kalam did not let his humble beginnings come his way. In one of his books, he says that he did not have the brightest mind, but he made up for it with his hard work and dedication. Kalam's teachers ignited his passion for knowledge, and after finishing school, he got admitted to the prestigious Madras Institute of Technology. He graduated to become an aerospace engineer and joined the DRDO. During his term at the DRDO, he designed several helicopters and fighting jets for the army. His work was so impressive that he got promoted to work in ISRO, under his idol and mentor, Vikram Sarabhai.
Term at ISRO
At ISRO, APJ Abdul Kalam worked relentlessly towards designing ballistic missile technology and launch vehicle systems. APJ Abdul Kalam is credited for developing the mighty 'Agni' and 'Prithvi' missiles that strengthened India's military powers. It was also the leadership and guidance of Abdul Kalam that made the 1998 Pokhran-II nuclear testing a success. Had it not been for the likes of him, India would never be at par in terms of nuclear weapons and ammunitions with the power blocs. Because of these achievements, APJ Abdul Kalam is considered one of the most outstanding scientists of this century.
People's President
APJ Abdul Kalam was also elected as the President of India from the year 2002 to 2007. He was so popular and liked by the people in the Parliament that he was unanimously elected for the position, with both the opposition and ruling party in his favour. During his tenure as the President, he brought about several reforms and policies that helped bring down corruption and create new opportunities for India's citizens. He also promoted the idea of religious tolerance and peaceful coexistence among the different communities of the nation. He was so popular among the masses that he was fondly called 'the people's President.

Interaction with Indian Youth
APJ Abdul Kalam had a soft corner for the younger generation. He always tried to interact with the youth and motivated them to think out of the box. He firmly believed that it was the younger generation that would lead India to its glorious destiny. APJ Abdul Kalam always emphasized the importance of practical skills over bookish knowledge, and that is why he said the words, "The brightest brains of the country are found in the back seats of the classrooms."
Mr.Kalam's Traits

APJ Abdul Kalam led a life of simplicity. In fact, he never owned a television or radio. His belongings consisted of his books, a laptop, three pairs of clothes, and a 'veena' that he was immensely fond of. His life was an example of 'simple living and high thinking.' After retiring from the post of President, he continued his work of philanthropy and education. He also published a number of autobiographical accounts that won laurels from far and wide. His books like Wings of Fire, Ignited Minds, India 2020 have been translated into more than 13 languages. His work and contribution to science was so acclaimed that he got honorary degrees from 48 universities.
Conclusion :
APJ Abdul Kalam was awarded the Padma Bhushan in 1981 and Padma Vibhushan in 1990. In 1997, he was also decorated with the highest civilian award of the nation, the Bharat Ratna. His life was cut short on 27th July 2015, when APJ Abdul Kalam died of a heart attack while addressing a bunch of students in IIM, Shillong. Even his last breaths were devoted to serving the people and igniting the young minds. Although India lost a great son, APJ Abdul Kalam's service and vision continue to motivate people to strive forward and work for their families and country.
TOPICS for Essay Writing
Essay Topics on Animals
Essay Topics on Relationships
Essay Topics on Famous People and Personalities
Essays on General Topics