Long and Short Digital India Essay
Ever since the concept of digital India came into the picture, it has become the favorite essay topic of our teachers. In schools, colleges, and debate competitions, it is often asked how successful it has been so far. So here we have both long and short Digital India essays, all in one place for you.
Digital India Essay in 100 Words
Digital India Essay: What Do We Understand by Digital India?
Launched by the Government, Digital India is a campaign inaugurated on July 1, 2015, by the head of the government, Prime Minister Narendra Modi. The main objective, as the name suggests, was to digitize India. In other words, it was initiated to avail government services digitally to the common man through electronic media. This campaign was aimed to improve the accessibility of government services to the citizens of India from the comfort of their homes.
Furthermore, it also focussed a lot on making internet services available and developing infrastructure for the same. Many things have changed and become more accessible with mobile marketing as per the government's expectations.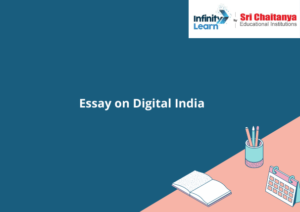 Digital India Essay in 200 Words
A revolutionary campaign named "Digital India" was launched by the government of India on July 1, 2015. It encouraged the use of technology and the internet in India. The aim was to disseminate government services through electronic platforms and make them available to people in an easier way. The other objective was to develop suitable digital access and transmission infrastructure. It came down as a responsibility of the government to promote digital literacy in India so that everyone could avail of these services.
The Inauguration of Digital India: The inauguration was done by the honorable Prime Minister, Narendra Modi in the presence of RIL chairman and managing director Mukesh Ambani, Wipro chairman Azim Premji, Tata Group chairman Cyrus Mistry, and many other top industrialists of India at the Indira Gandhi Indoor Stadium, New Delhi. This campaign was strategically aimed at 600 districts of remote reach. The forerunner, Bharat Broadband Network Limited (BBNL), runs this project, and above one lakh crore was invested initially in this campaign.
The objective of Digital India
Make government services digitally available

Easy access to Common Service Centre (CSC)

Provide high-speed internet in remote areas

Make India digitally enabled

Promote digital transactions
Digital India Essay in 400 Words
The digital India campaign was launched by the Indian government on July 1, 2015, to boost the use of technology in India. The main aim behind this campaign was to make the accessibility of services (especially government services) readily available to all. The government took some significant steps by improving the nation's online infrastructure. This helped improve internet connectivity even in remote areas where networking was impossible before.
Under the surface, this campaign of Digital India aimed to foster technological literacy among the citizens of India. Technology and knowledge of computers and the internet are becoming quite important. The practical usage of these innovations can save hours of traveling to government offices and can now be done sitting at home.
Majorly the Digital India Campaign had 3 dimensions:
Digital Services: The first and the foremost aim was to deliver services digitally. Earlier, the process was relatively slow. You wait for hours in a line to get your turn, and sometimes you'd only get your work done by repeatedly visiting offices for several days. Now, all that work can be easily done from home. Many governmental services and transactions are covered under Digital India and are supported by OTPs for privacy and security.
Digital Infrastructure: One of the objectives of Digital India was to provide high-speed internet in village areas as well. How can this be achieved? This campaign's aims are so diverse that it immediately required the installation of strong digital infrastructure all around the country. With digital networking stations, the internet will become easily accessible by all.
Digital Literacy: Here comes the responsibility of the citizens. In order to use these facilities and make contributions towards the success of this mission, the people need to be digitally literate. How will someone who doesn't know how to use a phone or the internet avail digital services? Hence, the digital India program aims to make people aware of digital literacy and encourages them to opt for digital means for bill payments, transactions, etc.
With these three objectives, the government managed to keep itself upfront with all challenges. Other than this, the government targeted nine 'Pillars of Digital India' that are distinguished as follows.
Broadband Highways

Universal Access to Mobile Connectivity

Public Interest Access Programme

E-Governance

E-Kranti

Global Information

Electronics Manufacturing

Training in Information Technology for Jobs

Early Harvest Programmes