A Cricket Match Essay
Cricket is everyone's favorite game and is played with a ball and a bat. It is immensely enjoyed by people all over the globe. Both the parties, the one who plays the game and the spectators, appreciate it very much. The game's popularity increases in countries that have national teams like India, Australia, West Indies, etc. All the players of the teams, irrespective of which nation they belong to, are highly admired by fans all over the world. Professional cricket players have a huge responsibility as they are adored and idolized by many fans and ordinary people who have high hopes for them.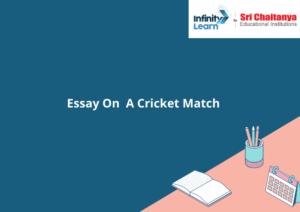 There is a different world of cricket fans where they talk, breathe and eat cricket stuff. It is no joke. People who love cricket constantly talk about the best moments of matches, favorite players, commentary, and whatnot. An essay on a cricket match is very likely to come in your exam because it is a very common topic. Here we have a cricket match essay for you.
A Cricket Match Essay: Game of Cricket
Cricket is an outdoor game. The match of cricket is played between two teams. Each team consists of eleven players. Though you can play cricket in any open space, a playground, or open field, it is professionally played on a big field with a 20-meter pitch at its center and wickets at both ends. Each wicket consists of 3 stumps.
Looking at history, the traces of this game can be found in 16th century southeast England. There were several changes happening during this time. By the 18th century, cricket became England's national sport which completely revolutionized the level and importance of this game all around the world. By the 19th and 20th centuries, this game became a household name in many countries. In 1844, the first international cricket match was played between the USA and Canada.
A Cricket Match Essay: Different Formats of the Match
There are many ways to decide different formats of this game. One of the easiest and preferable formats is deciding the number of balls each team will get to play on. Depending on that, we have test matches, ODI Cricket Match, and T20s.
The Test Match is the longest type of cricket match played between teams. It lasts for around five days. The teams play two innings and one single match. It tests the persistence and endurance of the teams, and is the most standardized form of cricket.
In ODI or One Day International Cricket, the number of overs played by each team is decided. Each team gets to play 50 overs. The World Cup is played as an ODI match between two teams. Sachin Tendulkar scored 18426 runs in his ODI career including 49 centuries and 96 half-centuries. He scored these runs at an average of 44.83 and a strike rate of 86.23.
Like the name suggests, Twenty 20 Cricket (T20) is a shorter length of a cricket match as compared to a Test match and T20. Each team plays the limited 20 overs. This format was first proposed by the ECB (England and Wales Cricket Board) in 2003, and since then, it has been there, enjoyed by everyone. Rohit Sharma, popularly known as the Hit Man, holds the record of the most centuries in T20 International Cricket.
A Cricket Match Essay: What's the Popularity Behind Cricket?
The love for this game initially came from my father. He would come back from his office and switch on the TV to see the game. The madness and admiration in me for cricket comes from him. As a child, he listened to the commentary on the Radio despite his father's disapproval. He was very fond of the game, and he still is. I enjoy watching and anticipating matches with him. He is my best partner to play and watch cricket with.
We both loved Dhoni, and that was the peak of fascination for this game. Under the captaincy of Dhoni, India won many trophies. I went with my family to watch the 2011 World Cup in which India won. It was a wholesome experience for us. We never imagined watching cricket would be this difficult and hitting on off-screen. I cherish that day and can't wait to see this game live again with my family.