What's the Big Fuss About Living in a City?
Think of the word "city," and what comes first to mind is an immovable force that can readily engulf any change and give out glitters in return. It is true that the city gives many opportunities to its residents, be it professional or personal. It makes you feel free and evolved each time. Each day spent in a city is a lesson learned. Undoubtedly, city life gives high hopes and makes you dream big, but it also breaks many hearts. But then the beauty of cities is that they offer a perfect blend of black and white, good and bad, happy and sad.
So many people barge out of their hometowns to live in the city and find work. People see cities and towns gleaming with work opportunities. Leaving their family and friends, they go with big dreams in their eyes to the place they know nothing about. That's how much hope gets invested in cities.
But then this old saying holds for life in the city: "All that glitters is not gold." While there is a gleamy side of cities, there is a rotten side too. When thousands of people with high expectations come to city life, many of them (rather most) face rejection and failure. Many people will only look for a single chance to backstab you at every moment. It is said that only smart people can make a living in cities.
You need to be conscious at every step. Scroll down below and read the following essay topics on cities and towns.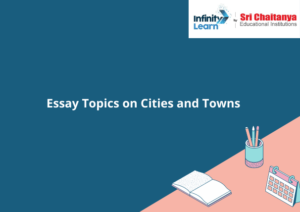 15 Essay Topics on Cities and Towns To Understand Life in Cities Better.
Here, we have come up with a list of 15 essay topics on cities and towns to help you understand life in cities better. City life is exceptionally wonderful and is not as tough a road as it is made out to be. Read these essay topics on cities and towns, one by one, and you would want to leave with a backpack for a city.
My Favorite City

Major Cities of India

Perks of Living in Cities and Towns

Life in Delhi

Life in Big Cities and Towns

How is Life Different in Big Cities in Comparison to Small Cities?

Problems of City Life

Meeting New People in New City

Technological Advancement in Cities and Towns

Professional Growth and Employment Opportunities in Cities and Towns

Traffic and Transportation in Cities and Towns

Pollution: Growing Problem of Cities and Towns

Overcrowding in Cities and Towns

Medical Facilities in Cities and Towns

The Feeling of Isolation in Cities and Towns
City life might seem fast-paced and constantly moving, but you will get to see many people displaying such immense diversity that your heart will fill with joy, and you'd not want to leave it for any other place.