Introduction
Festivals are grand celebrations of a variety of events. They allow you to celebrate both the small and major achievements in life. Festivals serve as messengers of peace and joy in societies. Without festivals, the world would become a mundane jungle in which we would live a repetitive life. Festivals in India are substantially greater than any other event. People look forward to them all year because they are the best part of the year. The festivals in India are as diverse as the country itself. They are classified into three broad categories: national, religious, and seasonal.
Indians place a high value on the country's national festivals. Our country's three national holidays are Gandhi Jayanti, Independence Day, and Republic Day. Gandhi Jayanti marks the birth anniversary of Mahatma Gandhi, the father of our nation; Independence Day celebrates the day India received freedom from the British colonial powers; and Republic Day celebrates the day the Indian Constitution was implemented. These events represent unity and progress. They serve as a reminder for our heroic leaders who selflessly served the country. National holidays are observed with fervour and enthusiasm. During these festivities, the entire nation is imbued with a sense of patriotism.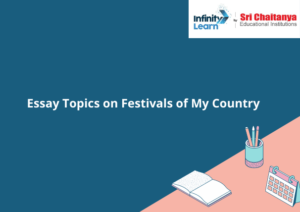 Dussehra, Diwali, Eid-Ul-Fitr, Christmas, Guru Nanak Jayanti, Holi, as well as other festivals are among the many religious festivals celebrated in India. The Hindu festivals of Diwali and Holi are the most well-known. They are colourful and full of lights. The places that celebrate these festivities are lavishly decked. The main attractions for children are new colourful outfits and delectable foods. During this time of year, people of various ages and socioeconomic backgrounds gather in one spot to worship the gods and goddesses. Besides that, the Islamic festival of Eid-Ul-Fitr commemorates the conclusion of Ramadan. It's all about exquisite cuisine and family get-togethers. Christmas commemorates Jesus Christ's birth, but it is also about Christmas trees and Santa Claus. Guru Nanak Jayanti commemorates Guru Nanak Dev's birthday.
Seasonal festivities typically centre on agriculture or other seasonal events. Seasonal examples include Onam in Kerala, Pongal in Tamil Nadu, Bihu in Assam, and others. India is an agricultural country, therefore these celebrations have a profound historical significance. These festivities typically commemorate the arrival of new harvests. Farmers pray to the Gods and Goddesses of agriculture and harvest, praying for a bountiful crop the coming year. The wonderful thing is that, amidst cultural variations, harvest celebrations are observed at the same time of year.
These festivities help to unite India. It exemplifies the beauty of diverse togetherness in a way which no other country can. Festivals serve as social glues, binding different factions together in spite of social distinctions and strengthening India. This is our country's inheritance, which we have passed down from generation to generation for centuries. Festivities enable us to embrace our culture and religion, and are intended to bring joy and rejuvenation. All disagreements and hatred for others is forgotten and everyone comes together to celebrate the day with a sense of love and togetherness.
Essay topics on Festivals of my country:
Holi – the festival of colours

Diwali – the festival of lights

Importance of Seasonal festivals of india

Republic Day parade

The many festivals of India – unity in diversity