Introduction

Global warming is an extremely significant issue. It is almost universally acknowledged by 97 percent of the scientific community as something that will majorly shape the future of the planet.
General Information about Global Warming:
The increase in the average temperature of the earth's atmosphere is known as global warming. It is caused by an increase in the amount of carbon dioxide in the atmosphere, which leads to a rise in temperature. Because of man's extensive deforestation operations, global warming has been hastened. Carbon dioxide is used by plants to produce their food, and oxygen is released as a by-product. As a result, planting more trees can help to lower carbon dioxide levels in the atmosphere, hence reducing global warming.
The burning of fossil fuels for energy is the primary cause of global warming. The average global temperature has risen by almost 1 degree Celsius in the last decade, according to reports. This is a cause for concern because it has the potential to harm ecosystems and cause an environmental disturbance. If we take tangible actions to restore the destroyed vegetation in our forests, we can slow down global warming. To combat global warming, we can also use renewable energy sources such as wind, solar, and tidal energy.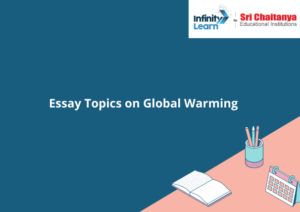 Natural disasters such as storms, floods, and avalanches have struck many places of the globe. Global warming is to blame for all of these occurrences. We must restore our ecosystem to protect our environment from the adverse consequences of global warming. Man has been plundering natural resources without providing anything in return to the environment. This must come to an end. We must all work together to make the globe a better place for future generations who are just as deserving of our planet as we are. Planting trees is the most basic step we can do to improve our planet's overall health. Our first focus should be reforestation. If we vow to plant as many trees as we can in our lifetime, the world will be a better place.
Make a list of essential topics depending on your study and views:
Accessing internet resources is simple once you have a title. Select academic resources with caution, such as academic articles, books, and governmental reports.
Avoid depending on news stories since the information contained in them may be slanted. As you study, jot down the essential points about your issue, as well as any comments or answers you have. Always remember to cite your sources.
You can find essay topics on global warming below.
Topics for Global Warming :
Global Warming and Energy Challenges

Climate Change and the History of the Earth

Constraints, Potential, and Politics of Alternative Energy

The Politics of Climate Change

The Rise of Pseudoscience in the Role of Manufacturing Consent on Global Warming

Humanity's Environmental Footprints on Fossil Fuels

Global Warming and the Polar Ice Caps

Global Warming Rates as Estimated

The Unbalancing of Nature as a Consequence of Global Warming

Nuclear Power and Climate Change

Climate Change Over the Last Decades

Climate Change and Animal Habits

Controversy and Reality on Global Warming

The Illusion of the Twenty-First Century: Global Warming

Human Health and Global Warming

Climate Change and the World Health Organization

Weather Extremes and Global Warming

Global Climate and the Industrialisation

Global Warming and the Department Of Health

Agricultural Output and Climate Change

Common Habit Changes That Anyone Can Make to Help Reduce Global Warming