Introduction
In strict dictionary terms, to travel is to go from one place to another, typically over a distance of some length. However, for many people, to travel is so much beyond that. Like Hans Christian Anderson, "To travel is to live".
There are numerous reasons to travel. Some people travel for pleasure, whereas others travel for educational objectives. Others, meanwhile, travel for business reasons. Those that go on educational trips receive a hands-on experience with everything they've studied in the material. People who travel for leisure, on the other hand, get to explore and partake in refreshing activities, which may serve as a way to unwind in their lives. The culture, architecture, food, and other aspects of the place can broaden our horizons.
Real life experiences are always more valuable. There is a Chinese proverb which says, "Traveling thousands of miles is better than reading thousands of books." Traveling to a city in a different country helps us to discover a foreign culture, language, lifestyle, and population. It is sometimes the best instructor for learning about the world.
While travelling, you will have the opportunity to meet people from various backgrounds. While spending time with the locals, you may also learn about and enjoy their unique culture. Meanwhile, you will get the opportunity to visit relics, famous sites, and even small areas. Traveling allows you to discover more about the local traditions, their languages, and build friendships with them. You will also be able to participate in local festivals and eat local foods. Here is another Chinese proverb which goes, "No matter how I describe the sweet taste the apple is, you will never know the actual taste unless you try."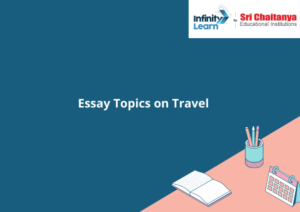 Travelling to different places and meeting different people provides an outward perspective on life. It lets you see how vast and beautiful the world is, and makes you realise how we tend to get caught up in trivial problems and sorrows when there is such divine beauty existing in nature. It is the most efficient approach to change a dull routine and experience the world in novel ways. Furthermore, it is an effective treatment for stress, tension and anxiety.
India offers countless places for travelling, notable for architecture, climate, landscape, wildlife, heritage, culture, music, dance, and spirituality, ranging from the Kashmir valley to Kanyakumari, from the Rann of Kutch to the pristine Arunachal Pradesh in the east. Then there are places of learning that one might like to visit. An educational journey opens your thoughts to India's different civilizations. Visiting various places of our country give way to a sense of unity in diversity and communal harmony.
We have listed a few essay topics related to travel for you:
Why do we travel?

Impact of travel on life and personality

Travelling: a road to self-discovery

Why everyone should travel alone once in their lifetime

My trip to the Taj Mahal

My First Time in a Foreign Country