Introduction
I have visited several places. Traveling is both enjoyable and fascinating to me. Traveling is the term used to describe going from one location to another for various reasons. People do not usually travel for the same reasons. Some travel to gain information and experience, others travel for pleasure, while a lot of people travel for business, and so on. It offers a lot of educational value. Without travel, our education and knowledge would remain inadequate. Traveling teaches us many things, ranging from business and commerce, language, society, and customs to culture, history, and geography, among other things. Aside from that, travel relieves boredom and provides joy.
I've visited a lot of historical and tourist attractions. But it is my trip to Kashmir that has made the most mark on me. It was the most stunning location I have ever seen. It accurately warrants the title of 'heaven on Earth'. I was astounded to behold Kashmir's stunning beauty. Kashmir is one of the most beautiful destinations on the planet, with snow-capped mountains, towering Chinar trees, and beautiful green plains and valleys. It has been a popular destination for travellers from all across the country and from around the world.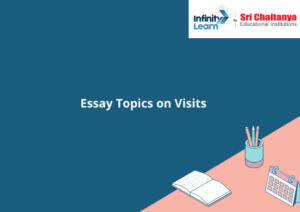 Additionally, there are numerous historical sites to visit and learn about. There are several reasons to visit a historical site. I was interested in learning about Indian culture and history. Our rich culture is admirable and I have always wanted to learn more about it. A few weeks back, I had the opportunity to see the Taj Mahal. Visiting the breathtaking marvel felt like a dream to me. It is one of the world's most stunning architectural monuments. It is an awe-inspiring feat for civilised architecture to construct such a monument. Mughal Emperor Shah Jahan constructed it on the graveyard of his beloved wife Mumtaz Mahal. He did this to show his affection for his wife. As a result, Taj is regarded as one of the most significant symbols of love.
However, my favourite place to visit is my grandmother's house. My parents and I visit my grandmother every summer vacation. We went to stay with her for a week this time. Her house is lovely, and it sits in the heart of a tiny town. When we went to see her this time, I noticed her lovely garden full with beautiful flowers. She was overjoyed to see us. We stayed with her for a week, and she prepared a unique dish for us every day. She also made my favourite chocolate cake. Additionally, one day, we all went to the lake for a picnic. I slept in my grandmother's room at night, and she would tell me wonderful stories. She not only showed me images of my father when he was younger, but she also told me many amusing stories about my father and his buddies.
Given below are other topics related to visits:
Travelling – An Essential Experience

Visit to a Historical Place

Visiting my Grandparents

My Summer Vacation

Travel Builds Character

A Day at the Museum

School Picnic