Raksha Bandhan is a festival that celebrates the bond between a brother and sister, who may be blood-related or not. On this promising occasion, the sisters tie a sacred thread i.e. rakhi, on their brother's wrist. This ritual is done to wish for great well-being and long life for their brothers. It is one of the most valued festivals in the Hindu religion. Besides, they wait eagerly for it the whole year and celebrate it with great zeal in India.
History
According to Indian heritage, the thread (rakhi) was not only tied around the wrists of brothers by their sisters, but also by priests, who tied this guarding thread to the wrists of their kings for their prosperity and good health. As per Hindu mythology, Lord Indra's wife Sachi tied a bracelet on his wrist to protect him from the evil king Bali. As a result in western states of India, the wives perform this ritual with their husbands. Rabindranath Tagore also sought the medium of Rakhi to stop the partition of Bengal which is now in the books of history.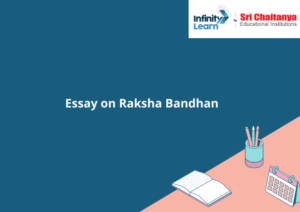 Raksha Bandhan Etymology
The word 'Raksha Bandhan' has a very special meaning. 'Raksha' means 'protection' and 'Bandhan' means 'bond' or 'knot'. It is the celebration of a bond between a brother and sister. This festival is a symbol of love and harmony. This occasion occurs in August. As per the Hindu calendar, it is celebrated on a 'Purnima', also known as full moon day.
This occasion is also called by different names in different parts of our country. Few people call this festival 'Rakhi Purnima', and some call it 'Kajri Purnima'. At this festival, people pray to Lord Shiva. First, sisters offer their prayers to God and then tie Rakhi to the brothers and wish for their prosperity and good health.
Significance
It is well known that siblings carry a special place in our hearts. No matter how much they fight with us, we always stand beside them like a rock and support them and they do the same for us. At every stage of our lives, the bond between us grows stronger as we help each other grow. The elder brothers are very protective towards their sisters and also pamper them abundantly. Similarly, elder sisters care a lot for their younger brothers and love them unconditionally. The younger ones look up to their elder siblings and try to emulate their characteristics. Raksha Bandhan is about celebrating this beautiful bond between siblings that is shaped by love and comfort. It serves as a token of their affection, oneness, and confidence in each other.
Ritual
It is a special day for brothers and sisters to dress up with new and celebratory clothing. Sisters apply tilak/tika (with kumkum) on their brothers' forehead, tie the rakhi on their right wrist and share sweets. During this custom, the sisters appeal and pray to God for the prosperity of their brothers, wishing for them to have good health and a long life. Brothers, in turn, shower their sisters with gifts and sweets, and pledge to protect them and care for them all their lives. The sisters get a lot of love and are pampered with a lot of chocolates, gifts, money, dresses, and more.
The festival has undergone a lot of changes over time; however, the essence and significance of this festival have been maintained the same as it celebrates a relationship of pure affection and love. In contemporary times, due to career growth and bustling social lives, siblings or cousins move to different parts of the world. But, this has not been a hurdle for brothers and sisters to value and celebrate this bond. Although the rituals might not be followed by individuals in their true traditional form, the emotions and spirit of celebration continue to be as deep-rooted as always.
In the past few decades, with women gaining greater financial and physical independence, their expectations from the brothers have also changed accordingly. They have taught themselves to get stronger physically and mentally and no longer expect their brothers to protect them. Instead, they expect the support of their brothers and wish for them to stand by them in case they need to fight for their rights.
Conclusion
The special bond of love shared between a brother and a sister is considered to be indestructible, and every year the festival of Raksha Bandhan celebrates this unique bond between siblings and cousins or other people. This festival is practiced to symbolize the ideal of universal brotherhood as part of Indian culture. This festival of Rakhi surpasses the barriers of caste, creed, and religion and is based on devoted sentiments. Unlike the other festivals celebrated in India, Rakhi has managed to retain its unique identity and essence in modern times as well, primarily because of the deep bond shared between the siblings celebrating it.