It is said that cleanliness is next to godliness. Inspired by Mahatma Gandhi's vision of eradicating all dirt and impurities that plagued our nation and its citizens, the Indian government, led by Prime Minister Narendra Modi, on October 2, 2014, declared a mission to make India clean by 2019 by trying to eradicate open defecation, enhancing solid waste management, and making people realize the importance of cleanliness. This mission is known as the Swachh Bharat Mission or Clean India Movement. This campaign was deployed to clean up all Indian cities and towns. The Swachh Bharat Abhiyan cleanliness drive was carried out nationwide, covering all towns, both rural and urban. It is truly a fantastic project for raising public awareness about the need for sanitation.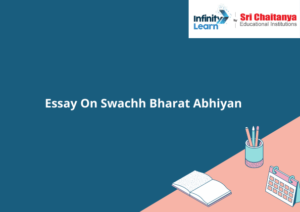 Swachh Bharat Abhiyan established several aims to be accomplished in order for India to become cleaner and better. Furthermore, it appealed to all people of the country, and not just to sweepers and labourers. This aided in spreading the word further. It intends to construct sanitary facilities for all houses.
The campaigns under Swachh Bharat Abhiyan are as follows:
Plastic se Raksha (Protection from Plastic)

Swachhta Pakhwada (A Fortnight of Cleanliness Drive)

Swachhta Shramdaan (Pledge towards Cleanliness)

Swachhta hee Seva (Cleanliness is Service)
Open defecation is one of the most widespread issues in rural communities. The Swachh Bharat Abhiyan tries to change that. The key objective of the Swachh Bharat campaign was to eliminate open defecation and enhance people's personal hygiene. According to UNICEF, a single gram of feces can harbour millions of viruses and parasites. Every year, one lakh children die as a result of diarrhoea caused by viruses and parasites.
However, while the mission's primary goal was to eliminate open defecation in India by 2014, it also attempted to raise general awareness about the difficulties caused by solid and liquid waste when garbage management is inadequate. The Swachh Bharat Mission sought to improve the cleanliness of our rivers, drainage systems, buses, offices, and roadways. Furthermore, the government of India plans to provide all inhabitants with hand pumps, a sound drainage system, bathing facilities, and other amenities. Cleanliness will be promoted among citizens as a result of this. Likewise, they intended to raise public awareness about health and education through awareness campaigns.
The rural effort, called Swachh Bharat Gramin, intends to eliminate open defecation in Village Panchayats by October 2, 2019. The primary emphasis of this rural sanitation mission is to remove impediments and solve crucial issues that affect results, with the goal of providing individual toilet facilities to all rural homes and building clusters and communal toilets through public-private partnerships.
Given the filth and unsanitary conditions in village schools, this programme emphasizes providing toilets and essential sanitation services in schools. The Clean India project aims to build Anganwadi toilets and manage solid and liquid waste in all Village Panchayats.
The Ministry of Drinking Water and Sanitation will campaign for the Swachh Bharat Abhiyan's action plan. The campaign aims to triple by 2019 and includes a significant shift toward making India an Open Defecation Free (ODF) country. The action plan, on the other hand, emphasizes:
In 2019, the growth and development proportion of restrooms will be increased from 3% to 10%.

To triple the number of cleanrooms built.

To encourage school kids to promote and raise awareness about sanitation, hygiene, and clean and safe drinking water.

Launch a national/state-level media effort to raise awareness using audio-visual, mobile communications, and local programming.
Additionally, the initiative intends to have open conversations and seminars on menstrual health and cleanliness, as well as to develop eco-wash clubs. Considering that rural areas have few pollution concerns, the campaign educates people about the dangers of pollution in order to make them more careful and avert future problems.
Although the Swachh Bharat Mission has been a huge success, some things still need to be done. The Indian government accomplished an excellent task in constructing lakhs of toilets. However, what is really needed is to modify the mindset of many Indians. Despite having toilets in their homes, many people prefer to defecate outside. They do not want to 'spoil' their homes' perceived purity by defecating in the toilet inside. Such people must remember that the outside world is only an extension of their houses. Their home is the earth. It is the responsibility of the people to beautify the globe.
The Swachh Bharat Abhiyan is critical in lowering lethal disease rates, mortality rates, and healthcare costs. The effort towards a cleaner and greener India would indeed boost GDP growth, create many job opportunities, attract tourists, and enhance the overall economic situation.
As a result, the Swachh Bharat Abhiyan campaign is a march towards a cleaner, safer, and greener India, and it is only feasible with the cooperation of all citizens.