Build Up Your Excitement – Vacations are Coming!
A student's life revolves around the tension of tests, exam results, and performance pressure. The moment you try to look away from these issues, you face other problems.
Where lies the respite? VACATIONS!
Vacation is the time nobody can take from you. It is yours to do what you want – learn a new skill, spend it doing nothing, or travel to different places. Life is not too hard if vacations are there. It provides a period for students to take a break, do what they want, and chill.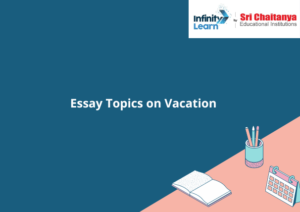 How to Make the Most Out of Your Vacations?
There are so many people who simply waste vacations by snoring on their couches. Well, we've got some ideas for what you can do during this time! Turnaround these days and make them count:
Follow Your Passion: If you have been waiting all this time to find time to build on your passion, then this might be the right time to do it. Vacations give you a break from your otherwise busy life – utilize it and give your passion a chance to bloom.

Plan a Trip: Our life hardly gives us time to take a look at the beauty of the world. We are so busy looking at materialistic things that we take the miracles of mother Earth for granted. Take a break and travel around the world.

Spend Time with Family: While you wait for vacations, your parents look forward to these days too. Don't forget the sacrifices and love of your parents. Sit with them and spend quality time with your family when you get this break from the hectic school schedule.

Socialize: We all have friends but it takes time and effort to maintain friendship. Utilize the vacations by catching up with your valuable friends. As a human being, you can't detach yourself from your pals; socialization is the core of life.
15 Essay Topics on Vacation to Break the Monotony!
Read these essay topics on vacation and find out various ways you can utilize your vacation time from now on. Make each day count with these essay topics on vacation, to look upon all the various activities you can do in your free time.
The Necessity of Vacations in Life

Vacations: Time to Take a Break from Life

How to Spend a Vacation Ideally

Visiting My Grandparents on Vacation

Joys of Spending Vacations with Family

Vacations as a Stress Buster

Vacation to my Dream Place

How I Spent My Winter Vacations

How I Spent My Summer Vacations

Fond Memories of School Vacations

Skill Building During Vacation Time

My Last Vacation

Family Trip during Summer Vacations

Planning Travel During Vacations

Developing Hobbies in Vacations
These are some examples of essay topics on vacation. Our hope is that they have helped to transform how you view vacation time. We have provided you with innumerable ways to take a fresh look on your vacations and use this period well. So, are you excited for your next vacation?
ENJOY!