As students, we have always been hesitant when it came to asking questions to the teacher. We all had this thought floating in our heads if our doubt was worth asking or not. Well, it is worth it.
No matter what your doubt, you have to get it clarified. To make this process easier and hassle-free, we, Infinity Learn, launched an app for NEET & JEE aspirants. And, here is a spoiler alert – It is AMAZING! The Doubts App by Infinity Learn clarifies all the possible doubts one can have. You may ask us, how does it work? Well, Easy!
With its top-notch AI-based technology built inside the app, it detects the question from the scanned surface and finds answers from its repository, holding over a lakh solutions! So all you have to do is find a doubt, scan it and get it solved.
There are no hard and fast rules for the kind of doubts you have to ask. It can be as big or small, as long as you stay prepared for the exam. The question has to be on a flat surface to make it easy for the app to decode it and find solutions from within the app. However, if a solution is not found in the app database, the AI technology seeks help from external sources. Regardless of the source, the user receives the answer in just a few seconds without any delay. You can ask the doubts at any point in the day or night, as you wish because the app provides a 24×7 service. So it does not matter if you are a late-night owl or an early morning bird this app is perfect for all!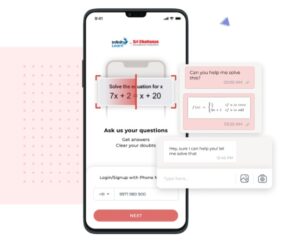 Furthermore, if you still wish to get some extra guidance, the app arranges a tutor for you. Yes, an actual human tutor! These tutors are top professionals in various fields specially trained to teach NEET & JEE students. The user may request a tutor through the app, and then in a few minutes, a teacher gets assigned to the student. These professors make sure the students grasp concepts with much ease and convenience. Here is the best part: They are tech-savvy and educate students on the tips and tricks to follow for the exams.
The Doubts App is the best NEET & JEE Mains preparation app in the store! You can get the most difficult doubts cleared in a moment. Students need to excel in various subjects if they want to get a good score in an exam. Ultimately, that is going to decide their whole future. For that, students have to make the maximum usage of the resources in hand. It will further help them have a competitive edge.
Especially in the times that we live in, everything has become digital for our convenience, so why not make the most out of it? Just scanning and obtaining solutions to it instantly is not something to let go of. This app is everything a NEET or a JEE aspirant needs to crack the exam doubt-free. Get instant accurate solutions and with any extra help that you might need. Download the Doubts App by Infinity Learn now to get started on your preparation!