Bhagat Singh was a prominent figure in the Indian freedom struggle, who willingly sacrificed his life for the cause of his nation. From a young age, his heart was soaked in patriotism. He brought in a revolution in the anti-British national movement. Also known as Sardar Bhagat Singh, he was an Indian revolutionary who is renowned for his bravery and valor, particularly among youths. Sardar Bhagat Singh was just 23 years old when he was executed by the British government.
Early Life :
Bhagat Singh was born on September 28, 1907, in the Lyallpur area of Punjab, now Pakistan. He was the third son of Vidywati and Sardar Kishan, who was also a revolutionary. When Bhagat Singh was born, his father was in prison. When he was younger, he was an excellent student and a naturally friendly person. When asked what he wanted to be when he grew up, he stated that he wanted to drive the British out from India.
The Jallianwala Bagh massacre in 1912 deeply disturbed Bhagat Singh. He was just twelve years old at the time, and the episode made a deep scar in him. He worshipped a bottle of mud soaked in the blood of the victims that he carried home. He was always drawn to socialism, and he paved the road for political revolutions that no one had imagined. Similarly, the death of Lala Lajpat Rai due to injuries caused by a baton charge filled him with rage and vengeance when he was young.
Singh's grandfather refused to allow him to join Khalsa High School in Lahore because he disapproved of their British loyalty. As a result of his education at an Arya Samaj institution, Bhagat Singh was heavily inspired by the Arya Samaj philosophy.
He had a clear vision and was committed to achieving his objectives. He dropped out of school to become a member of the Congress Movement. He was an outspoken supporter of the Swadeshi Movement. He would only wear Khadi and he burned all of his foreign clothes.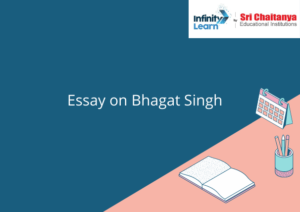 His Struggle for Freedom :
Gandhiji's confidence in nonviolence was shaken when he withdrew from the campaign after the Chauri Chaura incident. He began to believe that armed rebellion would be the only option to push the British out of the nation. He was convinced of his belief after studying the lives of revolutionaries in Ireland, Italy, and Russia.
He enrolled at National College, which was patronized by great patriots like Lala Lajpat Rai. He would go to school during the day and talk about the revolution with his friends in the evening. He contacted Sachindranath Sanyal, the leader of the Bengal Revolutionary Party, to join his group. However, he could only join the party on the condition that he be ready to leave his house instantly if necessary. In the wake of his impending marriage, he agreed and left home. He arrived in Kanpur and sold newspapers for a living.
He had to return home to care for his grandmother, who was ill. He was a strong supporter of Akali Dal's meetings. He moved to Lahore and joined the Naujawan Bharat Sabha as secretary. He was arrested when authorities accused him of being involved in the Dussehra bombing. Two wealthy men helped him get out of jail. Bhagat joined Chandrasekhar Azad because he solely believed in revolution to get independence. He shaved his beard and wore his hair short and trimmed. He learned to build bombs from Jatin Das in Kolkata after that. They built a bomb plant in Agra. Even though they did not have enough money to eat, they maintained their activities.
Turning Point in his Life :
When Lala Lajpat Rai was killed in a lathi charge in 1928, Bhagat Singh and Rajguru mistook John Saunders for Scott, the police officer, and murdered him to avenge his death. In 1929, he and Bakuteshwar Dutt planted a bomb in the Legislative Assembly Hall in Delhi, shouting slogans such as "Inquilab Zindabad". Their intent was not to harm or kill anybody, but rather to show their opposition to the Defense of Indian Act that was going to be formulated. They surrendered and were sentenced to 116 days in prison.
He noticed injustice between European and Indian prisoners in the jail and led other prisoners on a hunger strike to protest. They requested equality in food, clothes, and other areas. The British were obliged to agree to their demands after a month of the strike.
Conclusion :

Finally, on March 24, 1931, Bhagat Singh, Sukhdev, and Rajguru were found guilty of assassinating John Saunders and blowing up the bomb in the Legislative Assembly Hall, and a death sentence was imposed. However, the scheduled time was shifted to earlier, and they were hanged at the Lahore prison on March 23, 1931, at 7:30 p.m.
They were courageous even on that fateful day, competing with one another to be the first to be hanged. They chanted 'Bharat Mata ki Jai' while they were being hung. This is how the brave revolutionaries gave their lives for their Motherland. That day, none of the prisoners ate anything. Their remains were cremated in secrecy on the banks of the Sutlej River.
|

Topics for Essay Writing
Essay Topics on Animals
Essay Topics on Relationships
Essay Topics on Famous People and Personalities
Essays on General Topics