Essay on Holi: India is a country that exemplifies the confluence of faiths, diversity, and cultural celebrations that we refer to as "festivals". Holi is one such Hindu festival, celebrated with colors that represent the power of love and the triumph of good over evil, according to Hindu mythology.
500 Words Essay On Holi
Holi is a colorful celebration that we can enjoy with our loved ones. It is one of our country's most important events, held every year in March. Children, adults, and even the elderly join in the Holi celebrations and preparations for three days, beginning on the full moon day. Holi is a Hindu festival in which people of all faiths exchange sweets, gujiya, and thandai, as well as splash colors on one another. During the holidays, children also use water cannons and water balloons.
This is a time for us to spread joy and love with our friends and family. During Holi, people should remember to use natural colors instead of synthetic or chemical-based colors to keep themselves and their guests healthy and safe.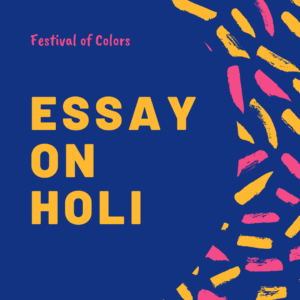 History of Holi
It used to be called Holika traditionally. The first day would begin with the full moon, while the second would begin with the new moon. As a result, Holika's full moon festival evolved into a celebration of the arrival of spring. Vasanta-Mahotsava and Kama-Mahotsav are two other names for the Holi festival. Carvings on the walls of historic temples also provide a look into the celebration historically.
Get the List of 1000+ Essay Writing Topics here
Numerous artworks and sculptures in medieval Indian temples depict Holi. It was also honored by Hindus and Muslims, according to the great Muslim traveler Ulbaruni's historical record. Holi's literal meaning is "to burn". Numerous stories can be used to explain the definition of the word.
According to the Bhagavata Purana, Holi is a Hindu festival commemorating Lord Vishnu's victory over the monster Holika. This story of Hiranyakashyap, an Asura who wanted everybody in his realm to worship him, is the most renowned narrative. Holika was Hiranyakashyap's sister. He believed he was immortal and unbeatable. He believed he was God and demanded that everyone worship him. But he had a son Prahlad, who did not worship his father as a god. On the other hand, he worshipped Lord Vishnu.
In order to punish his son, Hiranyakashyap tried many times to kill him. But his plans were always foiled by Vishnu, who protected Prahlad. Finally, he came up with a plan to kill Prahlad, where he asked his sister to hold him and step into the fire. Holika possessed a boon that granted her the ability to remain unscathed from the fire. But, unbeknownst to her, the boon only worked when she was alone. So, this treacherous plan ended with her death, whereas Prahlad was saved by his utter devotion to Lord Vishnu.
Lord Vishnu then appeared in the form of his Narsingh avatar and killed Hiranyakashyap with his claws. In this way, he freed the people from the demon Holika and the demon Hiranyakashyap. They marked the occasion by smearing Holika's ash all over each other. This is what has eventually led to the enjoyment of this festival with vibrant colors to celebrate the triumph of Vishnu's victory over Holika and Hiranyakashyap.
Rituals on Holi
Holi is a widely celebrated event in India and Nepal. It is celebrated over three days, with Holi Purnama (full moon day) being the first. Puno's second day, or Choti Holi. Parva, or Holi Day, is the third day of the festival. People wear white clothing and congregate on playgrounds and communal spaces on this day. For this festival, people use natural colors and play with painting guns. They drink the sweet lassi and enjoy various khoya, mawa, and pistachio-based delicacies.
Holi is also known as the "festival of colors", and it is a day of celebration for Hindus. They play with the colors, throwing and splattering them all over their friends and relatives. It is joyfully observed by people of all faiths and races around the country. It is because of the uniqueness of this celebration that there is a need to educate children about its significance.
The ceremony begins with the lighting of a bonfire in the days leading up to Holi. This procedure represents the triumph of good over evil. People play with colors with their friends and relatives on Holi Day. They express their affection and esteem for their loved ones with Abeer in the evening. These vibrant hues symbolize our emotions. The festival's most popular activity is for children to play with colors. Colored water balloons, pichkaris, and buckets of colored water are all well-known sights during this festival.
Holika Dahan
A Holika Dahan festival takes place the day before Holi. People gather wood and sing songs over the hearth made from that woodpile. It's dedicated to the myth of Holika's burning and Prahlad's protection from that fire. People start the fire on the most recent day's night. People supply the fireplace with unprocessed coconut and grain. The celebration of shading, or "Dhuleti," is celebrated on the second day by sprinkling colored water and applying colors on at least one another. Without colors, there is no Holi. Holi is mostly celebrated by splattering colored powder on one another. The colors represent the recent harvest and fresh fruits and vegetables that are soon to be harvested that season, as Holi is celebrated at the start of the spring season.
Various versions of Holi are celebrated across India. In Dwarka, a dry land town in Gujarat, it is celebrated at the Dwarka-Dheesh sanctuary with comedy and music. The royal Mewar family of Udaipur organize a vibrant Holi celebration in the city every year, with processions and large-scale fairs. Within the rambling compound of Barsana and Nandgaon towns in Uttar Pradesh, they celebrate Lath-Maar Holi, where women playfully hit men with lathis or sticks and the men have to shield themselves. This is claimed to be associated with a Hindu mythology about Lord Krishna and Radha.
Please know more about festival's from infinitylearn.com
Important Pointers for Holi
Holi is surely a time when we want to enjoy ourselves to the best, but we must also take some measures. Instead of synthetic colors, try using natural and organic ones. If you want to play with yellow, for example, you can use 'Haldi.' Chemical colors have a negative impact on their eyes and skin. One should always apply oil over the skin in the morning before playing with these colors to ensure that the skin is least affected by exposure to them.
As children are so enthusiastic about flinging colors at others, they will inadvertently do harm to others. Parents must keep a close eye on their children's activities. Every festival has a goal in mind. We must always celebrate it in a very good manner and keep the festive spirit alive. Factors such as people's willingness to be included in the color play and the general safety of oneself as well as people around us should importantly be considered during Holi to ensure that everyone can enjoy and have a good time.
The Holi celebration is a symbol of our country, and everyone is aware of it. Regardless of caste or creed, Holi demonstrates to the world that we are all one. Holi celebration brings even more people together and makes them happier.