Essay on My Favourite Game
Games are an essential aspect of education and growth. Playing games fosters a self-assured approach to learning. Outdoor and indoor games are the two types of games. Indoor games include chess, cards, ludo, and carrom, while outdoor sports include hockey, football, cricket, tennis, and badminton. Outdoor games like Kabaddi, hunting, wrestling, horseback riding, swimming, and ball fighting are popular in India. In this essay, I will talk about my favourite game – football. Every sport appeals to me, but football is my favourite because of my passion for the game, the intensity, and the way it brings people together.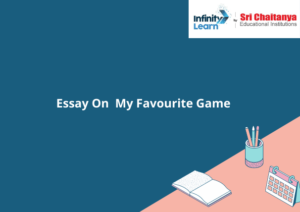 Football is a sport that played outdoors between two teams. It has 11 players on each side and one referee. The referee judges the player's goals and ensures that the game played honestly. Each team competes with an opposing team and tries to kick the ball into their opponents' goal post, which is counted as a goal. The goalkeeper stands before their team's goalpost to prevent the ball from entering their goalpost to save a goal. The football game lasts 90 minutes and is divided into two halves. Both teams' players continually attempt to score a goal. In case of a tie or no goal, an additional time of 30 minutes is added, followed by a penalty shootout of five attempts for each team.
The keepers of both teams try their best to defend. Football is a fast-paced game. Both teams' players are always very active. Football is an excellent way to have fun and exercise and extremely helpful to one's health, which is why it played at practically every school and institution.
Like any other game, a football match has its own set of rules and regulations. First and foremost, the ball should not touched by hand. If the ball touched, the opposing team awarded a free kick. The "off-side rule" is the second key rule. In this rule, when a player crosses the defensive line, they considered to be off-side. Aside from that, if a player injures and fouls a member of the opposing team, the referee issues them a "Yellow" or "Red Card." The yellow card represents a warning, and the red card represents a suspension. This card suspends the player for the remainder of the football game.
International Authority FIFA is in charge of football as a game all around the world, and the top tournament is the World Cup, which is held every four years. 21 World Cup tournaments have held, with Brazil winning five times, Germany winning four times, and Italy winning four times.
Football is my all-time favourite sport. It has provided me with a great deal of fun and excitement. I used to play football in high school and with my neighbourhood buddies. I was on the offensive side of my high school's football squad and felt a great adrenaline rush whenever I took the ball forward to the opposing goal post.
When I scored a goal, all my teammates would come over to cheer me on. I've always enjoyed watching football, and my favourite player is Lionel Messi. He is unarguably the greatest forward of all time and, without a doubt, the best football player the world has ever seen. I watch all of his matches and look up to him as a role model. While playing, I even try to replicate his movements.
Being a football player has always helped me maintain my mental fitness. Almost every football player is physically qualified but not emotionally strong enough. A football player can have all the strength, stamina, agility, and talent in the world, but without the presence of mental toughness, they can disturbed mentally at any time or in any place.
An established football player will never give up without a fight and should be able to retain their speed and the sharpness of their goals until the very end of the match, regardless of how long they have played. This is where willpower comes into play. It has decisively established that drive helps excel in a large platform, distinguishing champions from others. It's the same as the hare and also tortoise myth, where the tortoise's determination to do consistently well was the one aspect that let him beat the hare.
Football is a fantastic game that is popular worldwide, including in India. The game is only 90 minutes long, but it provides plenty of excitement, from scoring goals to protecting one's own.