R K Narayan Biography in English
Rasipuram Krishnaswami Iyer Narayanaswami, known as RK Narayan, was a renowned Indian writer celebrated for his body of work set in the fictional South Indian town of Malgudi. He was among the prominent early Indian authors who wrote in English, alongside Mulk Raj Anand and Raja Rao.
Narayan's significant accomplishment was introducing India to the world through his compelling literature. His biography often highlights his close friendship with Graham Greene, who served as his mentor and helped him secure publishers for his first four books. In 1941, Narayan established his own publishing company, and his books became favorites in Indian households.
During the pinnacle of R K Narayan's successful career, R K Narayan received the Padma Bhushan award in 1964 and, 36 years later, the prestigious Padma Vibhushan in 2000, just a year before his passing at 94 age. R K Narayan, who was born in 1906 in Madras, Tamil Nadu, fell critically ill due to cardiovascular problems and he was hospitalized two weeks before his demise.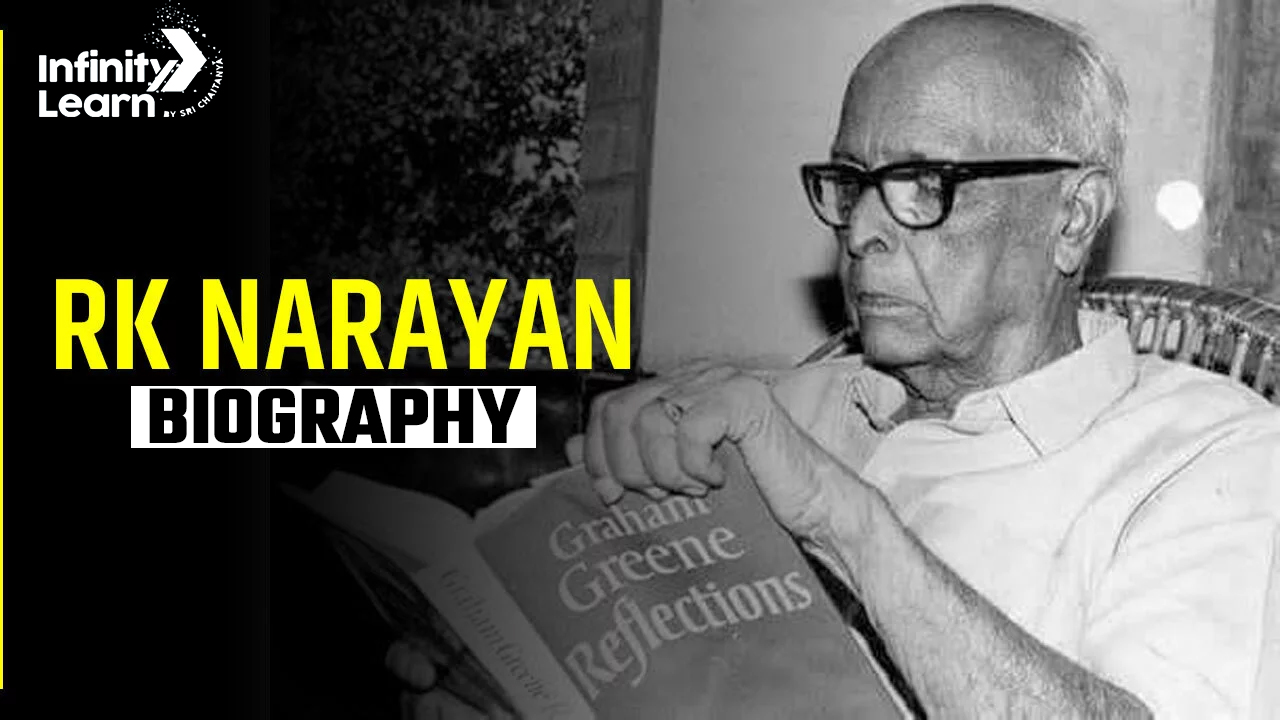 R K Narayan Early Life
R K Narayan was born in 1906 in Madras (now known as Chennai, Tamil Nadu, India) to a regular Hindu family. He was one of eight children, the second among the sons. R K Narayan younger brother Ramachandran worked as an editor at Gemini Studios, and the youngest brother, Laxman, had a successful career as a cartoonist.
During his early years, R K Narayan mostly lived in Madras with his grandmother and maternal uncle, reuniting with his parents only during holidays. At that time, India was still under British rule, as it had been since 1857.
R K Narayan Education
R K Narayan attended several schools, including the C.R.C. High School, Christian College High School in Madras, and Lutheran Mission School in Purasawalkam where he lived with his grandmother. R K Narayan is an avid reader and enjoyed books by authors like Wodehouse, Dickens, Thomas Hardy and Arthur Conan Doyle.
Although he didn't pass the university entrance exam after high school, Narayan had a year at home to read and write before successfully passing the final exam in 1926. He then enrolled at Maharaja College of Mysore. Throughout his life, he remained devoted to reading whenever he had the opportunity.
R K Narayan Parents
Rasipuram Krishnaswami Iyer Narayanaswami, known as RK Narayan parents played an important role in his entire life. His father, Krishnaswami Iyer, was a schoolteacher, and his mother, Gnanambal, was a housewife. They lived in Madras, India.
R K Narayan parents were supportive of his education, and they also encouraged his love for reading and writing from a young age. They recognized his passion for books and storytelling. His father, being a teacher, likely influenced Narayan's interest in literature and language.
While Narayan's parents provided a nurturing environment for his intellectual pursuits, they also faced challenges. The family had financial struggles at times, which influenced Narayan's own experiences and his portrayal of economic themes in his novels.
Despite their modest means, R K Narayan parents instilled in him the values of hard work, perseverance, and the importance of education. These values became evident in his writings and as well as characters, who often grappled with life's challenges and choices.
In summary, R K Narayan's parents were a source of inspiration and support in his life, shaping his love for literature and guiding him towards becoming one of India's most renowned authors.
R K Narayan Awards and Honors
Among RK Narayan's 34 novels, notable works consists of "Waiting for the Mahatma" (1955), "The English Teacher" (1945), "The Guide" (1958), "The Vendor of Sweets" (1967), "The Man-Eater of Malgudi" (1961), and "A Tiger for Malgudi" (1983).
RK Narayan novel "The Guide" (1958) earned "prestigious National Prize of the Indian Literary Academy", "the highest literary honor in his country". RK Narayan also received other accolades, such as the Padma Vibhushan, AC Benson Medal from the Royal Society of Literature, and the Padma Bhushan, which are among India's top civilian awards. In 1994, he was honored with the Sahitya Akademi Fellowship, the most esteemed recognition from India's national academy of letters. Additionally, he was once nominated to the Rajya Sabha, India's upper parliamentary house.
FAQs on R K Narayan Biography
Why is RK Narayan so famous?
RK Narayan is famous for his captivating storytelling and his portrayal of everyday Indian life in his novels.
What is a short biography about RK Narayan?
RK Narayan, born in 1906 in Chennai, was a renowned Indian author known for his Malgudi series of novels and short stories.
What is the most famous work of RK Narayan?
The most famous work of RK Narayan is Swami and Friends, the first novel in the Malgudi series.
Who is the first English writer in India?
The first English writer in India is often attributed to be Raja Ram Mohan Roy, known for his advocacy of social reform and literature in the early 19th century.
What we learn from R. K. Narayan?
From RK Narayan's works, we learn about the complexities of human relationships, the humor in everyday life, and the cultural nuances of South India.
What inspired R. K. Narayan to write?
RK Narayan was inspired to write by his deep love for literature and his observations of the people and culture of India.
What are the qualities of R. K. Narayan?
The qualities of RK Narayan's writing include wit, humor, vivid character portrayal, and a deep understanding of human nature.