JEE Main Previous Year Papers Questions With Solutions Chemistry Redox Reactions and Electrochemistry
1.Conductivity (unit Siemen's S) is directly proportional to area of the vessel and the concentration of the solution in it and is inversely proportional to the length of the vessel then the unit of the constant of proportionality is (2002)
1) Sm mol-1 2) Sm2 mol-1
3) S-2m2 mol'1 4) S2m2 mol'1
Ans.




Ans.


3.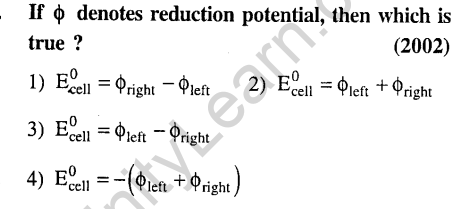 Ans.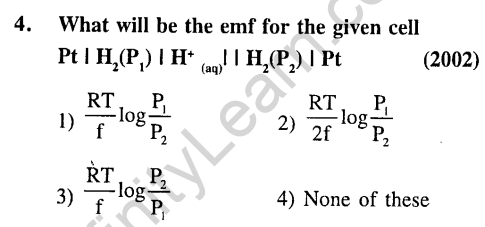 Ans.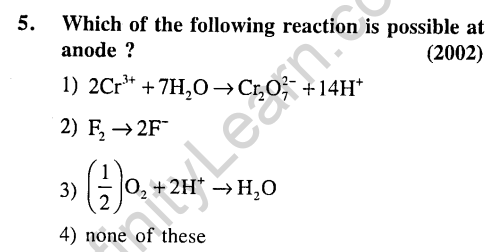 Ans.


6.When KMn04 acts as an oxidising agent and ultimately forms [MnOJ-1, Mn02, Mn203 and Mn+2. Then the number of electrons trans­ferred in each case respectively is (2002)
1) 4, 3, 1, 5 2) 1, 5, 3, 7
3)1,3, 4, 5 4)3, 5, 7,1
Ans.


7.Which of the following is a redox reaction ?(2002)
(1)NaCl + KN03 -» NaN03 + KC1
(2)CaC204 + 2HC1 -> CaCl2 + H2C20,
(3)Mg(OH)2 + 2NH4C1 -> MgCl2 + 2NH4OH
(4)Zn + 2AgCN 2Ag + Zn(CN)2
Ans.




Ans.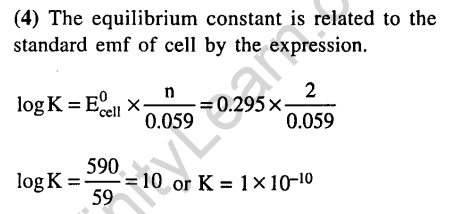 9.Standard reduction electrode potentials of three metals A, B and C are respectively + 0.5V, -3.0 V and -1.2 V. The reducing powers are in the order (2003)
1) A > B > C 2) C > B > A
3) A > C > B 4) B > C > A
Ans.(4) Reductional potential is least for B. Hence B is the best reductant.
10.When during electrolysis of a solution of AgN03 9650 coloumbs of charge pass through the electroplating bath, the mass of silver deposited on the cathode will be (2003)
1) 10.8 g 2) 21.6 g
3) 108 g 4) 1.08 g
Ans.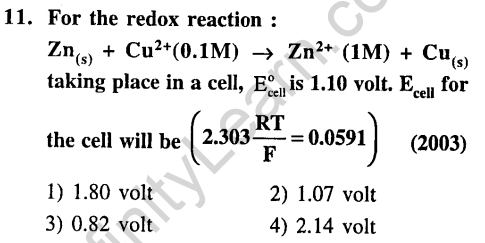 Ans.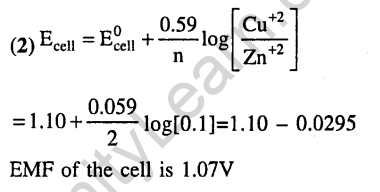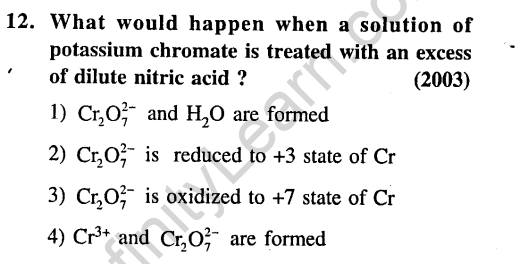 Ans.




Ans.




Ans.




Ans.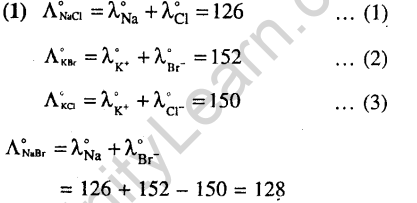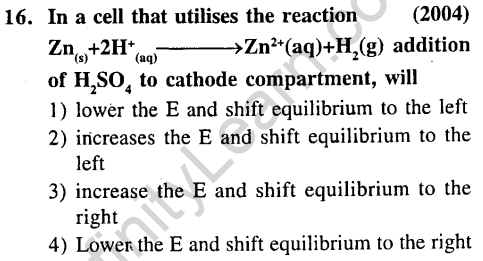 Ans.(3) Ecell increases, hence k increases.


Ans.(1) Oxidation potential of Cr is least. So it changes easily from +2 to +3 state
18.Excess of KI reacts with CuS04 solution and then Na2S203 solution is added to it. Which of the statements is incorrect for this reaction?
(1)Cu2I2 is reduced
(2)Evolved I2 is reduced
(3)Na2S203is oxidized 4) CuL, is formed
Ans.


19.The highest electrical conductivity of the following aqueous solutions is of (2005)
(1)1 M acetic acid
(2)1 M chloroacetic acid
(3)1 M fluoroacetic acid
(4)1 M difluoroacetic acid
Ans.(4) CF2COOH is stronger acid and furnishes more ions.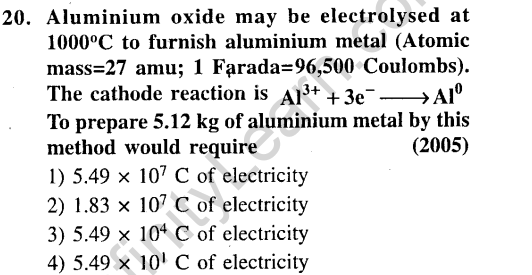 Ans.




Ans.


22.The oxidation state of chromium in the final product formed by the reaction between KI and acidified potassium dichromate solution is(2005)
1) +4 2) +6 3) +2 4) +3
Ans.




Ans.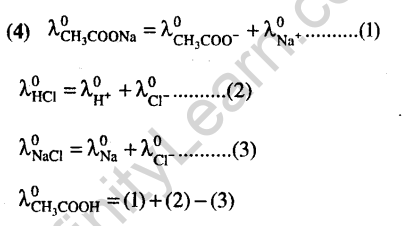 24.The following mechanism has been proposed for the reaction of NO with Br2 to form NOBr: NO(g) + Br2(g) —NOBr2(g) NOBr2(g)+NO(g) -» 2NOBr(g).If the second step is the rate determining step, the order of the reaction with respect to NO(g) is (2006)
1) 1 2) 0 3) 3 4) 2
Ans.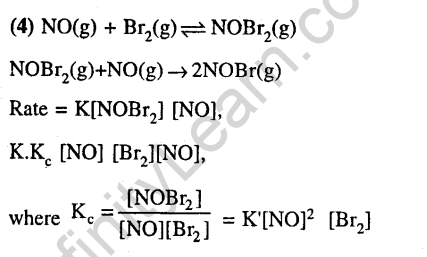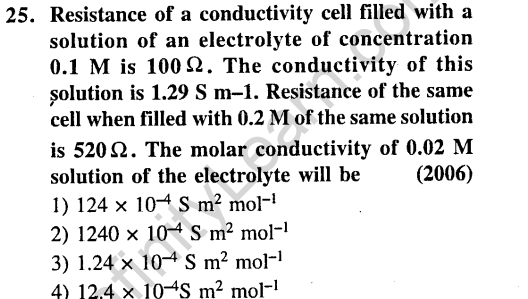 Ans.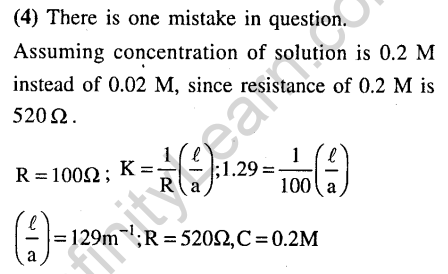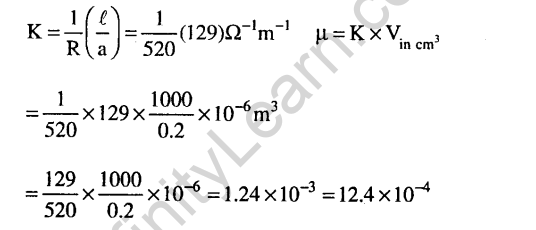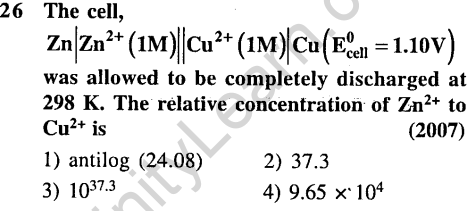 Ans.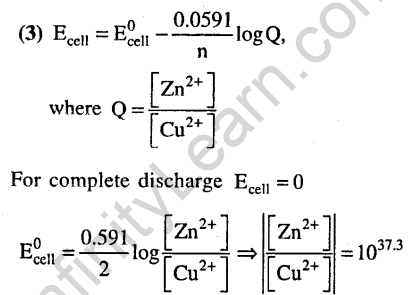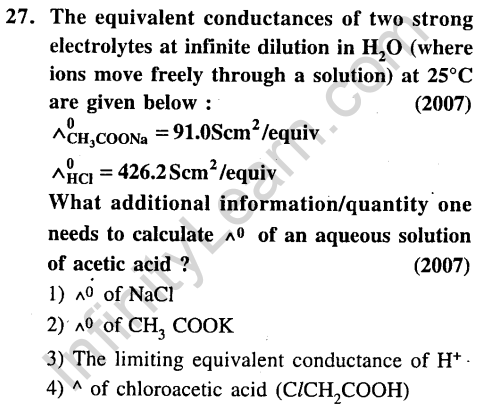 Ans.




Ans.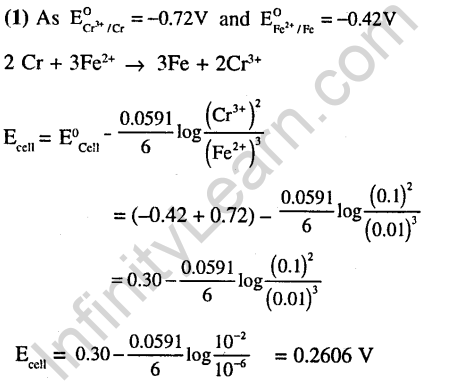 29.Amount of oxalic acid present in a solution can be determined by its titration with KMn04 solution in the presence of H2S04. The titration gives unsatisfactory result when carried out in the presence of HC1, because HC1 (2008)
(1)gets oxidised by oxalic acid to chlorine
(2)furnishes H+ ions in addition to those from oxalic acid
(3)reduces permanganate to Mn2+
(4)Oxidises oxalic acid to carbon dioxide and water
Ans.




Ans.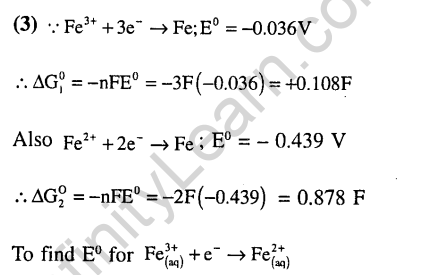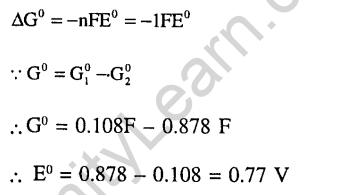 Ans.(1) Mn2+ is more stable.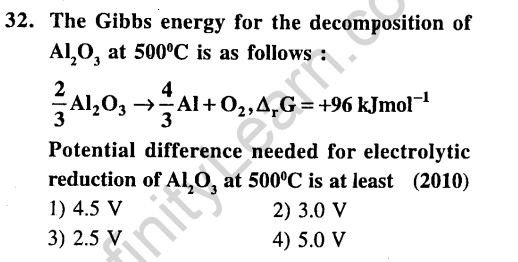 Ans.

33.A vessel at 1000 K contains C02 with a pressure of 0.5 atm. Some of the C02 is converted in to CO on the addition of graphite. If the total pressure at equilibrium is 0.8 atm, the value of K is (2011)
1) 0.3 atm 2) 0.18 atm
3) 1.8 atm 4) 3 atm
Ans.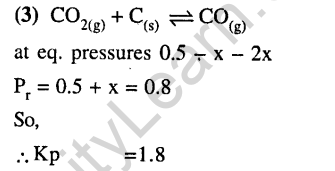 34.The standard reduction potentials for Zn2+ / Zn, Ni2+ / Ni and Fe2+ / Fe are -0.76, -0.23 and -0.44 V respectively. The reaction, x + y2+->x2+ + y will be spontaneous when (2012)
1) X = Ni, Y = Fe 2)X = Ni,Y = Zn
3) X = Fe, Y = Zn 4) X = Zn, Y = Ni
Ans.


35.How many litres of water must be added to 1 litre of an aqueous solution of HC/ with a pH of 1 to create an aqueous solution with pH of 2 ? (2013)
1) 0.1 L 2) 0.9 L 3) 2.0 L 4) 9.0 L
Ans.


36.Given below are the half-cell reactions ' Mn2+ + 2e -> Mn; E°=-1.18V 2(Mn3+ + e- -> Mn2+); E° = +1.51V The E° for 3Mn2+ -> Mn + 2Mn3+ will be
(1)-0.33 V; the reaction will occur (2014)
(2)-2.69 V; the reaction will not occur
(3)-2.69 V; the reaction will occur
(4)-0.33 V; the reaction will not occur
Ans.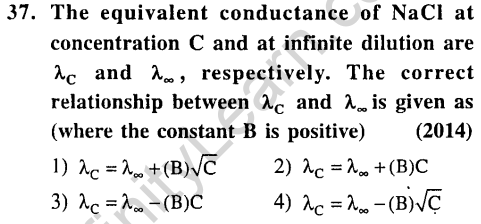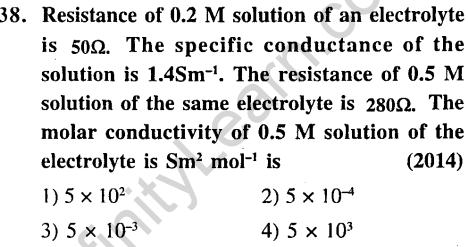 Ans.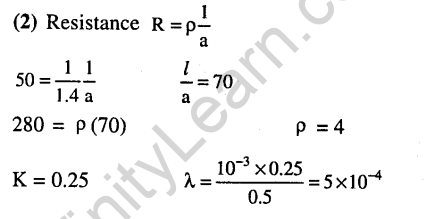 39.Two Faraday of electricity is passed through a solution of CuS04. The mass of copper deposited at the cathode is (at mass of Cu = 63.5 amu) (2015)
1) Og 2) 63.5g 3) 2g 4) 127g
Ans.