Ans.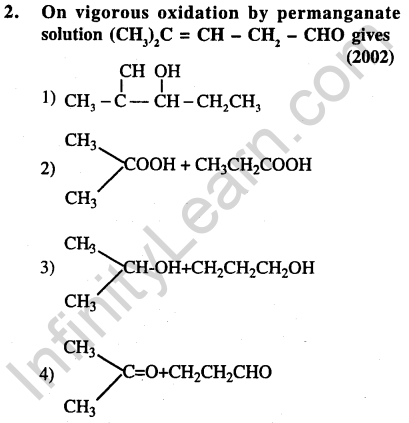 Ans.(2) Aldehydic group gets oxidised to carboxylic group. Doyble bond breaks and carbon gets oxidised to carboxylic group.
3.An ether is more volatile than an alcohol having the same molecular formula. This is due to (2003)
1)alcohols having resonance structures
2)inter-molecular hydrogen bonding in ethers
3)inter-molecular hydrogen bonding in alcohols
4) dipolar character of ethers
Ans.(3) Alcohols are associate liquids.
4.When CH2 = CH – COOH is reduced with LiAlH4, the compound obtained will be (2003)
1)CH2 = CH-CH2OH '
2)CH3 – CH2 – CHjOH
3)CH3 – CHj – CHO
4)CH3 – CH2 – COOH
Ans.(1) LiA/H4 can reduce COOH group and not the double bond.
CH2 = CH – COOH is reduced to give CH2 = CH – CH2OH
5.During dehydration of alcohols to alkenes by heating with cone. H2S04 the initiation step is (2003)
1)formation of carbocation
2)elimination of water
3)formation of an ester
4)protonation of alcohol molecule
Ans.


6.Consider the acidity of the carboxylic acids: Most acidic is (2004)
1)PhCOOH
2)o – N02C6H4C00H
3)p – N02C6H4C00H
4)m – N02C6H4C00H
Ans.(2) Orthonitrobenzoic acid.
7.On mixing ethyl acetate with aqueous sodium chloride, the composition of the resultant solution is (2004)
1)CH3COOC2H5 + NaCl
2)CH3C1 + C2H5COONa
3)CH3COCl + C2H5OH + NaOH
4)CH3COONa + C2H5OH
Ans.(1) No chemical reaction occurs.
8.Acetyl bromide reacts with excess of CH3MgI followed by treatment with a saturated solution of NH4C1 given (2004)
1)acetone 2) acetyl iodide
3)2-methyl-2-propanol 4)acetamide
Ans.(3) Gives tertiary alcohol.
9.Which of the following undergoes reaction with 50% sodium hydroxide solution to give the corresponding alcohol and acid ? (2004)
1)Phenol 2) Benzoic acid
3) Butanal 4) Benzaldehyde
Ans.(4)Benzaldehyde does not contain a-hydrogen. Hence goes for cannizzaro's reaction forming alcohol and acid.
10.Among the following compound which can be dehydrated very easily is (2004)



Ans.(3) Tertiary alcohols will undergo more easily dehydration than secondary and primary.
11.The best reagent to convert pent-3- en-2-ol into pent-3-en-2-one is (2005)
1) Acidic permanganate
2)Acidic dichromate
3)Chromic anhydride in glacial acetic acid
4)Pyridinium chlorochromate
Ans.(3) Conversion of 2° alcohol to ketone with mild oxidant.
12.Among the following acids which has the lowest pKa value?
1)CH3COOH 2) HCOOH
3) (CH3)2COOH 4) CH3CH2COOH
Ans.(2) Most acidic is formic acid.
13.Reaction of cyclohexanone with dimethylamine in the presence of catalytic amount of
an acid forms a compound if water during the reaction is continuously removed. The compound formed is generally known as (2005)
1) a Schiff's base 2) an enamine
3) an imine 4) an amine
Ans.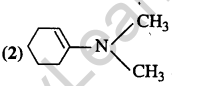 14.p-cresol reacts with chloroform in alkalin medium to give the compound A which adds
hydrogen cyanide to form, the compound B. The latter on acidic hydrolysis gives chiral carboxylic acid. The structure of the carboxylic acid is (2005)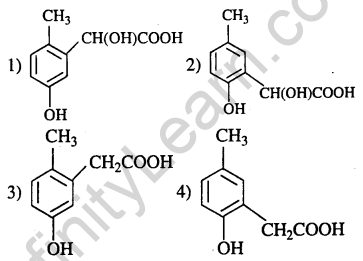 Ans.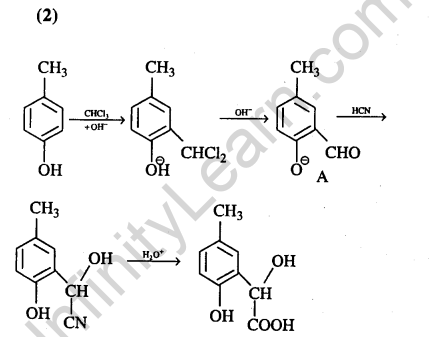 15.The increasing order of the rate of HCN addition to compounds A – D is (2006)
(A) HCHO (B) CH3COCH3
(C) PhCOCHj (D) PhCOPh
1)A<B<C<D 2)D<B<C<A
3)D<C<B<A 4)C<D<B<A
Ans.(3) Least reactive is PH-CO-PH.
16. Phenyl magnesium bromide reacts with methanol to give(2006)
1)a mixture of anisole and Mg(OH)Br
2)a mixture of benzene and Mg(OMe)Br
3)a mixture of toluene and Mg(OH)Br
4)a mixture of phenol and Mg(Me)Br
Ans.(2) Benzene is formed.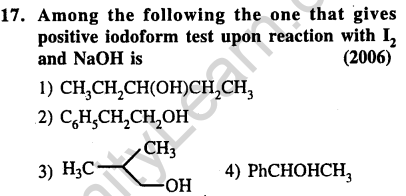 Ans.(4) Iodoform is given by methyl ketone.
18.The correct order of increasing acid strength of the compounds is
a)CH3C02H b) Me0CH2C02H
c) CF3Co2H d) (Me)2 C02H
Ans.(3) CFjC OOH is most acidic.
19.The structure of the compound that gives a tribromo derivative on treatment with bromine water is (2006)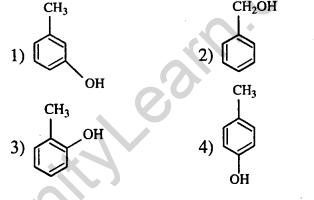 Ans.(1) ortho and para positions of bromiantion, to -OH group.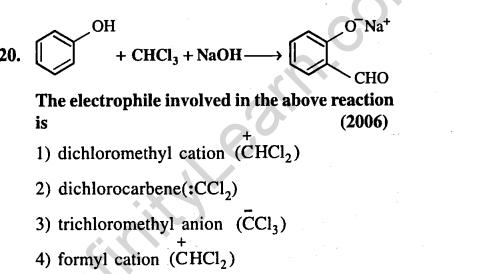 Ans.(2) Dichlorocarbene is electrophile in Reimer- Tiemann reaction.


Ans.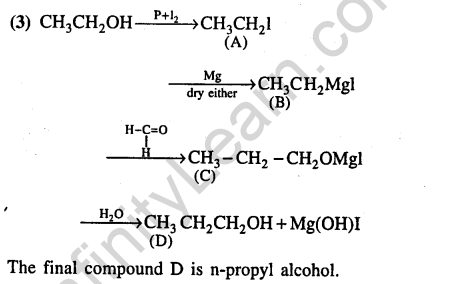 Ans.(3) Any aliphatic carbon with hydrogen attached to it, in combination with benzene ring, will be oxidized to benzoic acid by KMn04 / H+.


Ans.


24.A liquid was mixed with ethanol and a drop of concentrated H.SO. was added. A compound with a fruity smell was formed. The liquid was (2009)
1) CH3OH 2) HCHO
3) CH3COCH3 4) CH3COOH
Ans.


25.The major product obtained on interaction of phenol with sodium hydroxide and carbon dioxide is (2009)
1) benzoic acid 2) salicylaldehyde
3) salicylic acid 4)phthalic acid
Ans.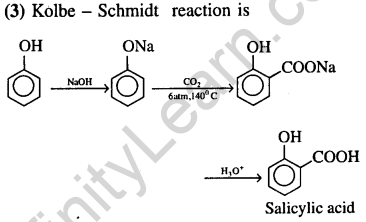 26.Which of the following on heating with aqueous KOH, produces acetaldehyde ? (2009)
1) CH3 COCl 2) CH3CH2Cl
3) CH2Cl CH2Cl 4) CH3CHCl2
Ans.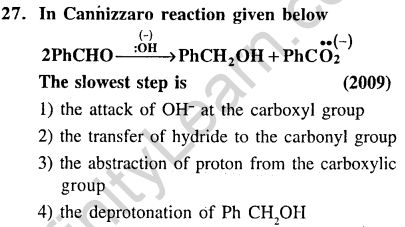 Ans.(2) Hydride transfer is the slowest step.
28.From Amongst the following alcohols the one that would react fastest with conc.HCl and anhydrous ZnCl2, is (2010)
1)2- Butanol
2)2- Methylpropan-2-ol
3)2-Methylpropanol
4) 1-Butanol
Ans.(2) 3° alcohols react fastest with ZnCl2/conc. HC1 due to formation of 3° carbocation. 2-Methylpropan-2-ol is the only 3° alcohol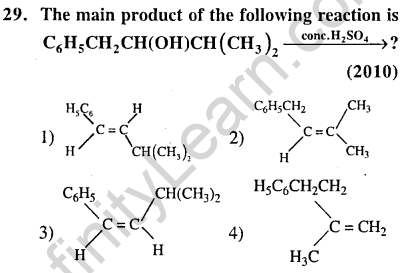 Ans.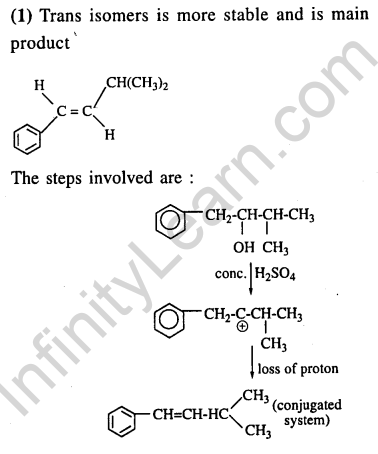 30.Silver Mirror test is given by which one of the following compounds ? (2011)
1) Formaldehyde 2) Benzophenone
3) Acetaldehyde 4) Acetone
Ans.


31. Trichloroacetaldehyde was subjected to Cannizzaro's reaction by using NaOH. The mixture of the products contains sodium trichloroacetate and another compound. The other compound is (2011)
1)2,2,2-Trichloropropane
2)Chloroform
3)2,2,2-TrichLoroethanol
4)Trichloromethanol
Ans.


32.The strongest acid amongst the following compounds is (2011)
1)CH3CH2CH(CZ)C02H
2)ClCH2CH2CH2 COOH
3)CH3COOH
4) HCOOH
Ans.


33.Sodium ethoxide has reacted with ethanoyl chloride. The compound that is produced in the above reaction is (2011)
1) Ethyl chloride 2) Ethyl ethanoate
3) Diethyl ether 4) 2 – Butanone
Ans.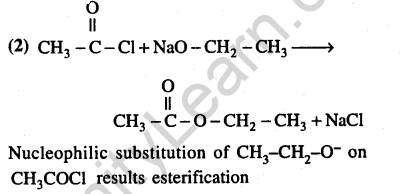 34.Which of the following reagents may be used to distinguish between phenol and benzoic acid? (2011)
1) Molisch reagent 2) Neutral FeCl3
3) Aqueous NaOH 4) Tollen's reagent
Ans.


35. Iodoform can be prepared from all except (2012)
1) Ethyl methyl ketone 2) Isopropy alcohol
3)3-Methyl-2-butanone
4)Isobutyl alcohol
Ans.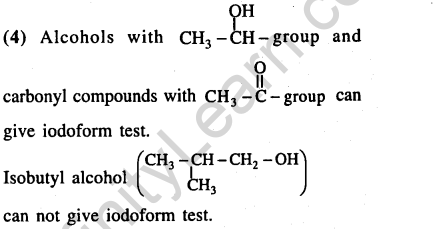 36.In the given transformation, which of the following is the most appropriate reagent ? (2012)



Ans.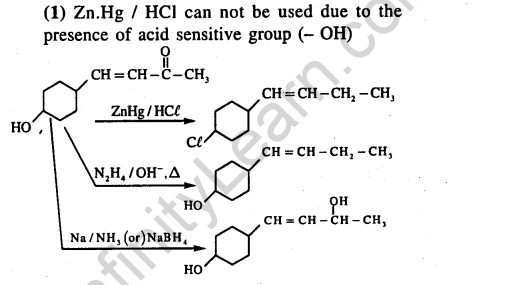 37.Arrange the following compounds in order of decreasing acidity (2013)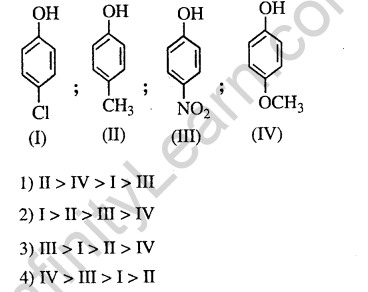 Ans.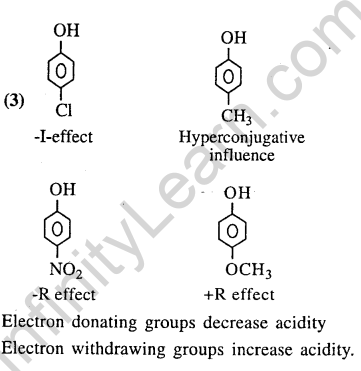 38.Compound(A), C8H9Br, gives white precipitate when warmed with alcoholic AgN03. Oxidation of (A) gives an acid (B), C8H604. (B) easily forms anhydride on heating. Identify the compound (A). (2013)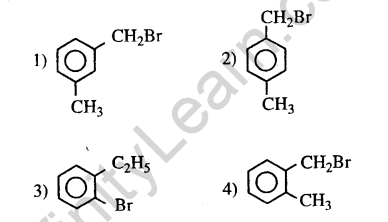 Ans.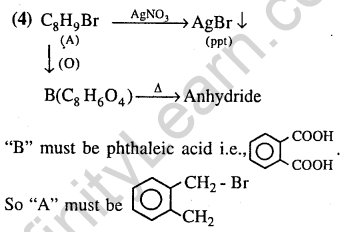 39.An organic compound A upon reaction NH3 gives B. On heatinmg B gives C. C in presence of KOH reacts with Br2 to give CH3CH2NH2 A is (2013)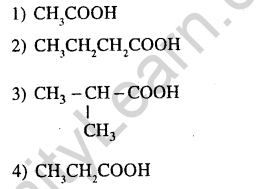 Ans.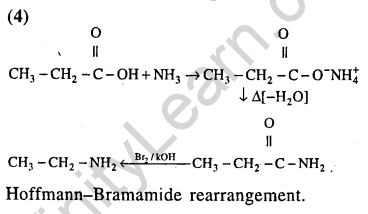 40.An unknown alcohol is treated with the "Lucas reagent" to determine whether the alcohol is primary, secondary or tertiary. Which alcohol reacts fastest and by what mechanism (2013)
1)secondary alcohol by SN1
2)tertiary alcohol by SN1
3)secondary alcohol by SN2
4)tertiary alcohol by SN2
Ans.


41.Sodium phenoxide when heated with C02 under pressure at 125°C yields a product which on a acetylation produces C.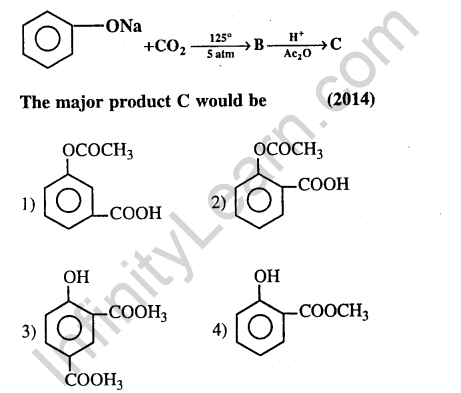 Ans.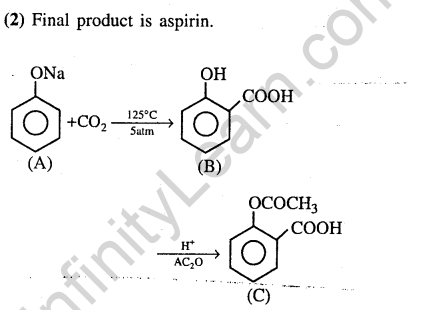 42.The most suitable reagent for the conversion of R – CH2 – OH -> R – CHO is (2014)
1)PCC (Pyridinium Chlorochromate)
2)KMn04
3)K2Cr207
4) Cr03
Ans.(1) Most suitable reagent for the conversion of 1° alcohol to aldehyde is "PCC".


Ans.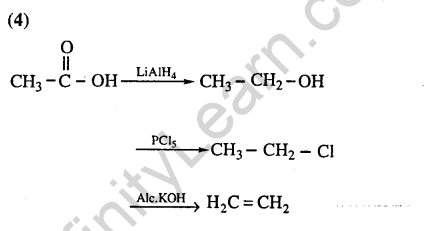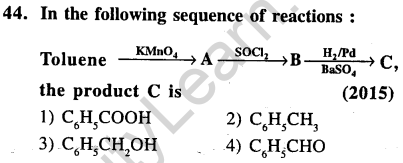 Ans.