Essay on Music
Introduction :

Music has an important role in many aspects of human life. It brings joy and happiness into a person's life. Music is the spirit of life and provides us with immense peace.
"If music is the food of love, play on, give me excess of it; that surfeiting, The appetite may sicken, and so die" as William Shakespeare said. As a result, music assists us in connecting with our souls or true selves.
Music is like a universal language of life. It's essentially the sound that's created by the harmony of several instruments. Without music, our lives would have been completely different and empty. It is something that each person enjoys. It's a pretty powerful thing. Music will help you relax, heal, and motivate you.
"Without music, life will be a mistake," said Friedrich Nietzsche, a German philosopher, who summed up the importance of music in one's life so precisely. Humans are magically influenced by music. It's the most effective type of magic. Music can cure all human emotions, including grief and despair. It can be a cause of happiness as well. There are several genres of music to choose from. Emotional expressions have long been considered the most significant criteria for the aesthetic value of music. Some life crises are difficult to describe in proper sentences, and music plays an important role in these situations.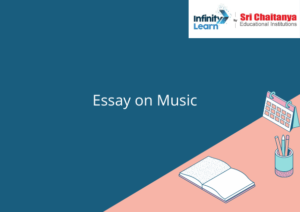 What is Music?
Music is a soothing sound that is a blend of melodies and harmony. Music may also refer to the skill of creating pleasing sounds using a variety of musical instruments. A musician is someone who understands music.
Sargam, Ragas, Taals, and other forms of music are used. Music is not only created by humans but also exists in nature. Have you ever heard the sound of a running river or a waterfall? Is there any music playing there? Thus, anything that is in tune has music. "The music is not in the notes, but in the silence between," said Wolfgang Amadeus Mozart, one of the greatest musicians of all time.
The word music comes from the Greek word 'mousike', which means 'art of muses'. Music is a sort of art that is adorned by artists. The music is made up of simple words that have deeper meanings. Music is frequently used as a painkiller to help individuals cope with life's challenges. The most common format for writing music is 'Musical Notations'. This gives an artist a reference that he may share with others if necessary. Music lifts our spirits and accompanies us all the time, in our phones, on televisions, in movies, and, most importantly, at live performances.
Different types of music have different effects on humans. Music is, without a doubt, man's greatest creation in history. The use of dim lighting and soothing music encourages listeners to eat less and appreciate their food more at restaurants. Positive music in the car improves one's mood, which leads to safer driving and fewer road rages, which reduces the number of accidents. If kids enjoy music, it helps them in remembering information more effectively and improves their verbal intelligence. According to research, listening to favorite music might help fibromyalgia patients feel less chronic pain. Our hormones are directly affected by music. Music reduces the amount of the stress hormone cortisol in our bodies, countering the effects of chronic stress.
Importance of Music :
Music can emotionally and psychologically heal a person. Music may be used as a kind of meditation. When creating or listening to music, one's worries, emotions, and pains fade away. However, we must develop our musical sense to enjoy good music. Research has also shown that plants that hear music develop at a higher pace than those that do not.
It can help with diseases including anxiety, depression, and insomnia, among others. Legends of Tansen delivering the rains by singing Raag Megh Malhar and lighting lamps by Raga Deepak attest to the power of music. It also helps in the improvement of attention, which is beneficial to students.
The most heartfelt music is nothing more than pure, undiluted creativity. The art of combining vocal and instrumental sounds in a way that creates beauty and expresses emotions is the mark of a true musician. Anyone may brighten their day by listening to, composing, or playing music. In many cultures and countries, parents frequently utilize music to comfort and communicate with their children. Music affects those who hear it. It has divine power to raise one's energy levels. Some music might help with inspiration, while others can help with sympathy.
Conclusion :

The essence of life is music. There is music in anything that has a rhythm. Our breathing has a rhythm as well. In a nutshell, we may say that music exists in every human being and living creature. Music has the power to evoke a wide range of emotions in listeners. Music may also be a highly effective way to connect with God. We might infer that music is the purest form of devotion and connection with our soul.
TOPICS for Essay Writing
Essay Topics on Animals
Essay Topics on Relationships
Essay Topics on Famous People and Personalities
Essays on General Topics