Essay on My Favorite Game: Sports are seen as an important aspect of our lives, on both a national and international level. Sports are often considered one of the healthiest activities for staying in shape. When someone participates in an outdoor game, his or her entire body, including the brain, is involved. Sports also teach us innumerable things such as teamwork and planning, which also keep our minds energized.
Many games have been played on an international level in this modern era, and many are native to only a few locations, such as cricket, tennis, badminton, hockey, football, and others. These are the sports that are performed on a global scale, whereas rugby, kabaddi, and a few others are regional sports. But among all these sports, my favorite is cricket.
500+ Words Essay on My Favorite Game
The Origins of Cricket
Cricket was first played in the 16th century in South East England. In the 18th century, the sport became England's national sport, and in the 19th and 20th centuries, it was recognized worldwide as a part of the commonwealth experience in the various nations the British occupied. Since 1877, various international matches have been held, and it is now the second most popular sport in the world, after football.
At the international level, cricket is overseen and managed by the International Cricket Council (ICC). The game was originally known as "Creckett" and then began to be known as "Cricket" eventually. It rose to prominence in the 1800s and became well-known.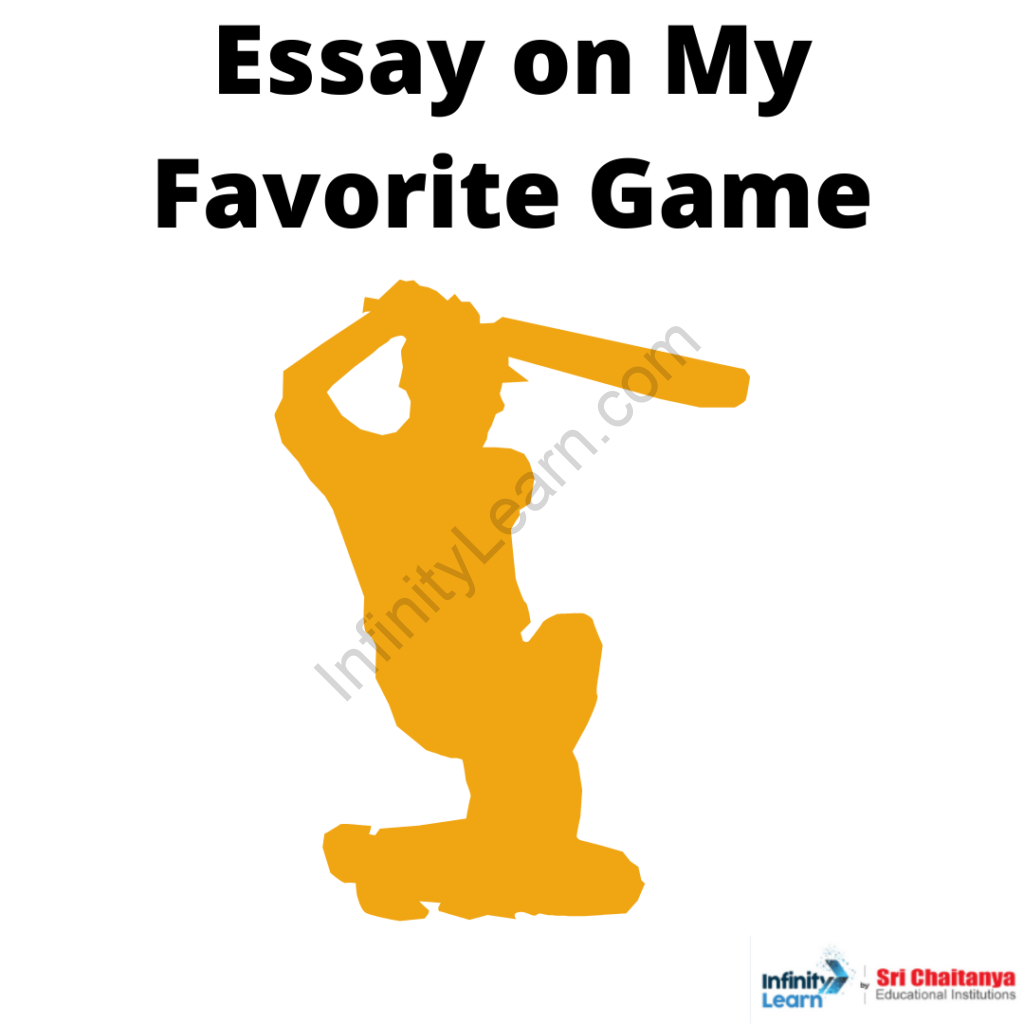 During the time of the British Raj in India, cricket was introduced as a sport and quickly became popular. Indians picked up the game and have since gone on to become global champions in this sport. Cricket is one of the most popular sports in the world, and many people like it. It is a game that was invented by Prince Edward and has since spread around the world.
Get the List of 1000+ Essay Writing Topics here
Cricket is a bat-and-ball sport in which two teams of eleven players compete against each other. The rules of this game are simple enough that even children can follow and play it. As a result, cricket has become the most popular sport in the Indian subcontinent.
When a test match or a national/international level competition takes place, there is a large number of cricket fans across the world who throng the stadiums to watch the game. People have a favorite cricket team among the many that play as part of these tournaments. The teams have large fan followings and it is always an exciting experience when rival fans cheer for their teams in a filled stadium.
Cricket is not a native Indian sport, although it is enjoyed and played with great fervor in India. Cricket is also played in a variety of countries, including England, Pakistan, India, Australia, Bangladesh, New Zealand, South Africa, the Netherlands, Sri Lanka, the West Indies, and Ireland.
Cricket matches normally last five days, with one day off in between, and feature two teams of eleven players each. The entire test match consists of two innings, the first and second innings. The highest total runs scored by the sides in these two innings determine who wins and who loses in the game. The team with the most runs at the end of the day is proclaimed the victor of the match.
Why is Cricket my Favourite Game?
Every year, the International Cricket Council (ICC) organizes and approves a number of international matches. The ICC establishes cricket rules and regulations and allows teams to compete.
The Cricket World Cup, which is held every four years amongst high-ranked teams, is hosted by a different country each time and is a high-degree competition. The World Cup is the favorite cricket tournament for many people, including me.
Cricket is not a simple game, but it can be studied and practiced on a regular basis if all the rules and regulations are followed. At a time, there are two main players, one batsman and one bowler, who are alternated as they get bowled out or finish the required amount of balls and overs.
A coin is tossed prior to the commencement of a match to determine which team would bat or bowl first. Whoever wins the toss gets to pick either of the two for their team. However, both teams get an opportunity to bat and bowl alternately.
Winning and losing are two features of the game that make it mysterious and intriguing. When a batsman hits a chauka (four) or a chhakka (six) with the ball, the entire cricket stadium and ground fills with the high-pitched sound of cricket fans, especially when one's favorite cricket team is batting.
Cricket is one of India's most popular sports, and it is enjoyed by all. Cricket is my favorite sport and I like watching every match that is played. Indians have grown up watching cricket and have all played gully cricket at some point in their lives, which makes the game that much more closer to our hearts.
Formats of Cricket
Some of the numerous formats of cricket are T-20, One-Day International, Limited Over, National League Systems, and Test Matches.
Test Matches
It is a type of long-form cricket played over a five-day period. The matches are played between two countries, and the ICC selects the teams. The play for each day lasts 6 hours, with at least 90 overs being bowled every day. It is slow-paced compared to other formats but is a very interesting format of cricket to watch, especially at the international level.
National League Systems
Various smaller teams in England, numerous states in Australia, various islands in the West Indies, and even India's Ranji Trophy are all examples of this format of cricket. These bouts happen between smaller clubs and teams and might last around three to four days.
Limited Over Cricket
Also known as one-day cricket, it is a format where the match is aimed to be finished in a single day. It has various sub-types, from T-20 to 100-ball cricket. Every team is allowed to play by innings, and if the game is hampered by weather, the Duckworth-Lewis Method is used.
One Day International (ODI)
The 50-over One-Day International (ODI) is a match played between two countries. This is the most often used and followed format.
T-20
A T-20, or Twenty-20, is contested between two teams and consists of only 20 overs. This game is thrilling to watch, and it's ideal for individuals who can't wait a whole day to watch cricket, even if it's their favorite sport. It is fast-paced and interesting, with matches happening at both domestic and international levels.
In India, cricket is seen as a religious pastime, and many regard the renowned player Sachin Tendulkar as a deity. Indians are extremely enthusiastic about cricket, especially when a match between India and Pakistan is taking place. When the game is between neighboring countries, the entire country comes to a standstill at that point. Cricket is my favorite sport, as it can also be a game that brings the country together and brings harmony to its citizens.
Conclusion
While cricket is a beautiful sport to play and watch, it is now heavily influenced by corruption and red-tapeism. This form of entertainment has become a source of illegal activity in recent years. The ICC should take steps to control these types of acts so that fans can always enjoy a good game. While this is challenging, it can be done if all concerned parties agree to consciously deal with this issue.
I enjoy playing this game with my friends. Like me, there are innumerable young people in the country for whom the sport is a big part of their childhood. This is why it is my favorite game.