As we grow up, we learn from our mothers. They are the ones who nurture us and teach us the things we need to know in order to grow up to be successful adults. A mother is someone who is always there for you when you need her the most. She is the one who loves you unconditionally and would do anything for you.
A mother is someone who is strong when you need her to be and soft when you need her to be. She is someone who you can always count on. A mother is someone who is always there for you no matter what. She will always be there to support you and guide you through life. A mother is someone who is always there for you when you need her the most. Writing an essay on mother is not an easy task, as no words will ever describe her.
In this article, we have come up with some sample formats on essay on my mother to help the students. You find both short and long essays on the same.
Essay on My Mother
My Mother is the most important person in my life. My Mother is a Supermom because she is always there for me. She is an inspiration for me. Gods can't be always with us, that's why they made Mothers. My mother motivates me for growing and achieve better things in my life. My mother takes care of the whole family. She is so hard-working, dedicated, and very kind to everyone. Whenever my friends come to my home she makes delicious food for us. She helps me and my friends with my studies. She clears all my doubts and confusion in Maths and Science. She is very patient while explaining complicated topics. I don't have to worry about anything when my Mom is with me. My mother has done a lot of sacrifices for my happiness. Love and affection she gives me in infinite. I love my mom and dad. I am luckiest to have such parents in my life. I have written a whole Essay on My Mother.
500 Words Essay on My Mother
My mother has had the greatest influence on me throughout my life. Through her, I have learned a lot of things about how to traverse the various facets of life. By seeing the kind of person she was while I grew up, I have modeled the kind of woman I want to become as well. My mother is my guide, idol, and source of inspiration in life, and I can say it with great pride.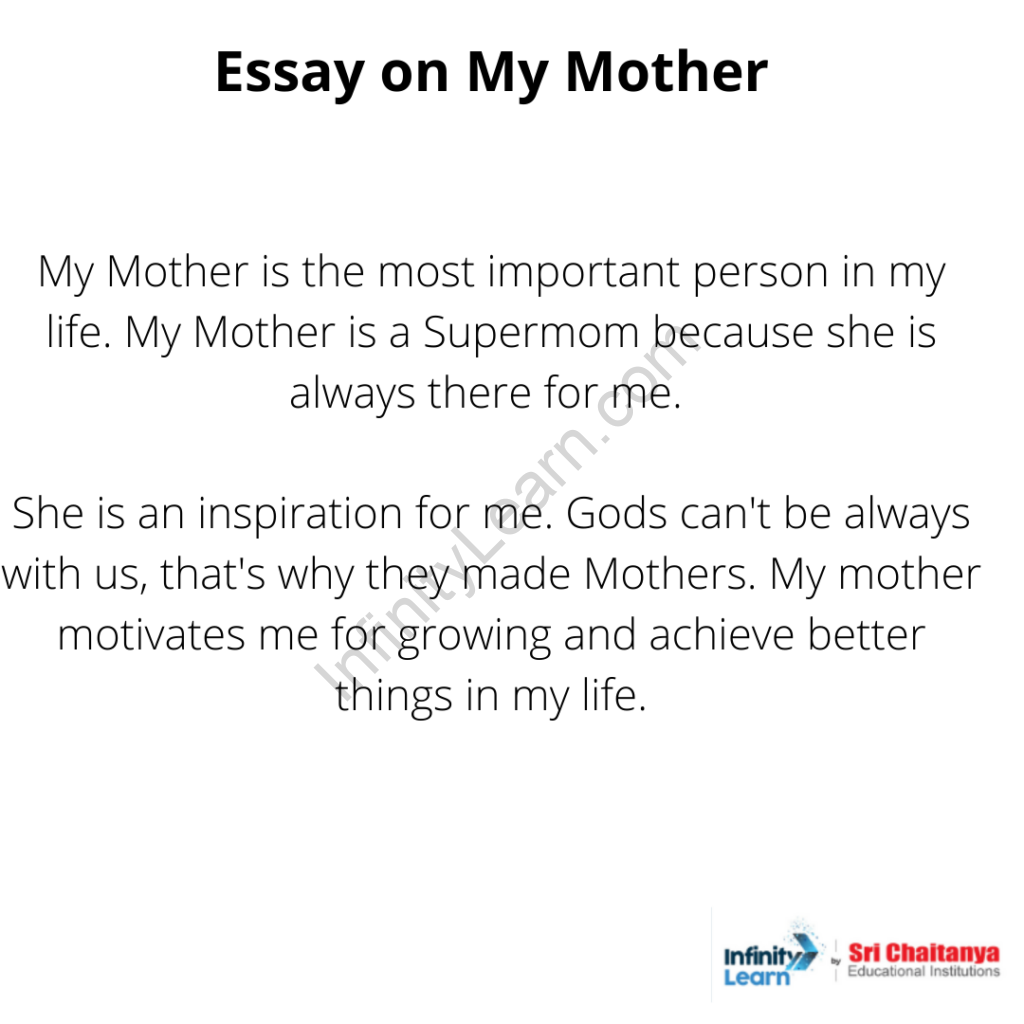 My mother is the one person whom I can completely trust. She is the main reason for my progress and development since she works relentlessly. She never makes any distinctions within the family and provides our entire family with equal and undivided devotion and love. Her devotion to her family is unwavering and complete. She puts her own needs and desires aside for the sake of her family. My mother has been my greatest source of inspiration and has played an important role in my spiritual, emotional, and intellectual development.
Get the list of 1000+ Essay Topics here
Mothers are an Inspiration
A mother contains several characteristics that make her the embodiment of love and dedication. She is forgiving and understands us when we make mistakes. She takes severe measures to fix our mistakes and ensures that we are aware of our responsibilities. From sunrise to night, day in and day out, a mother works tirelessly to fulfill all of our dreams.
A mother is someone who consoles you in your time of need, makes sacrifices, and makes every attempt to provide a comfortable life for her child. A mother is a selfless individual who, like the sun, chases away all darkness and shines the light of happiness and love onto her family.
Motivation is a state of mind that enables us to successfully complete any project or task. It is a form of a natural environment that aids our physical and social growth. We know that we can attain any goal, even in the most difficult circumstances, because of inspiration coming from a person or an event.
For the growth of our abilities, we seek encouragement from other sources, such as a popular figure or a special person near us who encourages us whether we can achieve the objective even in difficult situations.
As a result, we are capable of completing this task. Numerous people are inspired by legendary or historical figures, and then many people are inspired by famous people or their parents. It makes no difference who your source of inspiration is or how much you are inspired by its ideas and practices in order to achieve your goal.
Mothers are a constant source of inspiration and motivation for children to become good individuals as they grow older. They instill in them a sense of responsibility, care and affection for others, and a sense of resilience that can hardly be found anywhere else.
Every person must have some sense of creativity in his life from which he can draw inspiration in order to attain his life objectives and progress. A teacher might be an inspiration in someone's life, a successful person can be an inspiration in someone else's, but in my life, my mother is my biggest motivation. She is the individual who has motivated me to attain my life's objectives and to keep moving forward.
My mother is also an admiration to me because, while most individuals work to gain popularity and a name in society, a mother never feels that. All she wants for her children is for them to achieve in life. She is not motivated by self-interest in her work. This is why I regard my mother to be a human manifestation of God.
Prepare for JEE Main and Advanced with Infinity Learn online JEE course.
My Mother is My Best Friend
My mother is my teacher, advisor, and greatest friend, and she plays many vital roles in my life. It works to instill confidence in me when I'm having an issue. Whatever I am today is solely due to my mother's presence in my life, as she was present for both my successes and failures. I couldn't picture my life without her, which is why I consider her my closest buddy.
Despite the many roles a woman plays in her life, the bond she shares with her mother is one of the purest relationships in the world. The bond between a mother and her child is indescribable. The mother is also the one who gives birth to her child and raises her. However, a mother's love for her children never fades, and she is more concerned about their well-being than her own.
To safeguard her child, a mother is willing to face the worst disasters. A mother may shoulder all of the burdens alone, but she will not allow her offspring to be exposed to any form of heat. For these reasons, the mother is regarded as a manifestation of God on Earth, leading to the common proverb, "God cannot exist everywhere, therefore he made mothers."
A Mother's Strength
Although my mother may not physically be the strongest person, she nevertheless meets every challenge in her life and that of her family. She is a continual source of inspiration who reminds me to never give up in the face of adversity.
Above all, my mother is a major source of motivation for me, since she encourages me to enhance my abilities, academics, and talents. She inspires me to try again, to never give up, and work hard until I succeed. The way she traverses through the innumerable obstacles she faces in life is a constant reminder of the strength of a woman and how we can face any adversity that comes our way.
During difficult times, my mom is a lifesaver. Despite the fact that she chastises and corrects me, she is the only person capable of solving the problem, whether it is school or life-related. She is my instructor and guide, who shows me the way and steers me through the toughest moments.
Above all, even at the darkest of moments, she never leaves my side. She is an excellent teacher, a rigorous parent, a loyal friend, and a delightful companionship. Not only my mother, but every mother is an expression of God who devotes her entire life to her family and is deserving of much respect and admiration.
Join the NEET repeaters batch today to take the first step to success.
A mother possesses both inherent and learned attributes that identify her job as a mother. The key trait of a mother is responsibilities, which comes with motherhood. Regardless of age or repercussions, my mother displays unselfish love and affection.
She is my greatest source of strength and support, and she never fails to inspire and drive us through all of life's ups and downs. Mothers can understand and empathize with their children. My mother's most striking characteristic is her tremendous level of acceptance and tolerance. Despite the fact that she is dealing with several issues, she remains calm and patient.
Conclusion
My mother represents forgiveness, unselfish love, kindness, courage, bravery, and patience. No one in this world is capable of replacing my Mother's unselfish devotion for our family. The mother figure, in my perspective, plays the most important and vital part in a child's life and development, because she is one of the most excellent role models for her child. During her golden years, it is our job to shower her with the same love and affection.
Essay Writing Topics
Essay Topics on Animals
Essay Topics on Relationships
Essay Topics on Famous People and Personalities
Essays on General Topics
Download NCERT Solutions for Class 10 for free on Infinity Learn.